Strong field to start Kensville Challenge golf
Golfers from European and Asian Tours will play alongside India's homegrown talent in Kensville Challenge starting on Thursday.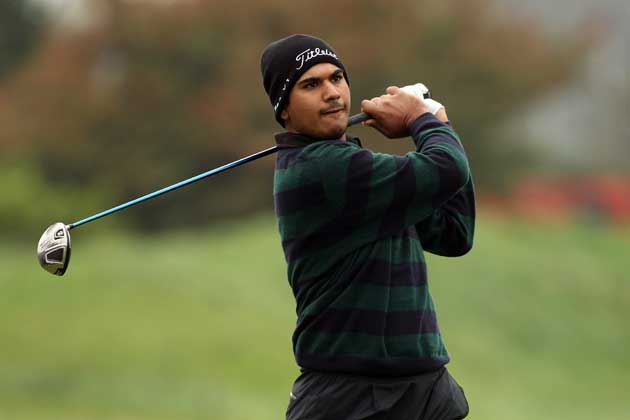 Golfers from European and Asian Tours will play alongside India's homegrown talent in Kensville Challenge starting on Thursday.
Ahmedabad: An array of champions from European and Asian Tours will play alongside India's homegrown talent in what is easily the strongest-ever Gujarat Kensville Challenge starting from Thursday.
The third edition of the only European Challenge Tour event held in India will also see the start of the Indian PGTI and European Challenge Tours for 2013 on Thursday.
The Kensville Challenge, which has now become the regular season-opener for both the Tours, will for the first time feature a Major champion, Rich Beem, who won the 2002 PGA Championships winner, ahead of Tiger Woods.
The stellar field also includes a bunch of former European Tour winners, from Rhys Davies to Raymond Russell, Jose-Phillipe Lima and Daniel Vanscik.
There is a also a group of Asian Tour winners, like the 2011 Kensville winner, Gaganjeet Bhullar (four wins), Shiv Kapur, Rahil Gangjee, Himmat Rai and old warhorse, Gaurav Ghei (three wins).
Bhullar gave himself a good tune-up with a win in the pro-Am, where his team-mates were Varun Parikh, Kairav Shah and Anshul Patel, three young and very talented golfers from Ahmedabad.
Bhullar had nine birdies in his round, indicating that he is in great form. Scott Barr is a surprise entrant, having last played in the Challenge Tour back in 2008. He is now a regular on Asian Tour.
The other player, who makes his maiden appearance in Kensville is Terry Pilkadaris, a former three-time winner on Asian Tour, who now plays on OneAsia.
Two other youngsters, who could make an impact on international golf in the near future, who make a return to Kensville after making their debut here last year, are An Byeong-hun and Peter Uihlein, the 2009 and 2010 US Amateur champions, who turned pro in 2011 and played Challenge Tour in 2012.
Adding to the excitement is a bunch of young Indians, who are turning pro with this event. Led by two-time Indian amateur champion, Seenappa Chikkrangappa, Angad Cheema, the reigning Indian amateur champion, 16-year-old Shubhankar Sharma, Khalin Joshi and Honey Baisoya.
This lot is hoping to play the Indian PGTI Tour and then gradually move to Asian and higher Tours.
Beem, who took time off after October 2012 and worked on his game, said, "I enjoyed my Pro-AM round. The course is in great shape and I am looking forward to it."
Gangjee, runner-up last year, came back after the Pro-Am and said, "The course is looking great. It is more lush and the scoring could get into double figures (under-par) after being seven-under last year.
"I enjoyed it this morning. It brought back some nice memories. But personally I try to begin afresh each season and take each event as it comes," said Gangjee, a winner on Asian Tour in his rookie season in 2004.
"I made it back to Asian Tour after a great comeback over last five holes. I knew it was a do-or-die situation and I needed a job in a manner of speaking.
"Thankfully I was able to come back from the brink after seeming to have missed by chance with two bogeys in the middle of the final round."
Gaganjeet Bhullar was all smiles as he got ready to play the Pro-Am.
"This event and course always brings a smile on my face. I enjoy it. I had a great win in 2011, which was a great year for me in India, but I could not translate that on Asian Tour," said Bhullar.
"But I managed that in 2012 with two wins and an entry into world's top-100. Now my goal is top-50 and hopefully I can get there. I am feeling great and have had a good off-season and Kensville Challenge 2013 should set the tone for it."
Another player hoping the event will do the same for him is Shiv Kapur.
He said, "The second half of 2012 was fine with a string of top-10s and I ended the year with my first win in a long time against a very strong field at home.
"Last year I started my season here and I was in contention till the midway stage, and finally ended in top-10.
I want to get back into the swing of things with this event for the rest of the season."
Scott Barr, a regular on Asian Tour, is using the Kensville Challenge as a warm-up for the rest of the season.
"I heard it is a good course and I was to play the Pearls Golf Premier League next week, so I felt this could be a good run-up, so here I am," said Barr, who was 21st on Asian Tour Order of Merit in 2012.
Gaganjeet Bhullar's team-mates in the winning Pro-Am team were Varun Parikh, Kairav Shah and Anshul Patel. Finishing second was Spanish professional Carlos Aguilar's team of Manhar Gohil, Pranay Parikh and Manish Choksi.
The two skills prizes were bagged by Sameer Sinha for being 'Closest to the Pin', and Parthiv Mehta who had the Longest Drive.
Get the best of News18 delivered to your inbox - subscribe to News18 Daybreak. Follow News18.com on Twitter, Instagram, Facebook, Telegram, TikTok and on YouTube, and stay in the know with what's happening in the world around you – in real time.
Read full article