GET Stock

Quotes


Powered by


Experts Surprised by Sudden Dense Fog in Delhi
The dense fog that descended on Delhi and surrounding areas on Wednesday morning surprised even those who saw it coming.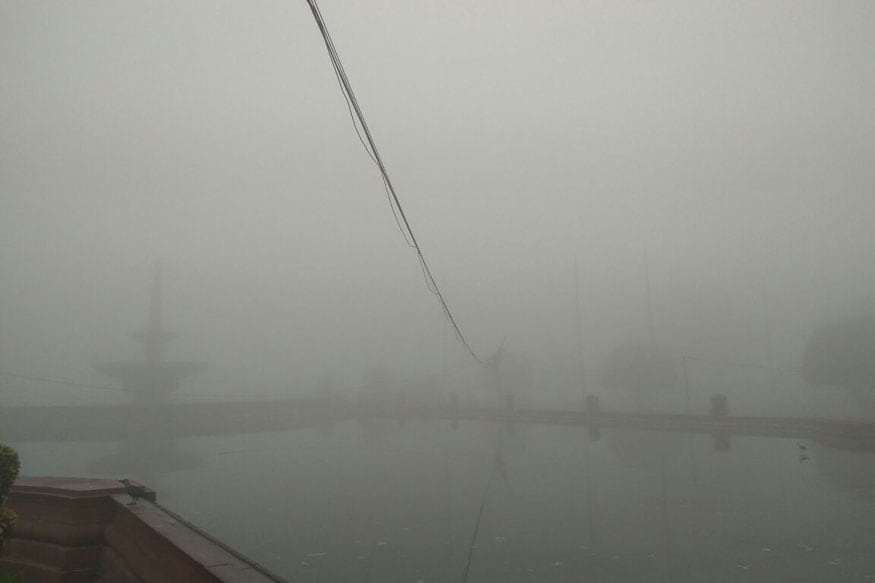 The unexpected fog on Wednesday was preceded by a very clear Tuesday with the minimum temperature recorded at 9.7 degrees Celsius, average for this time of the season. (Image: Network18)
New Delhi: The dense fog that descended on Delhi and surrounding areas on Wednesday morning surprised even those who saw it coming.
As the wind speeds dropped from 5 km/hour to 1.8km/hour and minimum air temperature fell by 4 degrees, Delhi woke up to its first proper fog that lowered visibility and sent air pollution levels ratcheting up considerably, a week before it was anticipated to hit.
It hit rail and air traffic considerably, with several trains and flights delayed or cancelled.
The signs were there on Tuesday. The wind speed, 5km/hour on Sunday, had kept Delhi's air quality at moderate levels, dropped as did the minimum temperature to 9 degree Celsius.
Based on this, the India Meteorological Department had predicted that fog would cover Delhi and parts of the surrounding states of Punjab, Haryana and Uttar Pradesh. However, according to Shambhavi Shukla, Research Associate with Centre for Science and Environment, this was expected only from the first week of December.
What sets Wednesday morning's dense fog apart from the smog that engulfed Delhi around Diwali is that this is caused primarily by the fall in temperature caused by the north-easterly winds bringing cold air from the Himalayas and the subsequent drop in wind speed, with a little contribution of air pollutants. But it will exacerbate Delhi's air pollution as it has already sent the PM2.5 levels from moderate to severe on Tuesday and Wednesday.
Dr. Gufran Beig, Programme Director, SAFAR, from the Indian Institute of Tropical Meteorology, told News18 that the fog and the resultant high pollutant levels are expected to continue for two additional days. However, he says that the coming two days are expected to be a little better.
There are no short-term mitigating measures, he added. When wind speed falls, it lowers the planetary boundary layer, the lowest point part of the atmosphere and the point where maximum pollutants mix with the air. The measure of this is called mixing height.
Currently, Beig said, the layer is at 200 m which means that is the height at which pollutants are concentrating in the air. With no wind to disperse them, they're likely to linger.
Weather conditions play an important role in manipulating air pollution. The sources of emissions have remained the same, however, a high wind speed with help disperse the pollution and a low one will let it concentrate. Wind speed as a weather phenomenon cannot be predicted exactly, Shukla said.
If Delhi is to face fog without the fear of skyrocketing pollutant levels, the long term measures to control emissions at their source have to work.
Also Watch
| Edited by: Ashutosh Tripathi
Read full article