Sujoy Ghosh: 'Kahaani' has an unusual story
Sujoy Ghosh's film 'Kahaani' has an unusual storyline. A pregnant Vidya Balan scours Kolkata for her husband.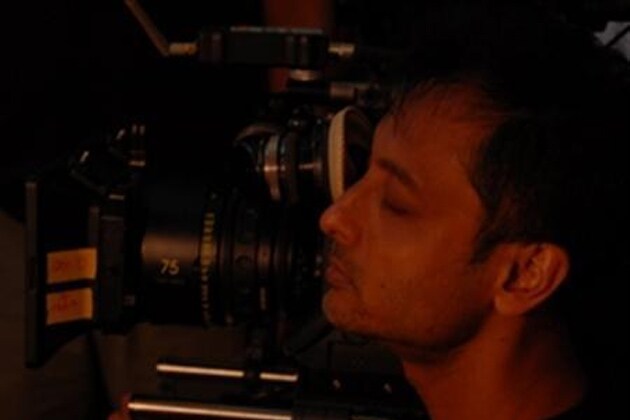 Sujoy Ghosh's film 'Kahaani' has an unusual storyline. A pregnant Vidya Balan scours Kolkata for her husband.
Mumbai: Sujoy Ghosh's new film 'Kahaani' has an unusual storyline. A pregnant Vidya Balan scours the city of Kolkata looking for her husband -- a man no one seems to have heard of.
For a male-dominated industry that relies on its leading men, director Ghosh says he had no qualms about making a thriller with a woman protagonist and no heroes.
The filmmaker spoke to Reuters about 'Kahaani', why he chose the city of Kolkata and why such films are not that easy to make in Bollywood.
Q: Kolkata looks very different in 'Kahaani'. Why did you choose to base the film in that city?
A: "In any story, the role of the film-maker is to create a world for you -- a world where you are willing to venture into for a couple of hours and come back happy, and it's very important that wherever you are setting the story, you are very clear about that world, in order for me to tell you about it. And there are only a few places where I have lived and know well enough to be exploited, for example, Mumbai and Kolkata in terms of film-making.
"I knew a thriller set in Kolkata would be amazing because of the color and contrast; I could see it. Also, I wanted to go back to Kolkata, Vidya Balan wanted to go back to Kolkata and I was told that the city has some great quality technicians, which I used. So whatever you see on screen and makes you fall in love with Kolkata, is created by the residents of Kolkata."
Q: How did the idea for 'Kahaani' come about?
A: "The movie happened because of two things. One, I really wanted to work with Vidya Balan. It was just gut,I wanted to work with her from early days, when I saw her in a music video. We decided to do 'Kahaani' even before she started shooting 'Ishqiya'.
"The second thing is that I have always been fascinated with the change that happens to a woman when she becomes a mother. I have found that the same girl who doesn't know anything, will teach herself everything to protect her family and child. Whether she is a six-foot woman or a demure, petite girl, her mental strength is huge, it's like a button has been pushed. And I wanted to explore that strength and see what would happen if you placed a to-be mother in an alien environment where she doesn't know anything, the place, the language, the people. And Kolkata is less cosmopolitan than Mumbai or Delhi."
Q: Thrillers or at least thrillers with a woman as the protagonist are pretty rare. Were there any apprehensions about the viability of the film?
A: "I knew it was a huge struggle. I was hoping that 'Aladin' would be a hit and lessen my struggle, but it became a flop and only added to my grief. But if you want to marry a woman, you will do it, irrespective of what people tell you. So if you want to tell a story, you will, no matter what."
Q: You spoke about 'Aladin'. Did the fact that it didn't do well add to the pressure on this film?
A: "Yes it did. Because you are as good as your last Friday. If your last film isn't a hit, then no one wants to put money on your next film, unless it's bankable."
Q: If that holds, then 'Kahaani' was even less a bankable subject than 'Aladin' was, wasn't it?
A: "Yes, that's true but we made it happen. It wasn't easy. There was a huge mountain of no's in front of us. People told me why are you making a thriller at this point, why can't make a more commercial film, which I think is a bunch of baloney. But I couldn't say that to people … because there is no formula. If they had a formula, they would have gone out and made that film. You wouldn't be talking to me. If you don't want to give me money, don't give me money but don't tell me 'ye picture mat banao, ye picture banao' (don't make that film, make this one). That just drives me up the wall."
Q: With more and more corporate in Bollywood, that kind of old-time logic shouldn't still hold right?
A: "Yes and no. Creatively, no one had a problem with my film. Commercially, my film was very expensive. It had a huge budget. With me and the only star being Vidya, and with no 'Dirty Picture' at that point, I knew any one would laugh at me. I would have laughed at myself. I knew I could pull it off, in my head. So I produced it. (Viacom 18 has since acquired the film)"
Q: How has the success of 'The Dirty Picture' helped your film?
A: "It has definitely helped. I know 120 percent that my film will get a great opening, but on the other hand, the pressure is much more, because the audience wants to see what I have given them."
Q: Do you think women-oriented films will now work in Bollywood?
A: "It will work if the stories are good, whether it's about a man or a woman."
Q: Do you think the success of 'Kahaani' will help make the journey towards your next film easier?
A: "I think nowadays you can make any kind of a film in this industry, provided you have a good script. How did we make 'Jhankaar Beats'? We made it happen. Most of the people who complain are not willing to do the legwork. And by legwork, I mean going out there, knocking on every door and making sure everybody reads your script. But people want everything on a plate here."
Get the best of News18 delivered to your inbox - subscribe to News18 Daybreak. Follow News18.com on Twitter, Instagram, Facebook, Telegram, TikTok and on YouTube, and stay in the know with what's happening in the world around you – in real time.
Read full article