Sunanda Pushkar's death shocks Kerala capital
<p>The news of the death of Sunanda Pushkar, wife of Union Minister Shashi Tharoor, came as a shock tonight to the people in Thiruvananthapuram which Tharoor contested and won easily in his electoral debut in 2009 Lok Sabha polls.</p>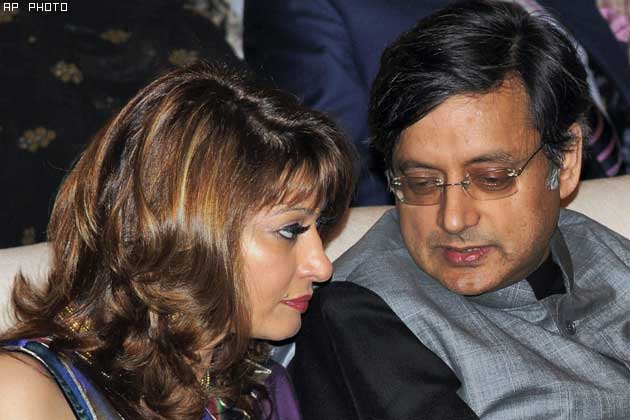 <p>The news of the death of Sunanda Pushkar, wife of Union Minister Shashi Tharoor, came as a shock tonight to the people in Thiruvananthapuram which Tharoor contested and won easily in his electoral debut in 2009 Lok Sabha polls.</p>
The news of the death of Sunanda Pushkar, wife of Union Minister Shashi Tharoor, came as a shock tonight to the people in Thiruvananthapuram which Tharoor contested and won easily in his electoral debut in 2009 Lok Sabha polls.
Congress party in the state is yet to react to the development as most leaders of the party, including Chief minister Oommen Chandy and Home Minister and KPCC president Ramesh Chennithala, are in Delhi in connection with the AICC meeting.
Though politicians of different hues are yet to react to the news, police stepped up protection to Tharoor's constituency office in the heart of the city as soon as the news of his wife's death in a Delhi hotel spread.
The Tharoor couple, marrried in August 2010, were seen together in the city a few days ago coming out of the famous Sree Padmanabhaswamy temple.
The local media are agog with reports that Sunanda had undergone a medical test in a super speciality hospital in Thiruvananthapuram before she left the city after her last visit. However, the hospital is yet to confirm that report.
Get the best of News18 delivered to your inbox - subscribe to News18 Daybreak. Follow News18.com on Twitter, Instagram, Facebook, Telegram, TikTok and on YouTube, and stay in the know with what's happening in the world around you – in real time.
Read full article