Suniel Shetty barred from working out
Shetty suffered a chest injury on the sets of De Dana Dan.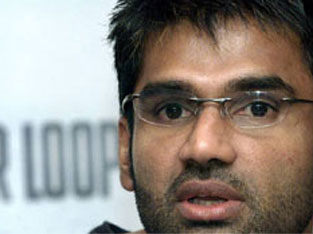 Shetty suffered a chest injury on the sets of De Dana Dan.
Mumbai: He has never gone without gyming in the past 10 years, except now. A serious chest injury on the sets of Priyadarshan's comedy De Dana Dan has had Suniel Shetty laid up for the past six weeks without exercise.
"But there's nothing I can do about it," said Suniel as he finally gets permission to move out of bed, but not to exercise.
"In the 19 years in the industry, I never had to cancel a single shooting, until now. For six weeks I've been a lying around at home doing practically nothing except watching television, reading books and scripts and bonding with my kids. But for how long? They've a life of their own," says he.
"The worst blow was the fact that I couldn't exercise, something unthinkable for me. But then you know how it is. Destiny has all kinds of plans for you when you are busy looking elsewhere," Suniel adds.
The actor has put on some weight due to the lack of exercise and he is worried.
"I haven't become fat or flabby. But I've put on weight. That really worries me because I've never put on an ounce before. I'm still not allowed to work out."
So what happened?
"All of us - Akshay Kumar, Katrina Kaif, Sameera Reddy and I - were shooting underwater for De Dana Dan. In water, your body just floats. I don't know what hit me down there. But I felt something hit my chest. When I came out of the water I couldn't move my left arm. I couldn't breathe. For the next six weeks I was prescribed complete bed rest.
"Any movement would cause a spasm of pain in my chest. And since I'm in the habit of sleeping on my side, I'd often go to sleep on the hurt hand and get up numb and scared," said the actor.
It will take Suniel time to recover fully. But he gives the makers of De Dana Dan a clean chit.
"The water was changed every day and disinfected properly. All safety precautions were taken. And yes the entire cast was insured. Such things happen. Ironically, I've done all kinds of stunts for my films without a single injury so far. And I got injured when we weren't really doing any stunts."
One of Suniel's first outings after the mishap was to Delhi for the opening of Milind Soman and Rahul Dev's gym.
"Like me they believe in staying fit," he said.
Get the best of News18 delivered to your inbox - subscribe to News18 Daybreak. Follow News18.com on Twitter, Instagram, Facebook, Telegram, TikTok and on YouTube, and stay in the know with what's happening in the world around you – in real time.
Read full article