Sunny Leone's 'Ragini MMS 2': Tweet Review
Directed by Bhushan Patel, 'Ragini MMS 2' features Sunny Leone in a completely different avatar.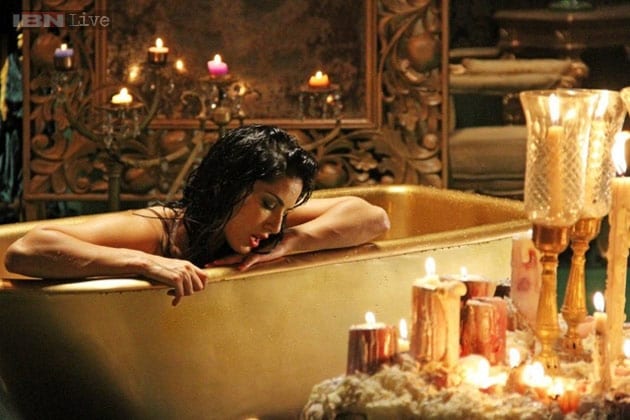 Directed by Bhushan Patel, 'Ragini MMS 2' features Sunny Leone in a completely different avatar.
Sunny Leone's Bollywood debut 'Jism 2' may have made headlines for its explicit content, but the film didn't establish Indo-Canadian adult film star as an actor to watch out for. Sunny, who failed to impress her fans with her acting potential in 'Jism 2' and 'Jackpot', returns with 'Ragini MMS 2'.
Directed by Bhushan Patel, 'Ragini MMS 2', has been made under Ekta Kapoor's banner Balaji Motion Pictures, which has produced films like 'Love Sex Dhoka', 'The Dirty Picture' and 'Ragini MMS'.
Will Sunny be able to woo fans to the cinema halls with the new avatar? Or will 'Ragini MMS 2' be a flashback of 'Jism 2' with Sunny Leone only been lauded for making love, caressing and shedding clothes?
This time our guest humorist BollywoodGandu is inside the theatre to live tweet the experience of 'Ragini MMS 2'.
(BollywoodGandu is a humorist, satirist, arm chair comedian, expert troller and an all round ridiculer of things that need to be ridiculed. He also knows how to say the same thing in many ways. Follow him on twitter @BollywoodGandu)
11:19 AM Lots of rush outside the screening of #RaginiMMS2. And extremely delayed start.
11:53 AM First names in opening credits are those of the marketing team. Makes sense. #RaginiMMS2
12 PM #Babydoll song on. Zoom on #SunnyLeone's bosom. Zoom on Sunny's rear. Repeat. #RaginiMMS2
12:16 PM Finally the first topless make out scene. All the men in the hall are crossing their legs. #RaginiMMS2
12:29 PM #SunnyLeone just pulled a Meg Ryan from Harry Met Sally. Nothing makes an audience squirm more than a woman moaning. #RaginiMMS2
12:32 PM And now #SunnyLeone does romance Bollywood style. Can Sunny Leone act? No. Does anyone care? No. #RaginiMMS2
12:41 PM Interval at #RaginiMMS2 ...Th is movie is all about Sunny Leone walking up and down dark halls in skimpy lingerie.
12:58 PM And now #SunnyLeone dramatically kisses a woman. This movie is like a weird game of truth and dare. #RaginiMMS2
1:08 PM First sign of product placement: Manforce Condoms that comes with the line "main tujhe apna man force dikhaoonga" #RaginiMMS2
1:19 PM Second half of #RaginiMMS2 is littered with scenes of more cleavage and hilarious horror scenes.
1:25 PM Have you ever heard a chudail talk dirty before? #RaginiMMS2 is breaking new ground.
1:36 PM Finale of #RaginiMMS2 leaves you extremely underwhelmed. No story, no characters. Just a chudail yelling expletives.
1:40 PM See #RaginiMMS2 for Sunny's various lingerie outfits and semi nude scenes. The horror scenes are laughable.
1:52 PM Final word: None of the actors leave an impression because the focus is on an extremely stiff and awkward Sunny Leone. #RaginiMMS2
Get the best of News18 delivered to your inbox - subscribe to News18 Daybreak. Follow News18.com on Twitter, Instagram, Facebook, Telegram, TikTok and on YouTube, and stay in the know with what's happening in the world around you – in real time.
Read full article