New Delhi: Skywatchers are set to get a rare triple treat on Wednesday – a Supermoon, a blue moon and a total lunar eclipse. This rare combination of lunar events will be visible to most parts of the world, including India, and one can view it with their naked eye.
A Supermoon is a full moon that takes place when the moon is at its closest distance to the Earth in the orbit. This point is known as the "perigee". According to NASA, each Supermoon makes Earth's natural satellite appear up to 14 percent larger, and almost 30 percent brighter.
But there's one more visual spectacle at offering – a 'Super Blue Blood Moon'
'Super Blue Blood Moon', as it is being referred to, implies a combination of celestial events – blue moon, Supermoon and blood moon. In such an event, the moon will look bigger and brighter because it happens to be full at just about the time it makes its closest approach on a given monthly orbit of the earth. The moon will be closest to Earth on Tuesday at just over 223,000 miles (359,000 kilometres).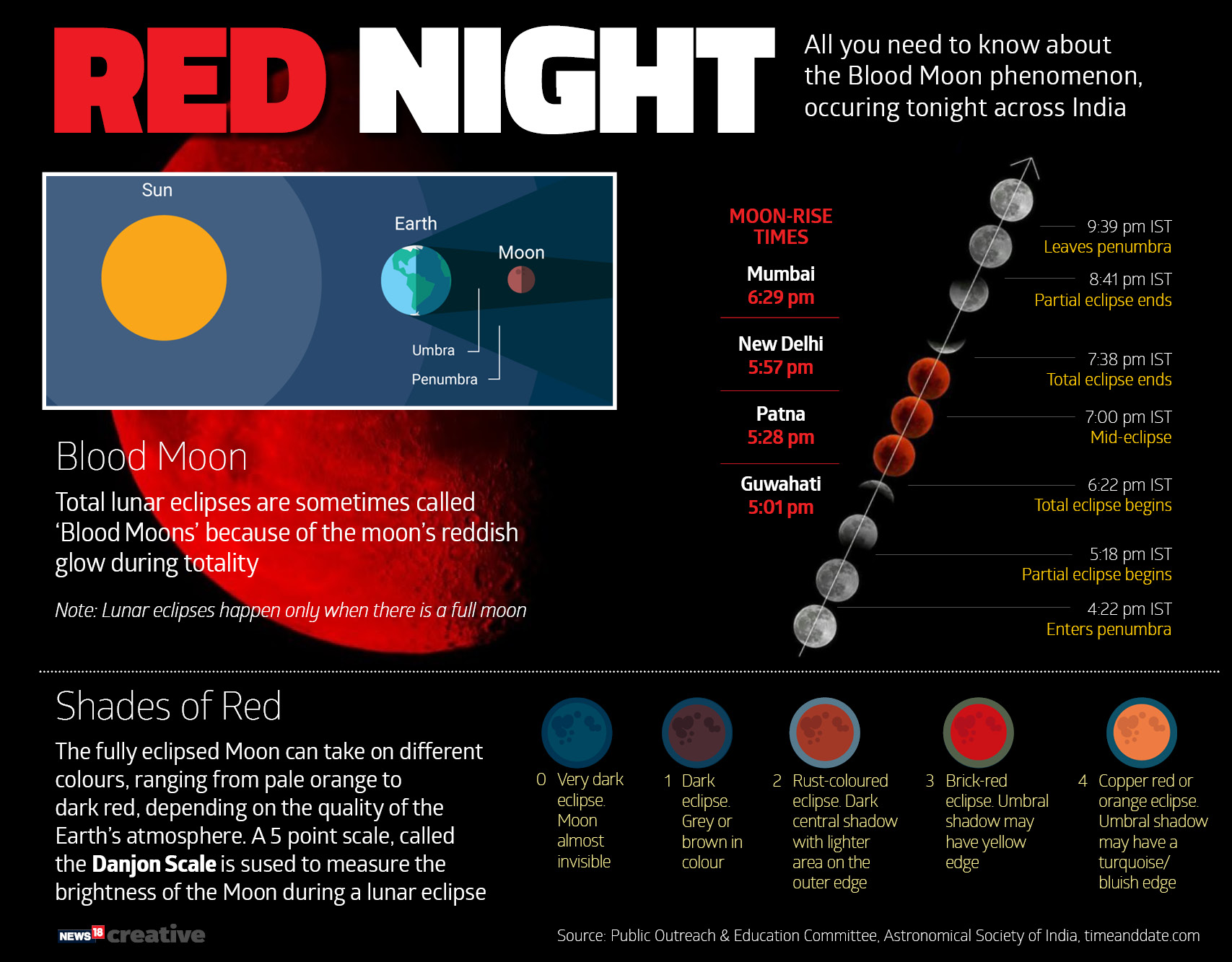 A blood moon is a term used to describe a total lunar eclipse, which is when the moon appears dark as it passes through Earth's shadow.
The full moon will take on a dark, reddish appearance during the eclipse, so another phrase used to describe it is a blood moon. However, the moon doesn't actually appear blue.
The eclipse itself is expected to last about an hour and a quarter. For anyone unable to watch the event in person, it will also be streamed live online.
In India, the eclipse will start around 05:18 pm IST. It will be total at 06:21 pm and remain totally eclipsed till 07:37 pm.
Then after, the total eclipse will end and the Moon will slowly come out of the shadow of the Earth, the partial eclipse ending around 08:41 hrs. The totality of the eclipse will last for about 1 hour and 16 minutes.
In Asia, the last Blue Moon and total lunar eclipse happened on December 30, 1982.
Timings for sighting a Supermoon in India are:
Mumbai
Begins: Wed, 31 Jan 2018, 18:27
Maximum: Wed, 31 Jan 2018, 18:59 (1.32 Magnitude)
Ends: Wed, 31 Jan 2018, 21:38
Duration: 3 hours, 11 minutes
Delhi
Begins: Wed, 31 Jan 2018, 17:53
Maximum: Wed, 31 Jan 2018, 18:59 (1.32 Magnitude)
Ends: Wed, 31 Jan 2018, 21:38
Duration: 3 hours, 45 minutes
Kolkata
Begins: Wed, 31 Jan 2018, 17:16
Maximum: Wed, 31 Jan 2018, 18:59 (1.32 Magnitude)
Ends: Wed, 31 Jan 2018, 21:38
Duration: 4 hours, 22 minutes
Imphal
Begins: Wed, 31 Jan 2018, 16:50
Maximum: Wed, 31 Jan 2018, 18:59 (1.32 Magnitude)
Ends: Wed, 31 Jan 2018, 21:38
Duration: 4 hours, 48 minutes
Guwahati
Begins: Wed, 31 Jan 2018, 16:56
Maximum: Wed, 31 Jan 2018, 18:59 (1.32 Magnitude)
Ends: Wed, 31 Jan 2018, 21:38
Duration: 4 hours, 42 minutes
Chennai
Begins: Wed, 31 Jan 2018, 18:04
Maximum: Wed, 31 Jan 2018, 18:59 (1.32 Magnitude)
Ends: Wed, 31 Jan 2018, 21:38
Duration: 3 hours, 34 minutes
Pune
Begins: Wed, 31 Jan 2018, 18:23
Maximum: Wed, 31 Jan 2018, 18:59 (1.32 Magnitude)
Ends: Wed, 31 Jan 2018, 21:38
Duration: 3 hours, 15 minutes
Kochi
Begins: Wed, 31 Jan 2018, 18:25
Maximum: Wed, 31 Jan 2018, 18:59 (1.32 Magnitude)
Ends: Wed, 31 Jan 2018, 21:38
Duration: 3 hours, 13 minutes
Bengaluru
Begins: Wed, 31 Jan 2018, 18:15
Maximum: Wed, 31 Jan 2018, 18:59 (1.32 Magnitude)
Ends: Wed, 31 Jan 2018, 21:38
Duration: 3 hours, 23 minutes