GET Stock

Quotes


'Super Nani' tweet review: Rekha stands out in an otherwise predictable film
Based on a popular Gujarati play 'Baa Ae Maari Boundary', the film is expected to get a huge response.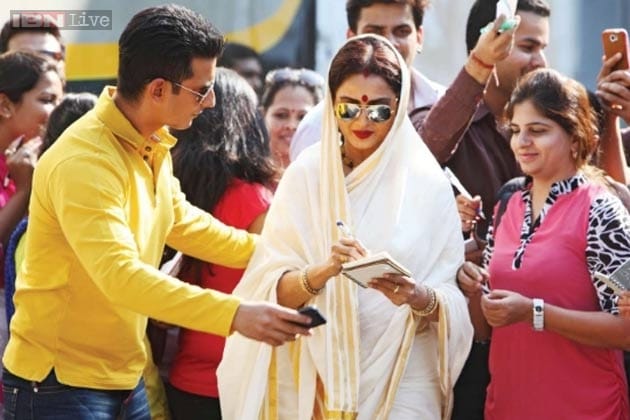 Based on a popular Gujarati play 'Baa Ae Maari Boundary', the film is expected to get a huge response.
It has been an interesting year for women-oriented films. Whether it was 'Mary Kom', 'Mardaani', 'queen' or 'Revolver Rani', each film which talked about women emancipation managed to wow the viewers with its impressive plot and strong message.
Rekha's 'Super Nani' which releases today too is no different. Based on a popular Gujarati play 'Baa Ae Maari Boundary', the film is expected to get a huge response as it revolves around a female protagonist who is chided and taken for granted by her family.
Divya Pal of IBNlive.com was inside the theatre to live tweet the experience.
10:15 AM: Stay tuned for the live tweet of #supernani.
10:22 AM: Directed by #indrakumar, #supernani features #rekha, #sharmanjoshi and #randhirkapoor in lead roles.
10:26 AM: Remember the short film by #sharmanjoshi which talked about unconditional love for mothers? That's the opening sequence of #supernani
10:28 AM: Lovely cotton saris, minimal makeup and simple looks. #rekha looks gorgeous in #prabumere song of #supernani
10:39 AM: 20 minutes into #supernani and we know it is about #kanhakipuja, #mangalkichaya and #kaladhaga. Too much superstitious beliefs.
10:45 AM: #sharmanjoshi has a weird accent, #shwetakumar performs bizarre steps, #randhirkapoor chides wife #rekha. Too many cliches in #supernani
10:57 AM: #rekha is #supernani because she offers parathas to goons. She tends to their injuries.
11:00 AM: For #supernani #rekha marrying a divorcee, considering live in relationship as an option is PAAP.
11:04 AM: #sharmanjoshi cares for #supernani #rekha. But why does he have to cry in every sequence?
11:06 AM: #Bollywood gives us another song dedicated to grandmothers #nanimaa. Will it be as popular as #naniterimorni? #supernani
11:22 AM: #Rekha looks gorgeous as Anarkali. She performs to Bollywood track "Pyaar kiya toh drama kya". Haha! #SuperNani
11:29 AM: It is interval. Too much drama in #supernani. But #rekha sustains viewers' interest. Hoping for the second half to be convincing.
11:41 AM: #rekha vows to be a model. And going by her transformation, she is comfortable with her new look. #supernani is super cool
11:45 AM: Wow! Bangs, sexy shades, low waist jeans. Viewers can't keep their eyes off #rekha in #supernani
11:49 AM: #rekha bags an offer to do a commercial with #amitabhbachchan. Cashing in on his popularity? #supernani
12:01 PM: Tujhe Mother Mary se Maa Durga banni padegi, says #sharmanjoshi in broken Hindi in #supernani
12:02 PM: Clear skin, healthy hair and right attitude. Model #rekha proves she can give new actresses a run for their money. #supernani
12:06 PM: Apna khoon hai toh kya humara khoon peetey rahengey. #supernani
12:10 PM: And how is it possible that a film like #supernani won't have 'nau maheeney kok mei' dialogue? #rekha mouths the same old dialogue.
12:18 PM: Amazing transformation! #supernani, who was being treated like a doormat, speaks flawless English, encourages her family to achieve goals
12:25 PM: Bambu, Zhandu Singh, Chunni: #supernani offers some really striking names
12:30 PM: #supernani burdens characters with unimportant aspirations and intentions.
12:33 PM: With a predictable plot and irrelevant characters, #supernani isn't as impressive and convincing as it was expected to be.
12:41 PM: Appreciate the makers of #supernani for putting across a message that we can't ignore - respect women and treat them as equals.
12:42 PM: #Rekha gives yet another strong performance. She is the soul of #supernani
12:43 PM: Thanks for being with us throughout the tweet review of #supernani
Also Watch

Jharkhand Hunger Deaths Part I: Killed By Hunger: The 20% of Jharkhand's Population Crying for Food
Read full article