'Super Steno' RK Dhawan Makes One Final Trip to Congress Headquarters
Rajinder Kumar Dhawan passed away on Monday at the age of 81 and on Wednesday his mortal remains were brought to the AICC office.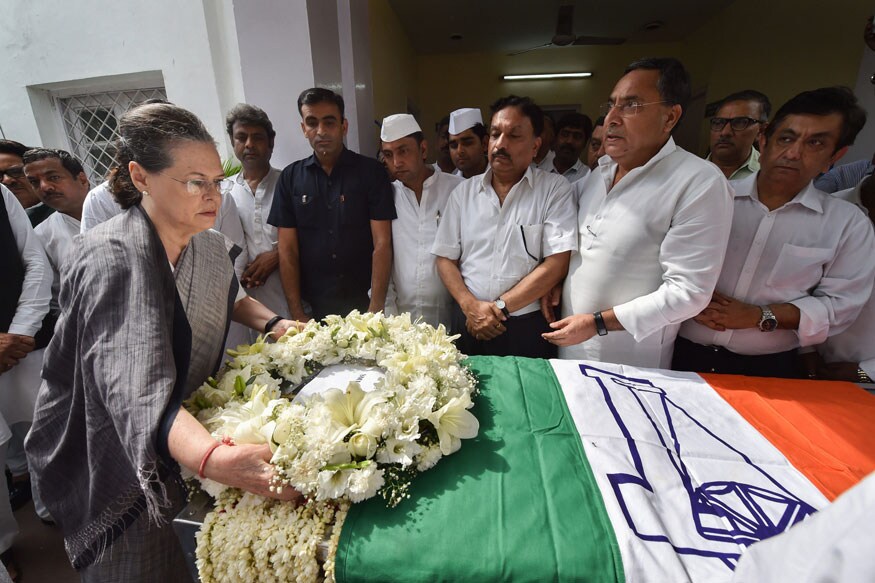 New Delhi: Former Congress president Sonia Gandhi lays a wreath as she pays last respects to former union minister and general secretary, RK Dhawan, at AICC in New Delhi, on Wednesday, August 8, 2018. (Image: PTI)
New Delhi: When the mortal remains of RK Dhawan were brought into the main foyer of the All India Congress Committee (AICC) office, a hoarding with former Prime Minister Indira Gandhi's picture loomed large over the lawns of 24, Akbar Road. In death, RK Dhawan remained as he was in life – under Indira Gandhi's shadow.
Rajinder Kumar Dhawan passed away on Monday at the age of 81 and on Wednesday his mortal remains were brought to the AICC office. On a day when the funeral procession of DMK patriarch M Karunanidhi drew thousands to the streets of Chennai, Dhawan's final journey nearly 2,500 kms away was a much quieter affair. A few hundred Congress leaders, workers and supporters came to the AICC headquarters to pay their final tributes. Several from the top brass, including Sonia Gandhi, Ashok Gehlot and Ahmed Patel were present. The notable absence was that of Congress President Rahul Gandhi, who was in Chennai to attend Karunanidhi's funeral.
But the very fact that his mortal remains were brought to the AICC office speaks to the importance he held within the party. When former Prime Minister PV Narsimha Rao passed away, his body was kept at the gates of 24, Akbar Road for 20 minutes but he was denied the honour that Dhawan received on Wednesday. The last Congress leader whose body was brought to the AICC HQ was former Union Minister Priya Ranjan Das Munshi.
"RK Dhawan Ji was a leader who lived for the ordinary Congress karyakarta (worker). From Kashmir to Kanyakumari, he knew Congress workers by their first names. He served generations of Congress leaders, from Indira Ji, to Rajiv Ji, to Sonia Ji and now Rahul Ji. The gap he has left behind in the Congress cannot be filled," Congress spokesperson Randeep Singh Surjewala told reporters at the Congress office.
During his time as a close personal aide of Indira Gandhi, Dhawan earned the moniker 'Super Steno'. This was because he started off in public life as a stenographer for Prime Minister Jawaharlal Nehru. There, he came into the service of Indira Gandhi, who was not yet Prime Minister. Soon, Dhawan became Mrs. Gandhi's Man Friday. When she ascended the high chair in New Delhi as Prime Minister, anyone who had to meet the PM or speak with her had to go through Dhawan first. This gave him considerable clout, making him one of the most powerful, influential figures in India.
Senior Congress leader and former Madhya Pradesh Chief Minister Digvijaya Singh said, "He was someone who understood the mechanics of power very well. He always managed to deliver what was asked of him. The Congress party is poorer without his wisdom."
Singh recalled his own experience of working with Dhawan directly. "He was the Chairman of the screening committee and an AICC observer for the 1993 Madhya Pradesh elections. I had an excellent experience working with him and I found him to be very fair, straight and clear-minded. It was after that election that I was first elected as the Chief Minister of Madhya Pradesh," Singh said.
The reliance of Sanjay Gandhi, the PM's son, on Dhawan only further boosted his position. But Dhawan's own role came under the scanner during the Emergency of 1975-1977, when he was accused of being a facilitator of the excesses committed during that era.
Digvijaya Singh said that even during that difficult time, he did not abandon the Gandhi family. "He stood with Mrs. Indira Gandhi when times were tough, often even at great personal risk. He was harassed and hounded by the Janata regime, which came to power in 1977," he said.
When the Congress came back to power in 1980 and Indira Gandhi became Prime Minister again, Dhawan regained his pride of place as the "gatekeeper" to the first family. With that came the accusation that Dhawan was turning into a "power-broker" and a "political deal-maker". Singh said the accusations were nothing more than slander. "You see, none of the accusations against him were ever proven. It was nothing more than slander. People have the habit of saying that everybody except for them is corrupt. That happens today as well and even Dhawan Ji had to face that."
According to one account, as Indira Gandhi lay dead in New Delhi's All India Institute of Medical Sciences (AIIMS), Dhawan could be seen emphatically pleading with doctors to save her. A witness to the murder of Indira Gandhi, Dhawan initially fell out of favour with her son and successor Rajiv Gandhi. However, he soon made a comeback into the family's inner circle. As he breathed his last on Monday, Dhawan certainly took his fair share of secrets to the grave.
Get the best of News18 delivered to your inbox - subscribe to News18 Daybreak. Follow News18.com on Twitter, Instagram, Facebook, Telegram, TikTok and on YouTube, and stay in the know with what's happening in the world around you – in real time.
Read full article