Apart from having world's finest vessels to combat any challenges, Indian Navy is also equipped with small ships to flaunt it's might in the Indian Ocean. IBNLive takes a look these floating machines.
INS Abhay:
This vessel of the Indian Navy is customized variants of the Soviet Pauk class corvettes. The class is primarily intended for coastal patrol and anti-submarine warfare.
Landing Platform Dock (LPD)
INS Jalashwa:
It is an amphibious transport dock currently operational with the Indian Navy. She was commissioned on June 22, 2007. INS Jalashwa is the only Indian naval ship to be acquired from the United States. She is based in Visakhapatnam under the Eastern Naval Command.
It has a capacity to house up to four LCM-8 mechanized landing craft. She also has a flight deck for helicopter operations from which up to six medium helicopters can operate simultaneously. The deck can also be used to operate vertical take-off and landing (VTOL) aircraft like the Sea Harrier, in special circumstances with an embarking capacity of more than 1,000 troops.
Also, it is fully equipped with extensive medical facilities including four operation theatres, a 12-bed ward, laboratory and a dental centre.
Landing Ship Tank
INS Magar:
It is an amphibious warfare vessel of the Indian Navy, currently in active service. Two ships of the class were designed and built by Hindustan Shipyard Limited, with fitting completed at Garden Reach Shipbuilders and Engineers. It can operate two medium-lift helicopters. It has a bow door in front for maximum cargo and troop movements.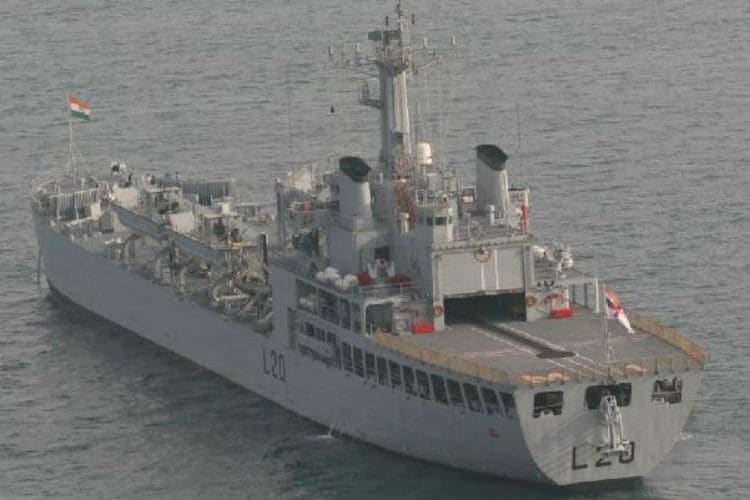 INS Kumbhir:
Kumbhir class landing ships are medium amphibious warfare vessels of the Indian Navy. They are variants of the Polish Polnocny class landing ships.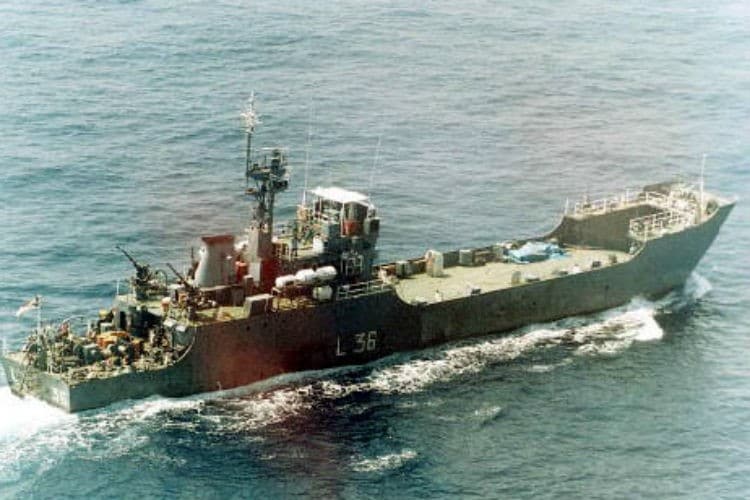 Landing Craft Utility
The Landing Craft Utility (LCU) is a type of boat used by amphibious forces to transport equipment and troops to the shore. They are capable of transporting tracked or wheeled vehicles and troops from amphibious assault ships to beachheads or piers.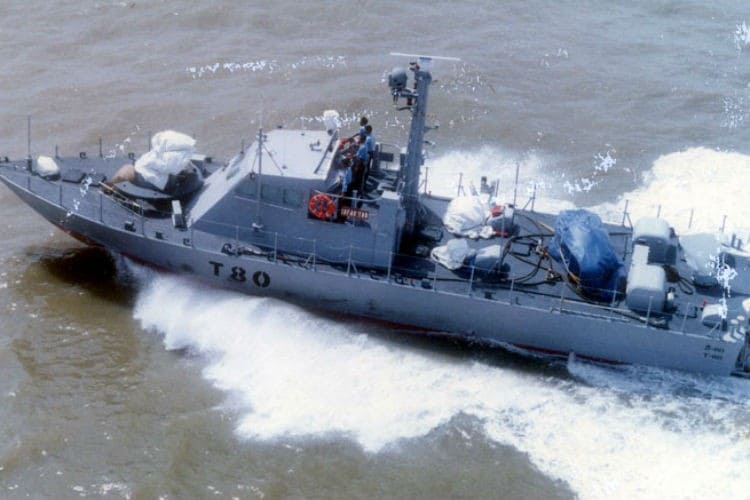 Offshore Patrol Vessel
INS Sukanya:
The Sukanya class patrol vessels are large, offshore patrol craft. Three lead ships were built by Korea Tacoma, now part of Hanjin Group. It is having large hulls, although they are lightly armed since they are utilized primarily for offshore patrol of India's exclusive economic zone. However, they are capable of being heavily armed and upgraded to light frigates should the need arise.
Minesweepers
INS Karwar:
The Karwar class of minesweepers built for the Indian Navy by the Soviet Union. They are modified versions of the Natya-class minesweeper. The vessel was acquired from 1986 to 1988. It is equipped with surface-to-air missiles defence system. As minesweepers, it is large and heavily armed. They can serve a dual purpose as an anti-submarine warfare escort. Their hulls are constructed of U3 low magnetic signature steel.
Fleet tankers
There are primarily four fleets operational under the Indian Navy: INS Deepak, INS Jyoti, INS Aditya and INS Shakti.
The fleet tanker can carry 17,900 tonnes of cargo, including 15,500 tonnes of liquid cargo including water, ship and aircraft fuel and 500 tonnes of solid cargo including ammunition.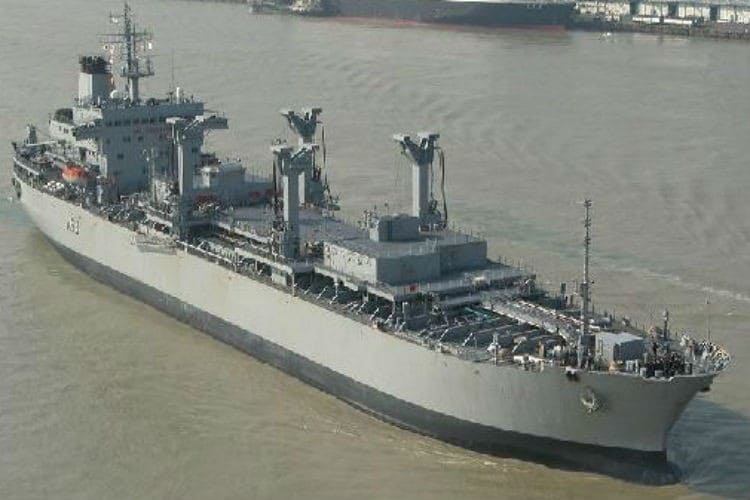 The vessels under this category are equipped with hospitals, laboratory and X-ray facilities. The modern cargo handling facility on board the ship enables transfer of heavy solid cargo and simultaneous fueling of multiple ships at sea, and can refuel at the rate of 1,500 tonnes per hour.
It is also having a workshop station to support other ships of the fleet. It is also fitted with close-in weapon systems for self-defence.
Torpedo Recovery Vessels
INS Astradharini:
It can operate at high sea states and has a large deck area with Torpedo Launchers for deploying and recovering various kinds of torpedos during the trials. The ship has modern power generation and distribution, navigation and communication systems.
Nearly 95% of the ship's systems are of indigenous design. The vessel can accommodate 13 DRDO scientists and has the capacity to undertake multiple trials during a single sortie. The commissioning of INS Astradharini will accelerate the development of India's underwater weapons and systems. She was commissioned to Navy Service on October 6, 2015 at the Naval Base in Visakhapatnam.
Small Fighting Ships
There are mainly four vessels under this category including
INS Trinkat, INS Super Dvora II, INS Bangaram, INS Car Nicobar
etc. Primarily these vessels carry out fisheries protection, anti-poaching, counter-insurgency and search-and-rescue operations in coastal areas and in the exclusive economic zone. The vessels of the class are named after islands from the Andaman and Nicobar Islands or the Lakshadweep Islands.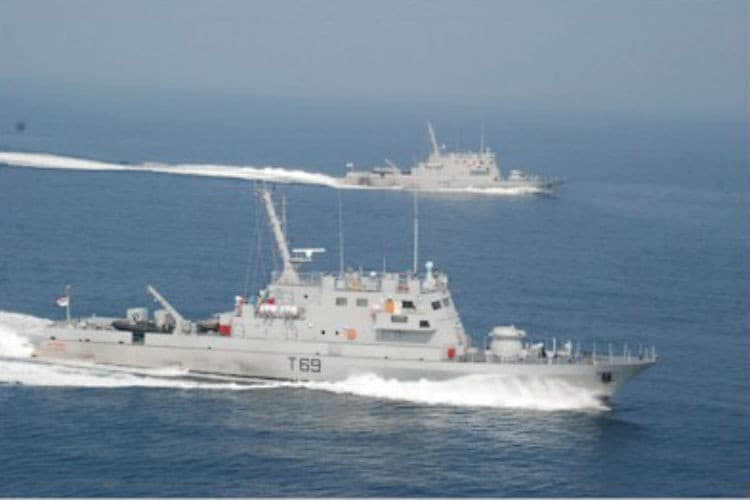 Survey Ships
There are mainly two vessels under this category including
INS Sandhayak
and
Makar
. These ships are equipped with a range of surveying, navigational and communication systems. The ships are designed to undertake shallow coastal and deep oceanic hydro-graphic survey and collect oceanographic and geophysical data required for the production of digital navigational charts and publications. They can also assist in times of war and natural calamities as troop transports.
Training Vessels
INS Tir
is the senior ship of the 1st Training Squadron of the Southern Naval Command. It was commissioned on February 21, 1986. It has sensors, Decca Radar and a SATNAV (Satellite Navigation) system on board. She can carry up to 293 people on board, though her typical deployment is with 20 instructors and staff and 120 cadets.