Surface to air missile Akash test-fired from Odisha coast
<p>India on Monday test-fired the indigenously developed surface-to-air missile 'Akash' from the Integrated Test Range at Chandipur-on-sea, about 15 km from Balasore.</p>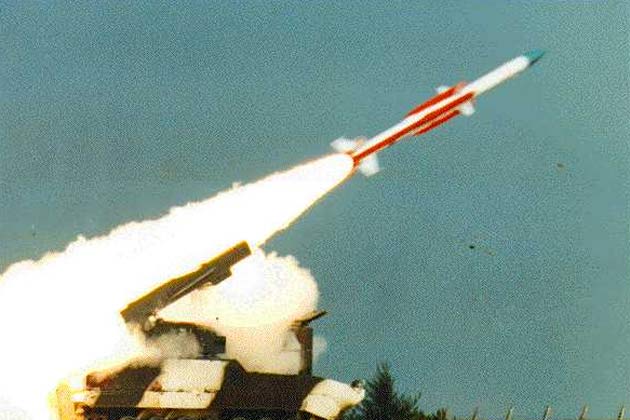 <p>India on Monday test-fired the indigenously developed surface-to-air missile 'Akash' from the Integrated Test Range at Chandipur-on-sea, about 15 km from Balasore.</p>
India on Monday test-fired the indigenously developed surface-to-air missile 'Akash' from the Integrated Test Range at Chandipur-on-sea, about 15 km from Balasore.
The missile targeted a floating object supported by Pilotless Target Aircraft 'Lakshya'. "Lakshya was sent at 11.31 AM before Akash test fired from the launch complex-3 at 11.42 AM," a defence official said, adding, "Some more trials would be conducted within the next few days. "During the trial, the missile aimed at intercepting a floating object supported by a pilotless target aircraft, flown from launch complex-II, at a definite altitude over the sea," he said.
Akash is a medium range surface-to-air anti-aircraft defence system developed by DRDO as part of the Integrated Guided Missile Development Programme. It has a strike range of 25 km and can carry a warhead of 60 kg. It has the capability to target aircraft at a distance of up to 30 km and is packed with battery that can track and attack several targets simultaneously, he said.
With the capability to neutralise aerial targets like fighter jets, cruise missiles and air-to-surface missiles, defence experts compare Akash with the American MIM-104 Patriot surface-to-air missile system. The last trial was conducted on February 22 from the same base.
Get the best of News18 delivered to your inbox - subscribe to News18 Daybreak. Follow News18.com on Twitter, Instagram, Facebook, Telegram, TikTok and on YouTube, and stay in the know with what's happening in the world around you – in real time.
Read full article