Sushmita turns director with Jhansi ki Rani
Sushmita is also going to produce and act in the film.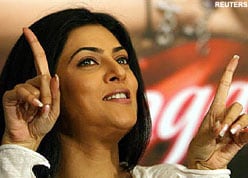 Sushmita is also going to produce and act in the film.
Mumbai: Actress Sushmita Sen, who dons the director's hat for an upcoming film about Rani Laxmi Bai, says it was destiny which made her a filmmaker.
Jhansi Ki Rani will celebrate the life of the valiant Indian queen who fought British colonialists during the first war of independence 150 years ago.
Sen, also the film's producer, will be playing the queen's role.
"Me directing a film, it's actually destiny," Sen told reporters in Mumbai on Friday. "I was never meant to direct (the film)… it just so happens that I will be directing it."
Laxmi Bai, the gutsy queen of Jhansi often represented in history books as a sword-wielding, horse-riding warrior, challenged the British after they refused to recognise her adopted child as the heir to the throne. Her revolt quickly became a key focus of the 1857 mutiny against the colonial rulers started by a handful of Indian soldiers.
Sen said she was optimistic about acting, directing and producing a film at the same time.
"It's going to be a very formidable task but I hope it will turn out just fine," the actress said.
Jhansi Ki Rani> is slated to open in November 2009.
Get the best of News18 delivered to your inbox - subscribe to News18 Daybreak. Follow News18.com on Twitter, Instagram, Facebook, Telegram, TikTok and on YouTube, and stay in the know with what's happening in the world around you – in real time.
Read full article