Switching to Cycles, Turning Off ACs and Crossing States: A Common Man's Hack for Sky-High Fuel Prices
As on September 20, while the refineries produced petrol at Rs 41.53 a litre, state and central government together made Rs 40.59 for every litre of petrol sold.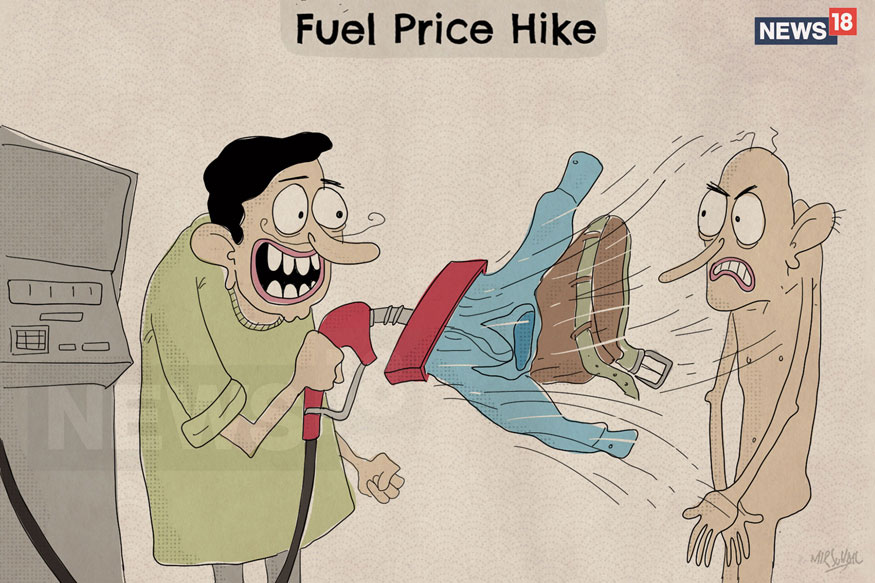 Illustration by Mir Suhail. (News18)
Thirteen-year-old Rishabh Kothari is unhappy with his father. Rishabh's mother is also not presently jocular with her long-married husband. Their reason, despite being personal, is a reflection of the national pain-point – record breaking fuel prices.
"But… what have I done?" exclaims a helpless Delhi-based Pankaj Kothari at his family's perpetual anger towards him ever since his decision.
Last week, when petrol prices crossed Rs 80 a litre in New Delhi, Kothari decided to park his motorbike and use his old bicycle for travelling. This is when the national problem reached his door-step.
The cutbacks started with his son. When times were merrier and petrol prices cheaper, he used to drop Rishabh to school on his bike before heading to work. However, that morning was different. As Rishabh waited for his father to get his bike, he was surprised to see a newly oiled yet old bicycle instead.
"We have a new ride," Kothari had said, beaming at his son who scorned with equal vigour. The discontent at the "demotion" was clear.
Rishabh is the only one among his school friends whose father owns a Royal Enfield Bullet, which the kid never failed showing off to gain popularity in his group. "Bullet to cycle, really? The rides are also longer and bumpy. I need to wake up earlier. My friends keep asking why I come in a cycle now," says Rishabh, still urging his father to get back to the motor vehicle for the sake of his son's deflating social status.
Pankaj's already burgeoning problems grew further when his wife decided to join the counter camp as well. The 39-year-old housewife's only outing during the day was when her husband got back from work and they headed to the market together on their bike to buy vegetables. However, ever since the cycle has replaced the erstwhile vehicle, she is forced to stay at home.
"I have a budget of Rs 3,000 a month for petrol. Once fuel expenditure crossed that mark, I thought of shifting to my cycle. I had thought it will be fun getting back to old ways but seems it turned out otherwise. The government raises prices and I suffer at home," says Kothari, still looking to find a way out from the barrage of complaints shot at him daily.
Since September 1, petrol prices have gone up by over Rs 3.78 a litre, while diesel rates have been hiked by Rs 3.57 a litre. All-time high prices of fuel coupled with falling value of rupee – which fell to an all-time low of Rs 72.91 against the US Dollar on September 12 – have dented personal budgets along with tarnishing the Centre's image, with the Opposition taking to streets to protest against the government's inability to contain the prices of fuel.
The rising retail prices of fuel in the country has its roots in the global pressure on rupee coupled with rising crude oil prices in the Indian basket.
As India imports more than 80 percent of its oil needs, the rate of currency and the price of crude are an important determinant for the final retail prices of fuel in the country.
Crude oil prices in the Indian basket rose by more than three dollars since August 2018, according to Petroleum Planning and Analysis Cell, an arm of the Ministry of Petroleum and Natural Gas due to shortage in supply and steady demand. More importantly, rupee rates dwindled during the same time.
"The lack in supply is due to the geopolitics involving Iranian oil that is obviously creating a shortage of oil in the market," said Jaijit Bhattarcharya, a partner at KPMG.
Due to the ongoing unsustainable prices, states like Andhra Pradesh, Karnataka, Rajasthan and West Bengal decided to cut taxes on fuel to reduce the burden. However, in states that have not yet brought down rates, the problem persists.
Suman Das, a truck driver in the North-East seems to have a found a way out from this. Earlier, he used to ply across states and refill his truck's tank at pre-decided petrol pumps which were on the way. Now, he uses the "jugaad" of taking a detour and crossing over to another state where prices are lower.
"Meghalaya has low rates. It is a round trip of around 50 kms but the difference is significant when bought in bulk," says Das, proud of his hack. The only hurdle arises when Das has to answer to his boss for the extra 50 kms.
The reason why fuel rates differ across regions is state-taxes and other commissions that gets added on. Overall, Indians pay almost 50 percent tax on fuel.
As on September 20, while the refineries produced petrol at Rs 41.53 a litre, state and central government together made Rs 40.59 for every litre of petrol sold.
The final rate finally swells to double its value when 25.44 percent excise duty, 4.72 percent dealer commission and 21.26 percent VAT gets added. The final retail price of Rs 82.22 a litre is a sum of 51.44 percent tax addition. (Petrol price in New Delhi is used here)
However, rates in Mumbai and most other state capitals are predominantly higher as these taxes do not fall under Goods and Services Tax (GST) and are subject to revision by state governments.
The same tax rate when compared to other developed economies and South-Asian countries emerges as one of the highest. The US levies a tax of 17 percent in its fuel while India's immediate neighbour Pakistan taxes petrol at 23.5 percent.
India's high tax rate also comes in sharp contrast to Bangladesh and European countries. Sharing eastern borders with India, Bangladesh levies 25 percent corporate tax along with 15 percent on fuel while the average tax rate on petrol in the European nations approximates to 21 percent.
The result of these high taxes is making Ram Singh, a cab driver in Delhi sweat, quite literally. While Pankaj Kothari and Suman Das are having to deal with personal problems, Singh is facing the flak from strangers.
In order to save on daily expenditure, Singh switches off the AC of his car once in a while to save on a few litres of fuel. "AC reduces the mileage of the car. Cab aggregators have not hiked trip rates but petrol prices have gone up. By saving only three litres, I cut down on almost Rs 250 a day, but obviously there are rude passengers who do not understand," says Singh.
He drives more than 150 kms in a day and needs to refill every day, sometimes even twice. He has also propagated his idea among other cab drivers who are starting to use the ploy to save on fuel.
If the already steep prices keep rising, very soon we must expect correspondingly increasing angry children, housewives, passengers along with helpless fathers and cab-drivers.
| Edited by: Aakarshuk Sarna
Read full article
Countdown To
Elections Results
To Assembly Elections 2018 Results