24-Hour Ultimatum After Talks to End Hardik Patel's 12-Day Fast Fail Amid Accusations of Villainy
Hardik's Patidar Anamat Andolan Samiti accused representatives of other Patidar groups of being BJP agents after they met state ministers on Tuesday evening to find an end to the impasse.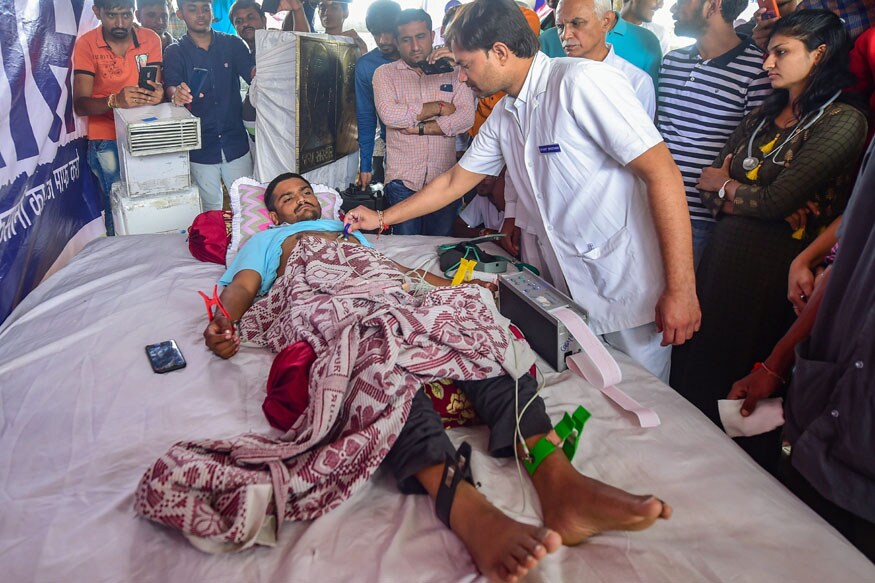 Ahmedabad: A doctor checks the health of Patidar Anamat Andolan Samiti (PAAS) leader Hardik Patel on the 7th day of his indefinite hunger strike for reservation, in Ahmedabad on Friday, Aug 31, 2018. (Image: PTI)
Ahmedabad: Hardik Patel's Patidar Anamat Andolan Samiti issued a 24-hour ultimatum to the BJP government in Gujarat asking it to accede to the 25-year-old Patidar leader's demands by Thursday or he would stop drinking water.
The ultimatum came after talks to find an end to the 12-day impasse over Hardik Patel's indefinite fast hit a roadblock on Wednesday with PAAS accusing representatives of other Patidar groups of being BJP agents after they met state ministers to find a solution.
Representatives of Patidar organisations have now said they will no longer mediate with the government unless they have a mandate to do so in writing from PAAS.
The BJP-led state government held a meeting with several key leaders of the Patidar community at Gandhinagar Tuesday night, hours after doctors expressed concern over the health of Hardik, who has lost almost 20 kgs of weight in the last eleven days.
Hardik had launched his fast on August 25 demanding farm loan waiver and reservation for the Patidar community under OBC category in government jobs and education sector.
Speaking to the media on Wendesday, PAAS convener Manoj Panara accused CK Patel of the Vishwa Umiya Foundation of working for the BJP.
"Neither CK Patel now any of the representatives of the Patidar organisations that initiated talks with the state government on Tuesday have come here and met Hardik Patel. None of them have consulted with PAAS before going and meeting the state government. We hope that CK Patel does not want to play villain in the Patidar reservation agitation," Manoj Panara stated.
Reacting to the allegations by PAAS, CK Patel said from now on, leaders of the Patidar Community or organisations that represent the Patidar community will no longer mediate with the government over Hardik's fast.
"From now on, there will be no mediation whatsoever by leaders of the community, especially those organisations that represent majority of the Patidar community. Only if PAAS gives us a letter in writing that they require our mediation, will we consider talking to the government," he told the media on Wednesday afternoon.
He added that representatives of six Patidar organisations, which met ministers of the government, had received a verbal communication from the agitating group.
"I want to say this to the agitating Patidar youth –let us be united in our fight for reservation. The whole Patidar community ought to be united. We have decided that let the youth carry on with the struggle. If required, we will step in, but not without a written request from PAAS," C K Patel clarified.
Hardik Patel, in a statement to the media late on Tuesday night, said that attempts are on to dismantle the agitation. He clearly alleged that the BJP is attempting to trigger off violence in the name of the Patidar agitation to defame his ongoing fast.
"Everybody ought to be alert, The BJP will play its games. I am appealing to farmers and youth of the state not to enter into any kind of confrontation with the police," he said in a statement.
| Edited by: Aakarshuk Sarna
Read full article
Countdown To
Elections Results
To Assembly Elections 2018 Results