TN Netas Warm Up to Journalists, Thanks to Kamal, Rajini and Dinakaran
The new politicians in Tamil Nadu have started a trend — informal lunch and dinner meeting with journalists. They are much more media friendly, they give bytes — and probably, in years, journalists are not scared to be critical of them.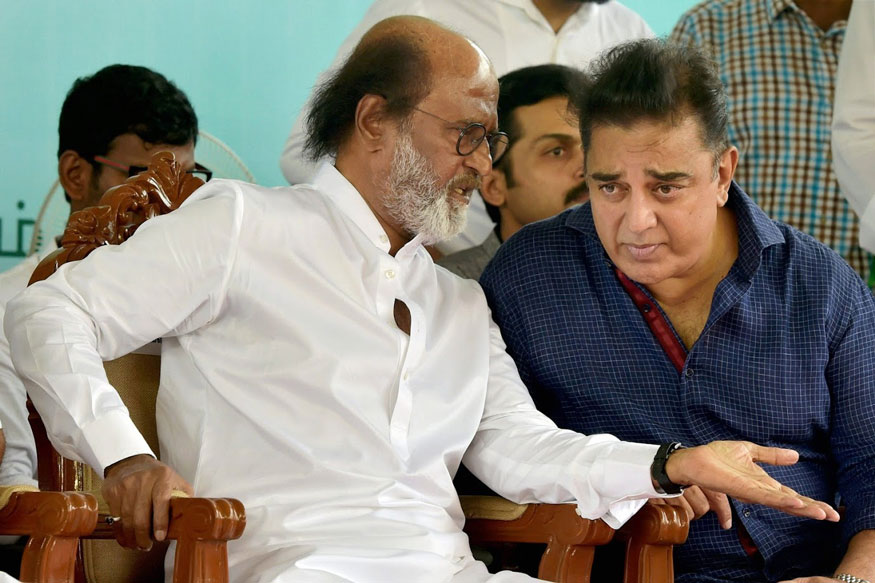 File photo of Actors Rajinikanth and Kamal Haasan (PTI)
Being a journalist in Tamil Nadu, covering the state politics has never been easy. Till 2016, there were no informal interactions with either of the two biggest parties in the state — DMK or the AIADMK. While the DMK was slightly more easy on journalists — as it addressed press conferences when in power or in opposition, the AIADMK has always had a strict policy.
The party closed all the doors for media during Jayalalithaa's rule. However, it seems like things are going to get a little better for those journalists who often faced backlash for criticizing the politicians in the state. Thanks to Kamal Hassan, Rajinikanth and TV Dinakaran.
The new politicians in Tamil Nadu have started a trend — informal lunch and dinner meeting with journalists. They are much more media friendly, they give bytes — and probably, in years, journalists are not scared to be critical of them.
So, how was it like during the times of Karunanidhi, MGR and Jayalalithaa?
S. Ramesh, Chief Reporter, Thuglak, said that when MGR floated a party, he would often meet senior journalists from The Hindu and Dinamani. "Not frequently, sometimes," he said. Talking about the difference between Jayalalithaa and MGR, the senior journalist said that while MGR didn't quite shy away from the media, Jayalalithaa completely shunned them even though she had friends in the media circuit.
"The problem with Jaya was that she strongly felt media was unfair to her — biased criticism and unfair writings without cross-checking. She would openly say she doesn't 'need media support'," he said.
The journalist said that though Jaya was not fair to the media, there is truth in her statement. "Media was not fair to her," he said.
Talking about his interaction with the former chief minister, the journalist said that he brought public issues to her notice and she rectified the problems immediately. "Once I told her about the non-availability of toor-dal at PDS shops. The next day, there was a press release stating the state government will ensure there is availability of toor dal. She took immediate action."
Ramesh feels that the budding politicians need the support of media. "They are not afraid of memes, they don't want to antagonize any form of media — not only those who are starting but politicians in the race like MK Stalin — They are very cautious," he said. The journalist believes Rajini, too, will also follow this.
S Karthigaichelvan, Managing Editor, Puthiya Thalaimurai said he struggled to get information from the AIADMK during Jayalalithaa's rule.
"There is more space for politics now. When Jayalalithaa ruled the state, there was no access to ministers and bureaucrats," he said.
And, even when reporters filed stories on the politicians, they would face severe backlash. Talking about one such incident, the journalist said, "Once, I got information on Jayalalithaa meeting MPs ahead of the Parliamentary session. The meeting was a discussion on how to attack the UPA government. I filed the story after I got information from sources." But that's not how things ended. Soon after, the journalist's call records were tracked and all the people he spoke to in those two weeks were summoned. Jayalalithaa then issued a stern warning to them to not talk to the media on internal affairs.
"After a few months, when I met Jayalalithaa, I told her that none of them against whom action was taken were my source. She smiled and said, ' you are doing your job and I am doing my job'."
The journalist points out that how ministers were inaccessible then and sources would be careful, they knew the repercussions of it. "That is how it was during the AIADMK rule. No one was approachable and it was very difficult to get political stories."
RK Radhakrishnan, Associate Editor, Frontline also spoke about how journalists would often get targeted during Jaya's rule.
However, he said that over the years the equation had sort of changed. "I think it was during her first tenure that she realized that journalists were susceptible to gifts and cash inducements. This was strengthened by the fact that some Chennai journalists approached her for a grant to build the journalists' colony. She gladly agreed, and in some ways, this changed forever the journalists - Jayalalithaa equation," he said.
"The contact had to be often initiated from her side. It was difficult to reach her otherwise," he added.
S Karthigaichelvan notes that the DMK was more accessible back in those days, things have changed now. "The ministers from AIADMK are more accessible and speak on camera as well. TTV Dinakaran, Rajini and Kamal host informal sessions with journalists and can be reached any time." However, he is not sure if things will remain the same once these politicians come to power.
S. Rangarajan, a senior journalist said, "Back in the day when Dr. MGR conducted press meets, he would have a close eye on what the journalists were taking down and made sure that they just don't take pointers but note down the exact words of the leader and report it to their respective editors. He often said that it is the editor's job to pick out what's relevant to the story, not the reporters'.
"Radhakrishnan said that in 1996 when Jayalalithaa was jailed, one journalist had access to her. "But this too appeared a one-off thing because she decided that playing the diva who knew it all worked in her favour, rather than engage the journalist in a clear conversation on policy issues," he said.
However, with Karunanidhi, things were slightly different. The journalist said that the DMK supremo would make a journalist feel at ease and intimidate the person simultaneously. "He knew most journalists in the districts too, stayed in touch with them, and often called them up in the event of a problem in the district."
The journalist said that Karunanidhi, would in fact, sometimes called directly from his landline. "He spoke directly to the journalist who covered the beat, and often shared his insights. This also meant that the journalist was in the line of fire in the event of a negative report," he said.
| Edited by: Puja Menon
Read full article