Tamil Nadu: The Story of Widows of the Drought and Debts That Stay Beyond Suicide
The homes of Rajalakshmi and Rani are quietly similar -- a silence that envelops all activity and a sense of 'things-will-never-be-the-same-again.'
Rani's kid Nitya and Hariharan (Photo: Deepa Balakrishnan)
Thiruvarur/ Thanjavur: The homes of Rajalakshmi and Rani are quietly similar -- a silence that envelops all activity and a sense of 'things-will-never-be-the-same-again.'
They both don't speak unless they are spoken to. They welcome you in with folded hands, a worried frown on their faces. Prodded along, they speak tersely and then loosen up a bit -- speaking about a happier past, when their men came home with gifts for the children after selling their farm produce.
Recent widows, Rajalakshmi and Rani are everyday reminders of what a loss of hope on all fronts can do -- break the soul of otherwise-tough farmers, driving them to suicide.
Rajalakshmi, the older of the two, was at the government hospital in Thiruthrapoondi, where her grand-daughter had just been born. They had decided to name her 'Mahalakshmi,' after the goddess of wealth, and were still sharing the news with relatives, when a villager told her she may be needed at the morgue.
Her husband Govindraj's body had been found in his four-acre field that afternoon -- he had taken a bottle of pesticide to escape debtors.
Her immediate family at the hospital, it was only villagers and a local policeman who shifted the body to the hospital and then took up the process of identification.
"They didn't tell me initially," she recalls, "I used to ask him, why do we need so many loans? It's difficult to live with the burden of loans. But he always told me, the debt is in my name, the debtor would only ask me, so why do you worry.''
ALSO READ | Stung Naked: Desperate Tamil Nadu Farmers and an Aloof Government
That fond hope that the debtor wouldn't approach the next of kin that probably led Govindaraj to take his life was disproven within a month, when debtors who saw that the family had got 'compensation' from a political party asked for their pound of flesh.
"He was always the sharpest in the family, a little short-tempered maybe, but sharp. People looked up to him for advice. I couldn't believe he would do something like this," she says with a smile, her mood quickly changing.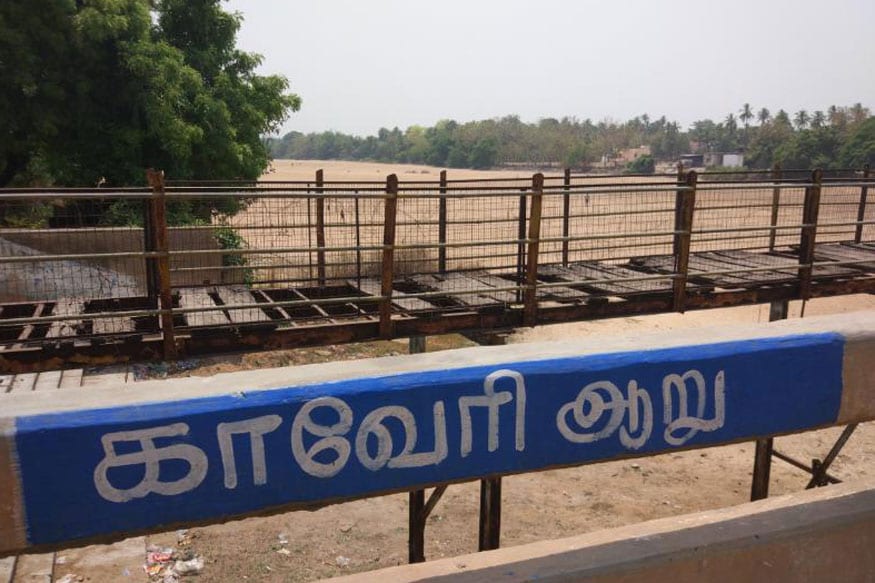 Rani, barely 38 years old, tells the story of how her husband always brought back gifts for their 17-year-old daughter on good days. Her mentally challenged son was always a worry, and now even more so.
"That day, he went to the field twice. We own no land ourselves, he had leased it to sow paddy. when he came for lunch, he told me he was worried how he would educate our daughter, get treatment for our son. He wasn't hungry and sent me to buy some betel leaves for him instead," she recalls.
At the peak of demonetisation, they had only Rs 100 in their home that day. She took it and went to a nearby shop and came back to see her son on the streets. "I pulled him (her 11-year-old son) home, wondering why my husband hadn't stopped him from venturing out. He was already hanging from the fan," she shudders.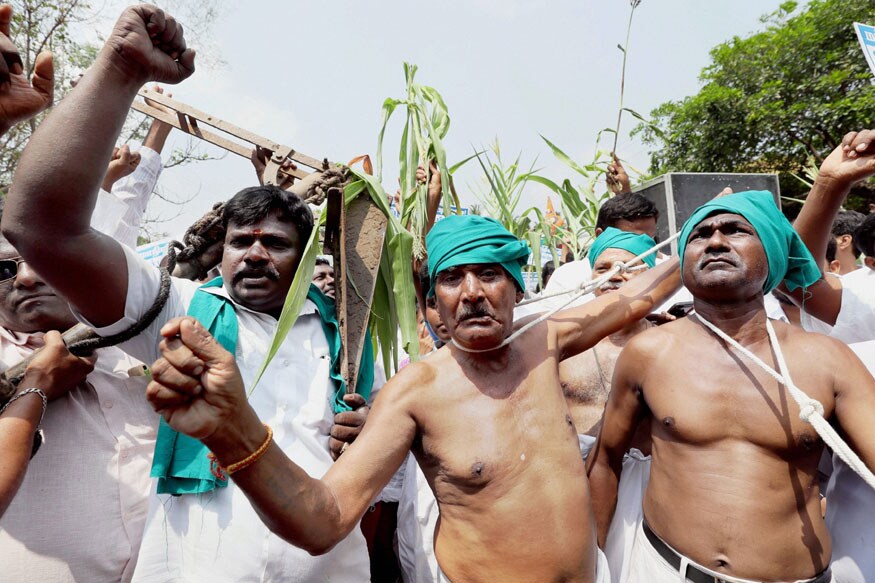 Congress party members raising slogans with Tamil Nadu farmers during the protest against Union Government, as they protest over cancellation of farm loans, in Coimbatore (PTI Photo )
And just like others, the debt hasn't gone anywhere - relatives whose jewellery had been pledged are asking for a repayment. With her son requiring constant attention, she hasn't much to live on, nor the option of going out to work as a daily wager.
Rani's perhaps is one of the worst stories of apathy in the Cauvery delta -- the three districts of Thiruvarur, Thanjavur and Nagapattinam have seen a spate of suicides the last five months.
Officially, the government acknowledges 82 suicides due to drought, but farmers' groups say the number is over 400 across Tamil Nadu, with these three districts recording the maximum -- on average, two farmers have taken their lives every day, with rivers and paddy fields drying up.
ALSO READ | TN Farmers Protest Nude Outside South Block for Drought-relief Fund
"We have seen droughts when some parts of the state are affected but there is cultivation, and hence work, in other parts; when the Cauvery delta suffers, other regions will still manage to grow something. But this year, there are crop losses in the entire state, more than 30 lakh acres," says Puliyur Nagarajan, farmers' wing head of the Tamil Maanila Congress.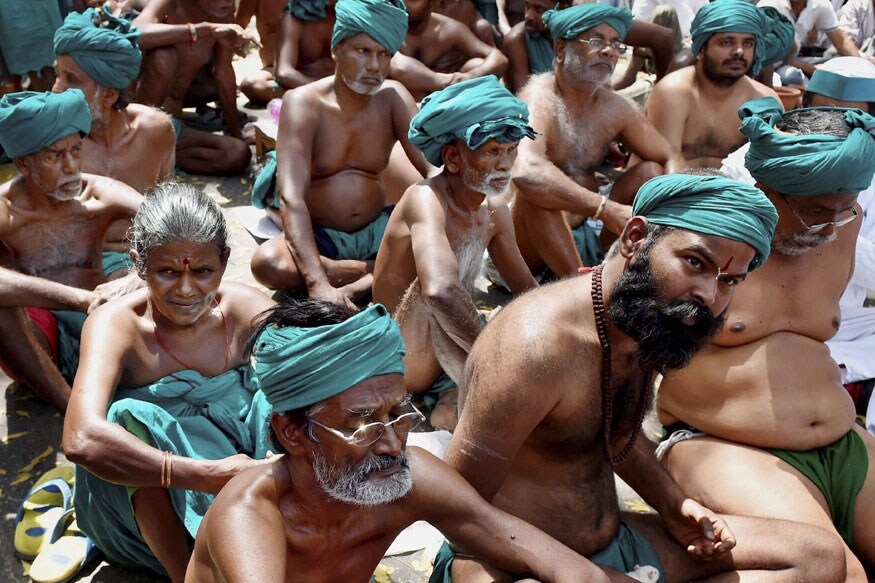 A few weeks ago, farmers' groups got together the photos of all farmers who had killed themselves into one large poster put up in different districts. The haunted looks on some of the faces will not go away soon -- peasants who have stood up against tough times earlier but gave up, somehow, this time around.
"We don't know who we should turn to, is there an MLA or minister willing to listen, either in the State or at the Centre?" asks an angry Sukumaran Kakarai, one of the agitating farmers at the Thanjavur Collectorate.
ALSO READ | MK Stalin Demands Loan Waiver for Tamil Nadu Farmers
As in Delhi, farmers have been on a protest for nearly 25 days at the Collectorate office in this district. Among their demands: farm loan waivers, compensation for crop losses, more drought relief measures. So desperate have they felt at the stoic silence from Lok Kalyan Marg that they have held demonstrations with skulls, dead rats, even rolled on the ground naked to get their helplessness noticed.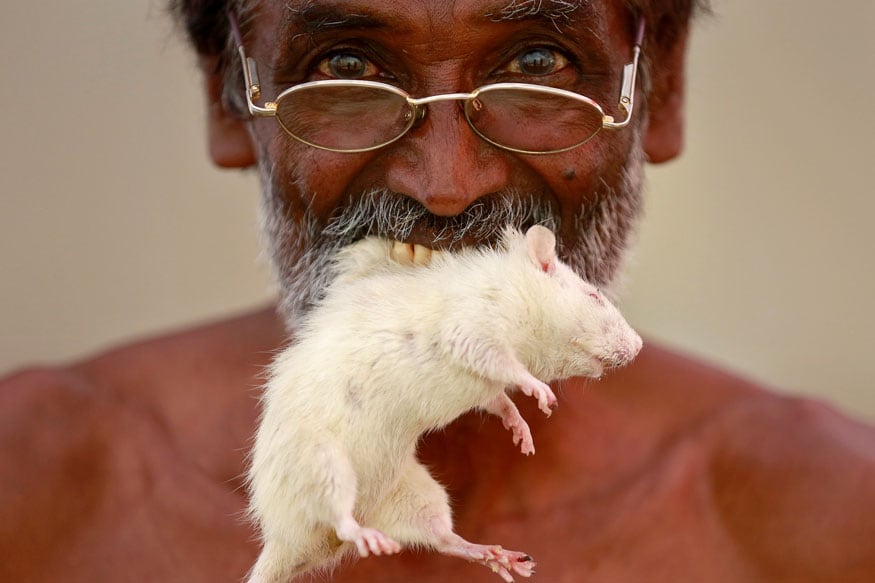 A Tamil Nadu farmer poses as he bites a rat during a protest demanding a drought-relief package in New Delhi. Image: Reuters
Back home too, there is a sense of betrayal -- that they have no one to turn to in this day of acute distress. This is, they repeatedly point out, the worst drought in 140 years. Doesn't it then merit special consideration under the Natural Disaster Relief Fund?
"We asked for 36,000 crores in drought relief. The Centre is giving 1,700 crores. That is 3.6 per cent -- when we ask for Rs 100, they give three rupees. That is not an insult, it is an assault to the farmers," Maniarasan, a lawyer turned farmers' group activist says.
ALSO READ | Tamil Nadu Farmers Strip Outside PM Modi's Office in Protest
There is no governnment, only political parties, says C Vaiyapuri, president of the United Farmers' Association.
An organic farmer in Salem, the home district of Chief Minister Edappadi Palaniswamy, Vaiyapuri prides himself on following the best practices in cropping and water management. All that too, has not worked this season.
"We need better policies in cropping, in water management. But there is no government, we only have political parties that pursue selfish interests," he says.
| Edited by: Ananya Chakraborty
Read full article