0/288 Seats ((145 Seats to Win)
Alliance
BJP+
YSRCP+
TDP+
INC+
OTH
Wins + Leads
0
0
0
0
0
+/- 2014
+0
-0
-0
+0
0/90 Seats ((145 Seats to Win)
| Alliance | BJP+ | INC+ | BJD+ | OTH |
| --- | --- | --- | --- | --- |
| Wins + Leads | 0 | 0 | 0 | 0 |
| +/- 2014 | +0 | -0 | -0 | +0 |
'Thillalangadi' lacks a story
Moreover, this remake of 'King' also goes wrong in its casting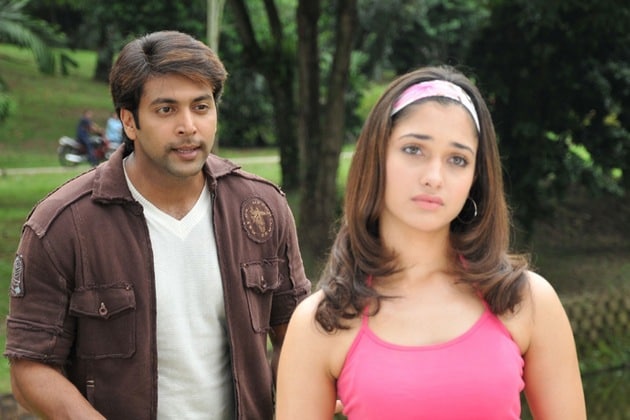 Moreover, this remake of 'King' also goes wrong in its casting
A central premise that could have been promising had it been handled well, but Thillalangadi fails due to unsuitable casting and lack of story.
The protagonist played by Jayam Ravi is a person who needs an adrenaline rush out of everything he does, such as leaving a high-paying job, stealing from a minister among other things. This is the central premise of the movie. Shaam plays a cop hot on Ravi's trail.
This film is a scene-by-scene replica (including the stunts) of its predecessor called Kick . However this replica lacks the same entertainment quotient.
Jayam Ravi, with his squeaky voice could never do justice to this role. He is shown ridiculing everyone in the film. The director and actor brother duo have cracked similar remakes in the past, however it fails to strike a chord this time.
Perhaps had a suitable actor been cast, the impact would have been different. The makers may want to consider casting better suited actors to fit the role, rather than getting the role to fit the actor.
Tamanna plays Ravi's lady love. She also looks lost throughout the film. Maybe the role demands that look! The girl seems to have managed to put on some extra kilos, too.
Shaam, the surprise package and the saving grace of the film, plays a cop who is misunderstood as the antagonist. This character has sworn to bring the protagonist to the book and to prove his misendeavours.
Vadivel, though a powerhouse of talent, needs fresh writers.
The music by Yuvan and his Telugu counterpart Thaman is also the same. The album is a total let down. Only one song is hummable however it doesn't stick with you once you leave the hall.
All in all, the movie has all the dots to appeal to the sensibilities of the masses, slapstick humour, action for an adrenaline rush and tit for tat overpowering chauvinistic dialogues, but unfortunately lacks a story to connect these dots and could have done better with a different cast.
Get the best of News18 delivered to your inbox - subscribe to News18 Daybreak. Follow News18.com on Twitter, Instagram, Facebook, Telegram, TikTok and on YouTube, and stay in the know with what's happening in the world around you – in real time.
Read full article