Tamil review: 'Maranthen Mannithen' narrates a rare love story
Maranthen Mannithen' is the Tamil version of Telugu film 'Gundello Godari', which has music by maestro Illayaraja.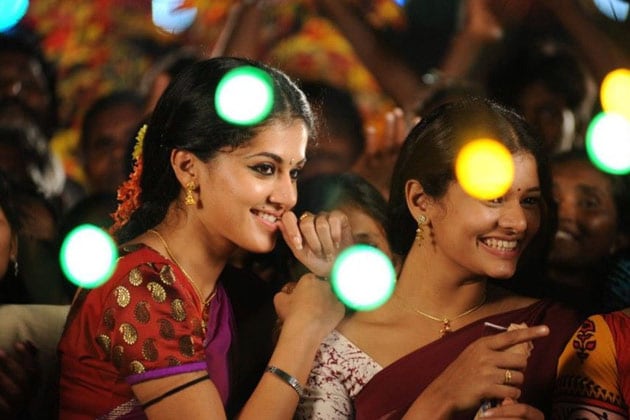 Maranthen Mannithen' is the Tamil version of Telugu film 'Gundello Godari', which has music by maestro Illayaraja.
Director: Kumar Nagendra
Actors: Aadi Pinisetty, Taapsee Pannu, Lakshmi Manchu, Sundeep Kishan and Ravi Babu
We have had so many love stories in the Indian cinema over the years that we have literally lost interest in sitting through one more love story, no matter how well made. The reason being the utter lack of innovation in presentation to keep the audience engaged.
Debut director Kumar Nagendra's 'Maranthen Mannithen', Tamil dubbed version of Telugu film 'Gundello Godari', which is based on a book by BVS Rama Rao, narrates a love story against the backdrop of the Godavari floods of 1986. Even though at heart, MM is a love story, the path it takes to narrate is far different several passe love stories.
In a hamlet on the coast of Godavari river, Aadi and Lakshmi, two strangers, are thrown into wedlock. As the newly-weds try to cope with the shock, a flood warning is issued, forcing the inhabitants to run for cover. However, Aadi and Lakshmi, still reeling under the shock, manage to stick together and find cover atop a floating house and narrate their past.
Bonded by marriage, Aadi and Lakshmi discover love despite their secrets and troubled past. This becomes the crux of the story, but what is wonderful to see is how two strangers develop faith as man and wife and aspire to live happily ever after.
It might be a simple love story, but thanks to the director's vision, he succeeds in making it a refreshing film. He scores high on presentation and the conviction with which he addresses sensitive issues in a relationship, deserve special mention.
Thanks to a dedicated team of technicians, MM does complete justice to the context of the film and presents every detail with utmost care. Be it the recreation of the hamlet, the fishermen, their daily lifestyle, it all seems believable. Palani Kumar's rich cinematography raises the film up a notch and paves way to a one-of-its-kind visual experience.
The flood scenes are as real as one could have imagined thanks to a good CGI (computer generated imagery) team. Even though the film is painstakingly slow in places, it doesn't fail to engage with the help of a stellar cast. Every actor in this film has attempted something far different from what he or she has tried in the past and, luckily for all of them, it clicked.
For instance, Taapsee's bold role may or may not be appreciated by one and all, but thankfully the character fits suitably into the narrative, thus allowing the audience not to get judgemental. Even though this can't be termed as her best work, she impresses to an extent.
Aadi and Sundeep shine in their respective roles, while Lakshmi wins hands down in her author-backed role. Having only played brief roles until now, including one of an antagonist, she definitely has pushed the boundaries with her performance.
Finally, MM would have been incomplete without maestro Illayaraja's music. Even though he uses most of his old tunes from the 1980s, one can't complain because it seems apt for the era the film is shot in. Aptly supported by the background score, his music leaves us longing for more.
Get the best of News18 delivered to your inbox - subscribe to News18 Daybreak. Follow News18.com on Twitter, Instagram, Facebook, Telegram, TikTok and on YouTube, and stay in the know with what's happening in the world around you – in real time.
Read full article