Tamil Review: 'Naan Mahaan Alla' a realistic thriller
The film stars Karthi, Kajal Agrawal and Thanjai Mahendran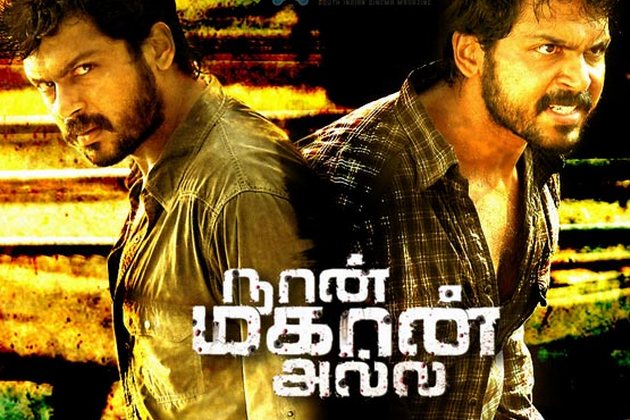 The film stars Karthi, Kajal Agrawal and Thanjai Mahendran
Drugs, sex and murder in succession form the premise of this film. This fast-paced thriller has all the elements in the right place and in the right proportion. The film that is based in Chennai deals with the exploitations of city life. The racy and fun first half holds enough scope for humor, sentiments and also readies the audience for the later half. The first half is light, as you come to know more about the protagonist, his life and the people connected to him. The second half sets out on a frightful edge-of-the-seat journey with twists and turns until the protagonist fixes the puzzle.
The sequences in the latter half where the protagonist played by Karthi woos his lady love Kajal Agrawal, or convincing a goonda sent by the girl's father of his true love and the hero's antics as a bank collection agent has the audience in splits. It also shows the vulnerability of the character played. Every character in the film is portrayed with realism.
Karthi lives up to the hype which has surrounded this project like all his previous films. His face expresses his innocence in the first half and gruesome transformation of character post interval. Kajal Agrawal as Karthi's lover plays her bit with conviction. The surprise delivery by Thanjai Mahendran and friends who play the circumstantial antagonist as dangerous, cruel, misled young men who are easily mistaken by the innocence on their faces are to lookout for.
This closer-to-life film is directed by Suseenthiran and produced by K.E Gnanavelraja. The film is distributed by Dayanidhi Azhagiri's Cloud Nine films. The music by Yuvan Shankar Raja has a feel-good flavour. The song picturisation and implementation is contextual.
Get the best of News18 delivered to your inbox - subscribe to News18 Daybreak. Follow News18.com on Twitter, Instagram, Facebook, Telegram, TikTok and on YouTube, and stay in the know with what's happening in the world around you – in real time.
Read full article