Tamil Review: 'Nankam Pirai' fails to impress
The Tamil horror movie will also feature actors Monal Gajjar, Shraddha Das and Prabhu in key roles.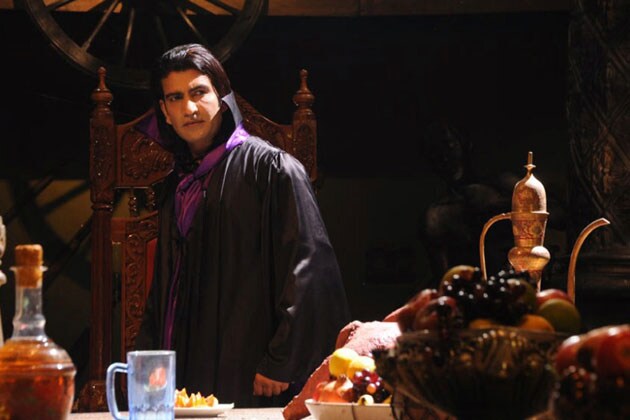 The Tamil horror movie will also feature actors Monal Gajjar, Shraddha Das and Prabhu in key roles.
Director: Vinayan
Actors: Sudheer Sukumaran, Monal Gajjar, Shraddha Das, Prabhu, Aryan, Priyan Nambiar, Nassar, Krishna and Sana Oberoi
If you're an ardent fan of Bram Stoker's 'Dracula', then you will join me in saying that this film is the worst tribute ever to the renowned novelist. If you're an aspiring filmmaker, then this film would be of some interest as it helps one understand how not to make a film, especially if it is an adapted screenplay. There are so many ways to pay tribute to someone the world loves, but this is just not the way you want to do it.
Newly-wed couple, Roy and Priya, of all the places, decide to go to Transylvania, Romania for their honeymoon. Upon arriving in Romania, Roy ventures deep into the fortress of Dracula, in search of the long forgotten urban legend. Along the course of the journey, he summons the spirit of Dracula, only to allow it to surge into his body.
Roy is now Dracula, and in his new avatar, he kills his wife and makes his way into Kerala to quench his thirst for blood. The rest of the story follows the escapades of Dracula. However, when was the last time a Dracula movie made you laugh? I highly doubt it! But here is a film, which was supposed to scare the bejesus out of its audience, only ends up being a worst joke. Everything in the film makes you laugh - from the costumes to make-up to desperate women ready to shed their clothes.
The laugh part here doesn't mean entertaining, but mostly all the appalling moments portrayed on screen in the name of filmmaking. Another big turn off is the use of 3D! God knows why, in this film, which doesn't deserve to be watched at the first place, let alone in any format. To add to the woes, there's a sub-plot about Dracula's love story, which dates back to centuries and tells us why Lord Dracula became a blood-sucking vampire. This only proves that neither the director nor the film had a purpose in the first place to achieve. Few instances in the film highlight that since times have changed, stories change too.
However, the questions is, will a story originally written in 1897 change too because from what is shown in the film, it doesn't make sense. Had it been made as a spoof of the original character with some sensible lines and scenes, then one could refrain from complaining. The characterisation is awful and can make you storm out of the door the minute credits roll down the screen. If there's one film you wish you didn't watch, then it ought to be 'Nankam Pirai'.
"It is safe if you know how to do it. Basically, one needs to have it in him or her to play with this genre. As assumed by many, it is not safe if you don't know the tricks of the trade," he said. Meanwhile, he is also busy scripting two projects and wants to stay away from comedy for a while.
Read full article