Olympic torch arrives in Tanzania
Tanzania's officials have assured a smooth run of Olympic torch.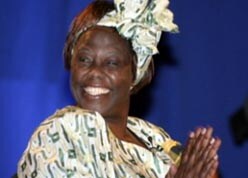 Tanzania's officials have assured a smooth run of Olympic torch.
Dar Es Salaam: The mayor of Tanzania's main city received the Olympic torch from a Chinese official and assured him its run through the East African nation would be smooth.
Kenyan Nobel Peace laureate Wangari Maathai said, however, she had pulled out of the torch relay in Tanzania to protest China's human rights record.
Journalists and Tanzanian sports officials watched as a Chinese Olympic official stepped off a plane Saturday evening and handed the torch over to Dar es Salaam's mayor, Adam Kimbisa. About a dozen riot police surrounded Kimbisa as he received the torch and passed it to be taken to a bus.
''It is a great honor and privilege for Tanzania to host this torch. Don't worry, all preparations are all set,'' Kimbisa said.
Major demonstrations have followed the torch's relay around the world on the way to Beijing for the summer Olympic Games. Thousands of protesters angry at China's human rights record have demonstrated. The procession in Argentina on Friday was the most trouble-free so far.
Secretary-General Filbert Bayi of the Tanzania Olympic Committee said no street demonstrations or attempts to snatch the torch are expected during Sunday's procession through the country's commercial capital, Dar es Salaam.
Maathai, an environmentalist who won the Nobel Peace Prize in 2004, told The Associated Press on Friday that she had pulled out of the event to press China to help resolve conflicts in Darfur, Tibet and Myanmar.
''I thought the torch will be a symbol of unity, peace and harmony, but as it moved around the world it has become a symbol of disunity. Then I decided to pull out completely,'' she said.
The torch goes to Oman on Sunday.
Get the best of News18 delivered to your inbox - subscribe to News18 Daybreak. Follow News18.com on Twitter, Instagram, Facebook, Telegram, TikTok and on YouTube, and stay in the know with what's happening in the world around you – in real time.
Read full article