Ratan Tata pays tribute to slain guests, employees of Taj
Ratan Tata unveiled a memorial with names of slain staff and guests.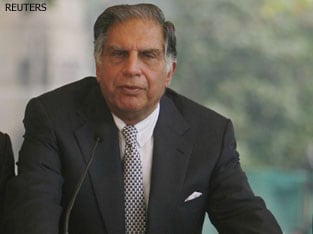 Ratan Tata unveiled a memorial with names of slain staff and guests.
Mumbai: Tata group chief Ratan Tata on Thursday lit a candle in tribute to the 31 slain guests and employees of the Taj Hotel in Mumbai and said the perpetrators of the 26/11 terror strike had failed in their attempt to kill the spirit of Mumbai.
The Chairman of Tata group also unveiled a 12-foot high memorial, engraved with names of employees and guests killed by the Pakistani terrorists in the three-day long siege on the iconic hotel.
"We have risen again stronger and with greater spirit than we ever had. So let us remember the day of infamy, if I may say so, that happened a year ago, and let us go on and say that the attack did not succeed. It only made us stronger," Tata said in his address to guests, employees and families of victims at the Taj Mahal Palace & Tower Hotel in Mumbai.
Over 1,000 guests who had assembled for a multi-faith prayer meeting in the hotel, were witness to an emotionally choked Tata talk about the attack and how they have been picking up the pieces since.
"Those who have done this deed, did it, I believe in the belief that they were destroying the spirit of the city of Mumbai. They did so because they thought the city was a soft target and to demoralise us and knock us down. But they were very wrong," 71-year-old Tata said.
Tata said the management remained guessing as to extent of damage the gunmen had caused as they stood watching the 106-year old hotel burn.
"But we made a commitment that brick-by-brick, stone-by-stone, we will rebuild the Taj to the glory that it was. And that commitment still stands," he said.
Indian Hotels Company Ltd (IHCL), which owns the Taj, had nearly all its top management present on the first anniversary of the brutal terror strike on Thursday.
Vice Chairman RK Krishna Kumar, Vice President Human Resources & CSR HN Srinivas, General Manager Karambir Singh Kang stood solemnly as Tata lit a candle in front of the marble memorial and prayed.
"Last 12 months, we have lived in a shadow of catastrophe. It was an astonishing blow to us when 31 precious lives were lost on the property. I believed that those who planned and conspired these attacks have failed," Kumar said.
"In my various meetings of the employees in last 12 months, I have found a strange force across the group. I believe that men of evil can inflict physical damage but can never destroy dominant spirit of the people," he added.
Kumar said the entire palace wing would be thrown open to guests "in the next few months".
Get the best of News18 delivered to your inbox - subscribe to News18 Daybreak. Follow News18.com on Twitter, Instagram, Facebook, Telegram, TikTok and on YouTube, and stay in the know with what's happening in the world around you – in real time.
Read full article