Teachers' Day 2018: From Developing Apps to Teaching on YouTube, Meet the Teachers Who Made a Difference
Vice President Venkaiah Naidu on Tuesday presented the National Teachers' Awards to these teachers from across the country, who made a difference with their unique methods of using technology in class.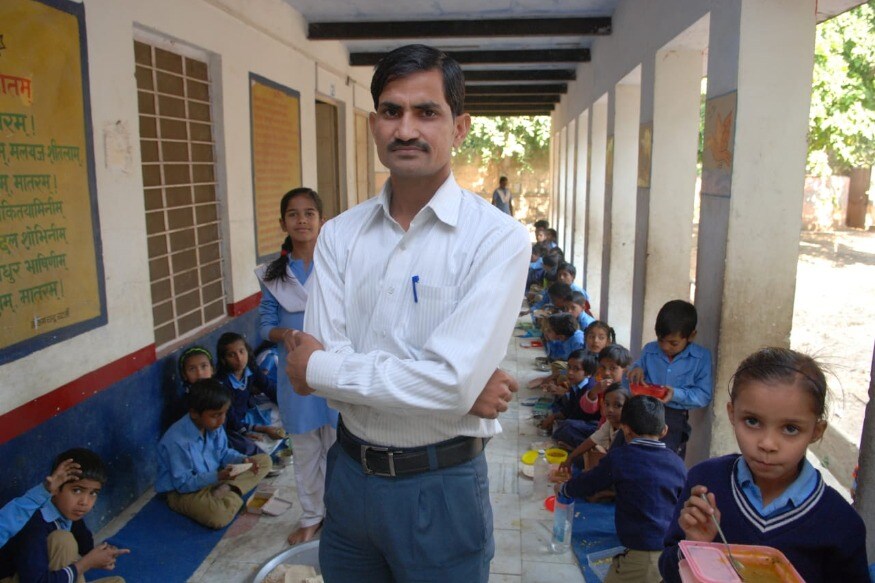 Mohammad Imran Khan 'Mewati' with his students in Alwar.
New Delhi: From open grounds under the scorching Sun to this day of air-conditioned rooms fitted with latest technologies, teaching in India has come a long way. Though the methods and facilities are not uniform across the country, there a few teachers who go out of their ways to give their students a little extra, to help them excel in life.
Vice President Venkaiah Naidu on Tuesday lauded several such teachers from across the country with the National Teachers' Award while Prime Minister Narendra Modi, too, praised their efforts.
One such teacher from Alwar's Sanskrit School, Mohammad Imran Khan 'Mewati', has not only introduced social media, internet applications and YouTube in class, but also created many of these applications for classroom interactions.
"Technology is used in the classrooms as a help tool. We use technology, but do not allow it to consume us," Mewati says.
He was in New Delhi on Tuesday to receive the National Teachers' Award from Venkaiah Naidu. He is one of the many teachers who are using internet in class to make school engaging for the new generation that is already very used to technology.
Some of these teachers were recognized by PM Modi for the change they have brought into classrooms and teaching.
Mewati has designed 80 mobile applications that can be found on Google Play Store and has a massive user base of 15 million.
"I teach the primary section. In order to bring technology to the classroom, I use it in a balanced way and get four tablets to the classroom while sometimes I take the children to the computer lab. Through these apps, the kids gain confidence and learn to use technology to quench their curiosity about subjects like Mathematics and Science," Mewati explains.
Vadodara's Pari Baldevpari, on the other hand, has used technology to shut several tuition shops by offering Mathematics lectures to students. A teacher at Barwala Madhyamik Shala, Baldevpari says, "I started using technology in my classroom only to realize that I could reach out to all children in my state. Today, I have 93 lakh visitors on my social media handles and I offer Mathematics lectures on my YouTube channel. I have a studio at home for this, which I built with a budget of Rs 7 lakh."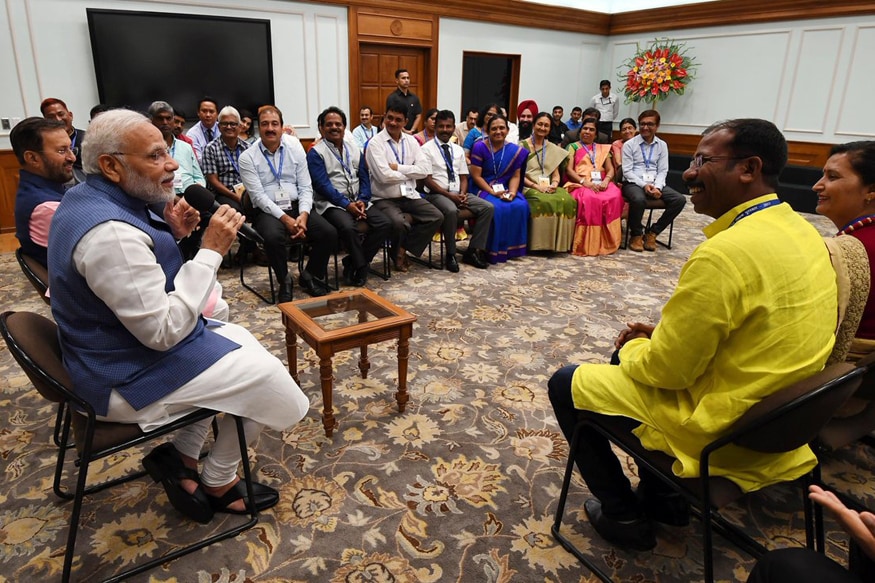 PM Modi, HRD Minister Prakash Javadekar interacting with the teachers on Tuesday. (Image: Narendra Modi/Twitter)
He records his lectures and uploads them on YouTube. Baldevpari says, "If they follow these lectures, the children would not have to go for tuitions. In Gujarat, the menace of tuition classes keeps increasing and I am trying to do my bit in curbing the problems for families who face difficulties to make their ends meet."
He add, "My recordings on YouTube also help many who might want to revise a lesson, had missed a class or need a second class on it. Sometimes due to paucity of time, teachers are not able to repeat their lectures, these recorded lectures are available all the time and students can go back anytime they want to."
Baldevpari teaches Classes 9 and 10 and says that his students know how to use softwares that many don't know how to. "They have even made several interesting projects for science fair using these technologies," he says.
There are 19 teachers who have joined Baldevpari in making e-learning a beneficial option for students in Gujarat.
The story is same for M Shivakumar, assistant teacher at Cheemangala Government High School, who was also awarded by the Vice President along with Mewati and Baldevpari.
He has made three applications for students to make learning easy. Shanshank Hazarika, science teacher at Higher Secondary School, Assam, brings recorded lectures to students for their future use.
Mewati further adds, "Today, children have access to smartphones. So if there is material available to prepare them for examinations, students will spend time on phones in a constructive way."
The government on Tuesday awarded a number of teachers for using ICT tools, curbing drop-out rates, improving infrastructure and inculcating values and making learning easy.
This year, the Ministry of Human Resource Development revised guidelines for the selection of Teachers for National Awards (2017).
Now, all regular teachers are eligible to apply for the awards and no minimum years of service is required. This has enabled meritorious young teachers to nominate themselves, paving way for Mewati and others.
The government received 6,692 applications from teachers across the country while the number of awards has been rationalized to 45. Under the earlier scheme, the number of awardees had crossed 300.
Out of all the applications received, every district selected the 3 best teachers and forwarded them to the committee under the State/UT Secretary of Education who made a shortlist.
A total of 152 nominations were finally received from all States, UTs and organisations. The final selection was done by an independent jury.
The criteria was to select those teachers who had shown innovation in their work and added value to the school and their students.
| Edited by: Sanchari Chatterjee
Read full article
Countdown To
Elections Results
To Assembly Elections 2018 Results