Teaching With a Difference: This School in Delhi Slum Educates with Stories, Not with Chalk and Board
About 2,000 children from nearby slums in Delhi's Govindpuri attend this school that believes in narrating stories rather getting into the standard practice of rote learning.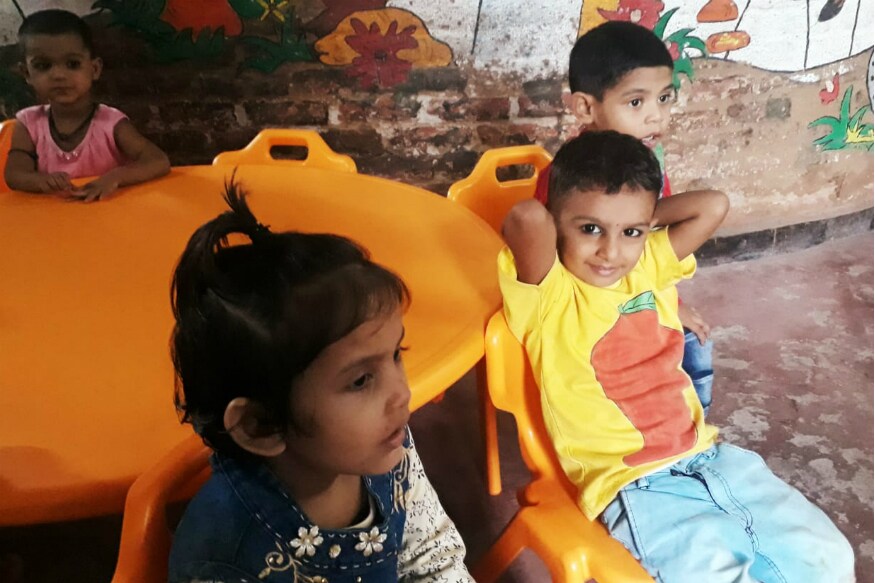 Students of Katha Lab School.
New Delhi: 18-year-old Neeraj is preparing for his class 10 board exams. He dropped out of a regular school and now attends Katha Lab School in Govindpuri. He is not busy feverishly jotting down notes, he comes here to listen to stories. The physically challenged boy is the brightest in his class.
Neeraj and 2,000 other children from nearby slums in Delhi's Govindpuri attend this school that believes in narrating stories rather getting into the standard practice of rote learning. Teachers here do not use boards and chalks to teach. Every classroom has teachers reciting tales imparting life-skills to children.
The primary section is abuzz with kids below the age of six. They are learning the importance of brushing one's teeth daily. Agar Magar, the crocodile, is scaring away other animals because of his shining, sharp teeth and confiding to his friends the secret behind it.
"Ma'am, I brush daily but my mother brings paste only once a month. When that is over, I use only water. Will my teeth still be as strong," asks one of the kids innocently, financial instability of their families clear.
With apprehensions towards education and no fixed income, setting up the school and convincing parents to send their children was a task in itself for Katha. Families were reluctant to send their children to school; most kids were bread earners. Twelve years of education was a luxury none of the families could afford.
Therefore, Katha began with an income-generation programme for women who went on to become proud teachers, bakers, and embroiderers. The first small success led to Katha training more than 1,00,000 women in income-generation skills. This innovation has spread to half of Delhi's slums, and today, most mothers send their children to school.
Meanwhile, back in the school, there are older kids learning robotics and machine learning, a skill hardly taught in regular schools.
"We have built a drone ourselves. We are also working on a collapsible bridge that will help save lives and a lot of space during the times of earth-quakes and other calamities," says one of the students who aims to use the knowledge in eradicating electricity woes which plagues the area.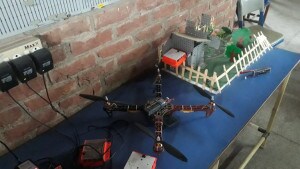 The school encourages students to be innovative.
The school also has a separate wing for the specially-abled students. "We have children from here competing for Bharat Olympics in the special category," said Rita, principal of the school who joined as a primary teacher 16 years back.
Narrating an incident she remembers: "One of our special children once participated in the 50m race and refused to run after the whistle. He becomes adamant when people force him. However, suddenly he started running because he wished to and came third. You cannot be harsh with them. You need to love them."
Katha's next big aim is to educate 300 million children through narrating stories.
With a special focus on underprivileged children in the slums of Delhi, Katha, an NGO, aims to bring about change in all aspects that affect their growth, well-being, and potential, particularly their education, and help them overcome challenges—low incomes, lack of shelter, water supply and sanitation, health, nutrition, access to quality preschools and good schools.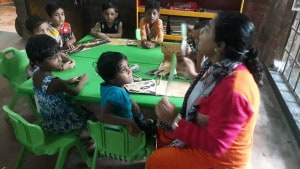 The Katha Lab School also has separate wing for specially-abled students.
"For the last 29 years, we have used story pedagogy to create the joy of learning and help children come out of poverty. By using such a powerful tool, Katha has helped over 90,00,000 children help themselves out of poverty, trained 29,000 of them in IT, and taught 3,70,000 women income-generation and social activism skills," said Rita.
Katha's journey started in 1988 with their Tamasha, a magazine for first-generation school-goers. Katha was founded on September 8, 1989, serendipitously World Literacy Day. The aim of Katha was to enhance the joy of reading and the love of books among children and focus on bringing the power of stories to help transform the lives of those living in urban poverty.
"Stories don't lead to results. They lead to questions. Stories help children ask the question—why? These make children curious and critical thinkers. This thinking leads to the changes we see on ground, explains Rita.
It is projected that by 2030, nearly 50 percent of the population will be in the cities. As the urban population in the country is growing, so is urban poverty. According to a UNESCO report of September 2016, India will be half a century late in achieving its universal education goals. The country will be able to reach universal primary education only by 2050.
Therefore, Katha focuses on bringing quality schooling and rich storybooks to these children, across the slums of Delhi, and create stories that look at all aspects that affect their growth, well-being, and potential.
Katha's first reading programme was launched in 1988 in partnership with UNICEF and the Government of Delhi to take it to as many children from Delhi's slums, and later the Government of Rajasthan chipped in for their schoolchildren as well. In 2001, the Katha team initiated the Tamasha Roadshow to work with street children, reading being part of their school-readiness plan and to help get them into formal school.
The Katha team works with a pool of around 8,000 writers, translators, illustrators, photographers, and other creative people. They also have over 30,000 volunteers at the grassroots level. With this network, Katha has touched 950 communities in Delhi, of which 800 are actively working towards the vision of bringing reading to every child. The 'I Love Reading' programme has a pan-India presence with its roots in Delhi. Their presence in 35 municipalities of India and the rich resources of books translated from all over India helps them reduce the geographical boundaries.
Read full article
Countdown To
Elections Results
To Assembly Elections 2018 Results