GET Stock

Quotes


Telangana Govt's 'Rythu Bandhu' Draws Flak for Excluding Tenant Farmers
Various farmer organizations have been demanding that the actual cultivators should be identified and should get the benefit of the scheme.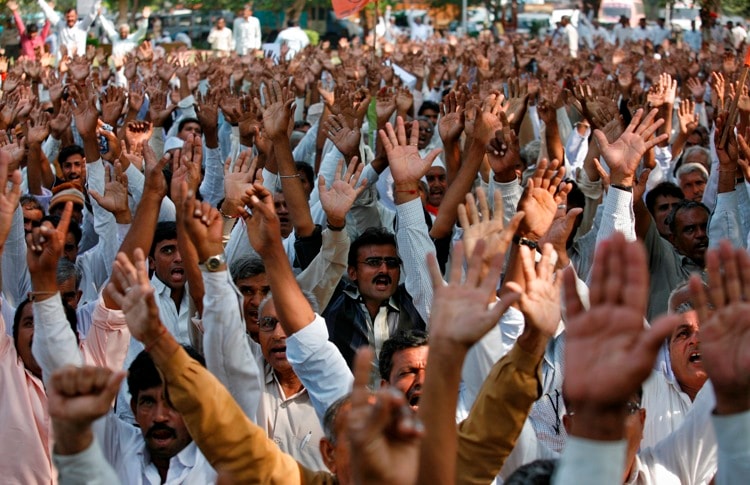 File Photo of protesting farmers
Hyderabad:
The Opposition and farmer activists are up in arms against the Telangana government after chief minister K Chandrashekhar Rao made it clear that 'Rythu Bandhu' investment support scheme for agriculture would not be extended to tenant farmers.
'Rythu Bandhu' is the flagship scheme of Telangana government that provides financial support of Rs 8,000 per acre to 58 lakh farmers in the state. The government has allocated Rs. 12,000 crore under this scheme in the budget. But only the farmers having ownership rights are benefitted, leaving the tenant farmers anguished.
Yet, CM KCR has defended the scheme saying that there is no clarity on who a tenant farmer is.
"It is meaningless to demand that the Rythu Bandhu Scheme should be made applicable to tenant farmers because the argument is against all legal norms. Nowhere in the official records there is a mention about details of tenant farmers. What would be the basis to extend investment support to such tenant farmer?" the chief minister said.
"The decision of the government to provide investment support to the farmers is an issue linked with public money. There will be an audit to every expenditure. It is not possible to distribute money to everyone. In the name of tenant farmer, it is not correct to do injustice to actual farmer", the chief minister added.
Various farmer organizations have been demanding that the actual cultivators should be identified and should get the benefit of the scheme.
Questioning the government's argument on excluding nearly 15 lakh tenant farmers, Kiran Vissa from Rythu Swaraja Vedika said, "The tenant farmers feel deeply insulted that while they are working hard and incurring debts, the government is not even considering them farmers. The non-cultivating land owners are getting investment support but actual cultivator is not, which fundamentally contradicts the stated purpose of the scheme."
The opposition parties, BJP and Congress, have also taken strong objection to the views expressed by the chief minister's comment on tenant farmers.
"The state government is insulting tenant farmers by not giving them benefit of the scheme. We will recognise tenant farmers and extend all support to them, when we come to power", BJP state chief K Laxman said during Jana Chaitanya Yatra.
Krishank, Telangana Congress Spokesperson, also raised questions. "Rythu bandhu scheme at the cost of state exchequer is benefiting landlords who have large land parcels in acres and travel in SUVs to receive cheque. The money should reach people/farmers who need it."
An advocate has also filed PIL in High Court seeking directions to government to exclude MLAs, MPs, MLCs, NRI, Businessmen, working professionals, from the list of beneficiaries and that the scheme should only be implemented to benefit small and needy farmers, & weaker sections.
​
| Edited by: Sana Fazili
Read full article