Telangana's SHE Teams: Role Model of UP's Anti-Romeo Squads
The citizens of Hyderabad are familiar with the controversy around the "Anti-Romeo" squad introduced by the new BJP regime in Uttar Pradesh with many sections labelling the move 'moral policing'.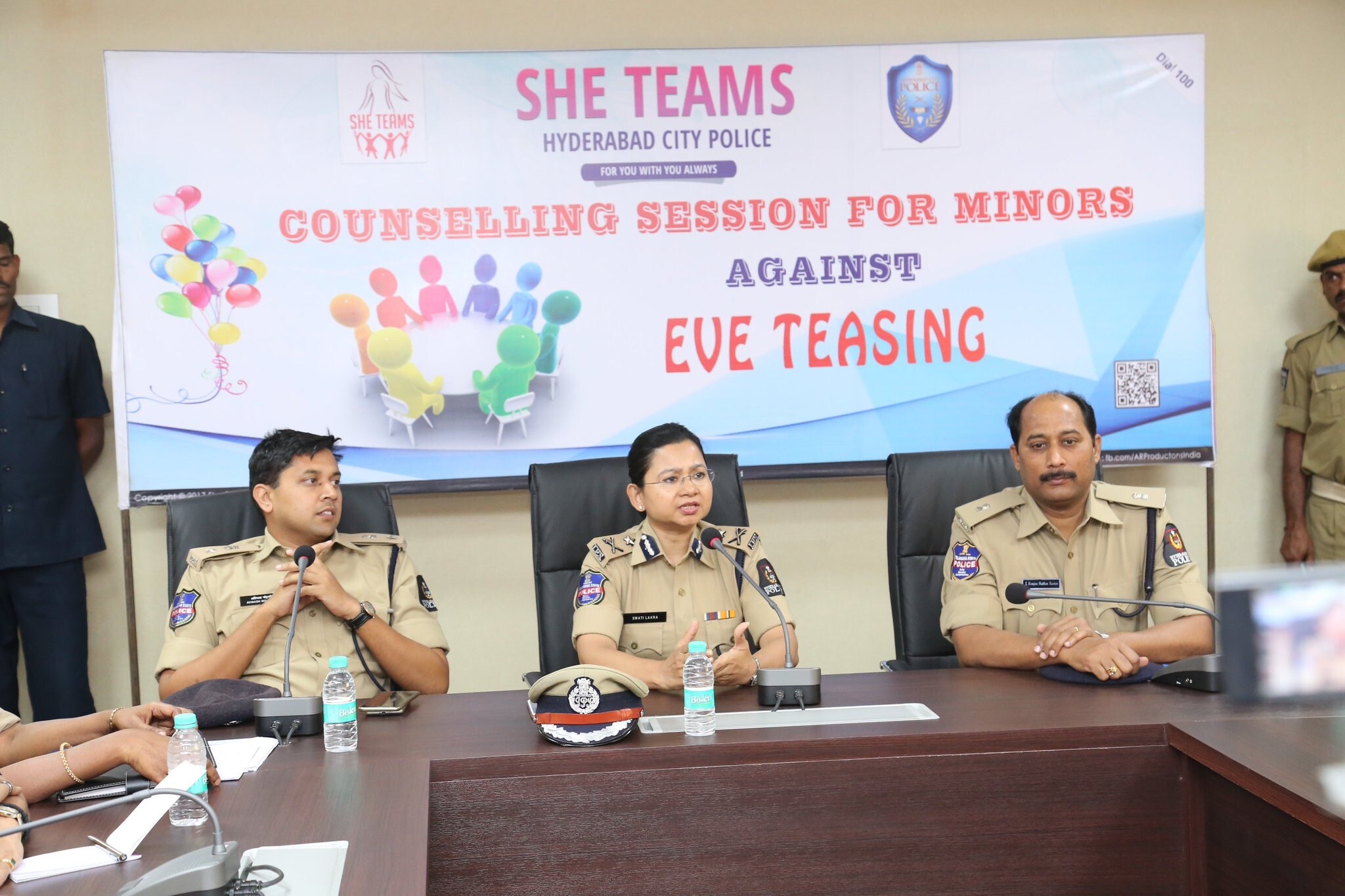 Picture credit (SheTeam twitter handle).
Hyderabad: The citizens of Hyderabad are familiar with the controversy around the "Anti-Romeo" squad introduced by the new BJP regime in Uttar Pradesh with many sections labelling the move as 'moral policing'.
They too had the same apprehensions when "SHE Teams" were launched in Hyderabad in October 2014, to control the menace of eve-teasing at public places.
The question asked then was in an attempt to stop harassment of women at public places, how it will be ensured that innocent men will not be harassed?
However, since its launch, SHE Teams have made a mark by bringing about a sense of safety and security among women and has created deterrence among men who indulge in indecent acts of eve-teasing, stalking, harassment and so on.
Till date, no case has come into light where an innocent was harassed by police in the name of women safety.
The modus operandi of these special SHE Teams explains it all. Everyday each team identifies incident prone areas like bus stops, railway stations, colleges, schools, parks, ladies hostel and keeps a watch around them. Dressed in civilian clothes, the teams are provided with secret cameras to record the whole incident. The teams catch the offenders red-handed and are brought to the police station with proper evidence, proving their acts.
With increased awareness among women about SHE Teams, many complaints are received on social media platforms like WhatsApp, Facebook, and Twitter apart from dial 100. Every complaint is immediately responded to, giving confidence to women approaching SHE teams.
In many cases, if the victim does not wish to file complaint, the police has been registering sou-motu cases after investigation. Offenders who harass women through phone calls, e-mails, social media, are tracked down by dedicated officers using the latest technology.
Depending on the nature and gravity of stalking/eve-teasing appropriate section of laws are booked against the offender. SHE Teams maintain a digital record of all offenders. First time offenders are booked under petty cases. If found habitual or victim complaints against eve-teaser, relevant sections of law are registered, including Nirbhaya Act.
Applauding the model of SHE TEAMS that is being replicated across states, IT Minister of Telangana KT Rama Rao said, "In Uttar Pradesh anti-Romeo squad is nothing but She TEAMS. We are happy that other states also taking up such initiatives."
"In Telangana, our police and government has ensured sense of safety and security to every citizen. A close friend of mine told me when his wife was in troubled situation, instead of calling me for help, he dialed 100. He said he was impressed with immediate response from SHE teams, as within two hours the culprits were detained. Every distressed call is responded within minutes," he added.
As per Telangana police records, 221 SHE teams are operating across the state. In Hyderabad city alone, over 6000 cases have been registered till now and the impact is visible. Harassment cases against women are reduced by 18 percent and overall crime against women has gone down by 12 percent.
For their swift response, SHE TEAMS have received huge appreciation from citizens too. Karishma, a college student said, "Earlier I and my friends would ignore incidents of eve teasing. But after SHE TEAMS came into being we report it. Once we were being followed by some boys. We informed police and we were helped immediately."
Gaura, another student recounted her experience, "There was a man who got my phone number and would call and harass me. I even thought of changing my number. But SHE TEAMS responded to my complaint and he was caught."
The accused are also counselled along with the parents or family members so that the offender does not repeat his acts. Professional counselling is conducted for minors who are caught eve-teasing. Most offenders after counselling felt guilty of their acts. SHE TEAMS can be seen across city regularly creating awareness in crowded areas.
Telangana police was the first to start this unique initiative and has successfully managed to ensure guilty are punished. Uttar Pradesh and other states who wish to replicate the initiative must learn from the working of SHE TEAMS that can help in ensuring safer environment for women.
Get the best of News18 delivered to your inbox - subscribe to News18 Daybreak. Follow News18.com on Twitter, Instagram, Facebook, Telegram, TikTok and on YouTube, and stay in the know with what's happening in the world around you – in real time.
| Edited by: Ashish Yechury
Read full article