Telugu Review: 'OKOK' is not special but enjoyable
If Hansika looks convincing in the film, Santhanam has given life into an otherwise not so exciting screenplay.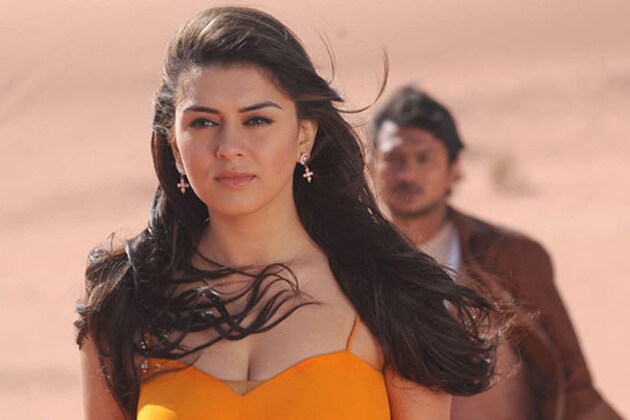 If Hansika looks convincing in the film, Santhanam has given life into an otherwise not so exciting screenplay.
Girls never know why and how they fall in love and with whom. This is what Suhansini tries to explain to Prakash Raj in 'Nuvvu Naku Nachav'. Before you proceed to watch 'OKOK', do bear this in mind and you won't cringe at the fact that a daughter of Deputy Commissioner of Police falls in love with a below average guy.
Without expecting substance in the story, go to watch 'OKOK' for its many fun moments. The film is much on the lines of 'Shiva Manasula Sakthi' (remade into Telugu as 'Shiva Manasulo Shruti'), though some saleable points have been repeated, but the product doesn't look stale. Santhanam breathes life into an otherwise not so exciting screenplay. The mother-son conversations are cute and the light-veined Stalin-Santhanam sentiment works just fine. Hansika Motwani is buxom but looks sexy despite the heavy body. She makes fun of a rich guy who comes to see her for marriage proposal. As we know in the films, heroines invariably get either characterless or funny or villainous matches when the hero also loves her.
Srinivas (Udayanidhi Stalin) is a guy from a middle-class family who shares an innocent rapport with his mother (Saranya Ponvannan). He shares blow hot, blow cold relationship with his long-time friend, Bangaru Raju (Santhanam). He bumps into Meera (Hansika) and falls for her at the first sight.
Rather inexplicably (as it should be in an unrealistic romantic comedy), the very beautiful and affluent Meera befriends Srinivas, even as her DCP father (Sayaji Shinde in a cameo) looks on tolerably as their friendship blossoms into love (It is only in the films that rich girls like naughty boys and their tactics that they supposedly commit with a pure heart).
Just as everything seems to be going well, Srinivas becomes his own enemy of his love, How? You would know the answer if you have watched this director's 'SMS'. As in 'SMS', hero speaks self-destructive language in a fit of rage or under the impact of booze. The net result is that the girl walks out as she is hurt. The hero gives up and starts living his life. It is when a fortuitous event in the climax turns the tables in his favour and the heroine is in his embrace. She lives in distress before she is in the final embrace of our lucky hero in the climax.
Stalin comes across as good because without making pretensions or trying to do regular things, he stays true to his simple, guy-next-door character throughout. His chemistry with Santhanam is interesting, and the ace comedian makes us laugh at many places. Sunil's dubbing for Santhanam is a blessing.
If Hansika looks convincing both as a girl with attitude as well as a lover who gets emotional, Saranya is at her usual best as a sentimental wife and an ever-so-warming mother.
The director shows how to use a song as a vehicle of emotions. He conceives some apparently ordinary but emotionally touching scenes. Srinivas's shifting loyalties between Meera and Bangaru is the film's biggest treat, next only to Santhanam's repartees. The story will not exceed two lines if written on your palm. Yet what keeps us glued to the screens is the comedy, the twists caused by the hero in his friend's love life.
Harris Jayaraj's music is just about ok. At least two songs come with a heavy Tamil nativity. Otherwise, the songs help in taking the story forward. The cinematography is splendid. A song sequence in Egypt is a visual treat. Vivek Harshan's editing is crisp. His scissors add momentum to the script that has no fiery punch lines or pulsating stunt sequences.
If you are someone who never minds a wafer-thin story and just wants to enjoy Tamil-style comedy, go for it.
Get the best of News18 delivered to your inbox - subscribe to News18 Daybreak. Follow News18.com on Twitter, Instagram, Facebook, Telegram, TikTok and on YouTube, and stay in the know with what's happening in the world around you – in real time.
Read full article