GET Stock

Quotes



JNU-type Scholarship Divides. Our Text Books Don't Make Learners: ICSSR Chief
Kumar says Narendra Modi is the most decisive Prime Minister of India and people should appreciate decisiveness of initiatives like demonetisation, even at the cost of failure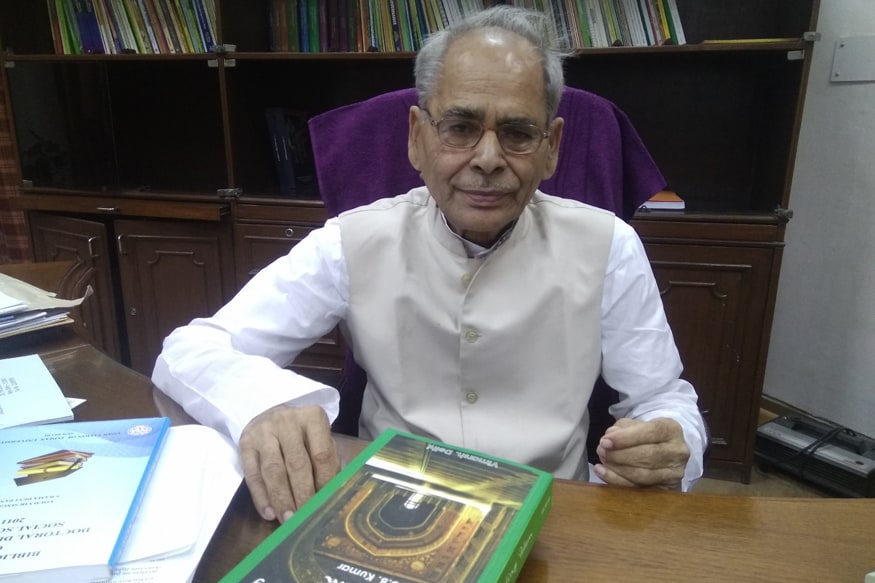 Braj Bihari Kumar is the founding member of Astha Bharati, a non-profit organisation, which works "to promote India's unity and integrity"
Braj Bihari Kumar, the new chief of Indian Council of Social Science Research, has authored 136 books and edited several journals. He is the founding member of Astha Bharati, a non-profit organisation, which works "to promote India's unity and integrity". In a detailed conversation with News18's Eram Agha, Kumar says Narendra Modi is the most decisive Prime Minister of India and people should appreciate decisiveness of initiatives like demonetisation, even at the cost of failure. Blaming JNU for promoting divisions in the country, he says 'JNU-type scholarship' brings a homogeneous framework of intellectual atmosphere and calls Marxism and Macaulayism two faces of the same coin — the colonial focus. While acknowledging a lack of informed debate in the country, Kumar says there was discrimination against Dalits, but a lot has been done to eradicate it. On North East, where he was principal of a college, Kumar says a lot of grievance is being "manufactured". Edited excerpts:
Lack of funding is often blamed for poor state of social science research in India. How do you see this problem and what are your plans to improve things?
BB Kumar: In this country, there are 500 universities, at least 3000 social science departments. Almost 10,000 thesis must have been submitted in the past couple of years, but can we name five thesis by our universities? No, we can't because there is no quality research in this country. Certainly, it shows lack of quality research rather than lack of funding. There are numerous research institutes like ICSSR and others that come under it, but I am not happy with what we are doing. I think there is misutilization of funds, by that I mean in some fields there is more research, while in others there is no research. For instance, take the "core-fringe conflict" and other changed situations in our society, like large number of people who possessed huge tracts of land at the time of freedom but now their families are without economic holdings. Also, there are unqualified persons — who don't understand and there are duplications of research themes, while certain topics are unexplored. It is because they don't want to work hard and find it easy to change some pages or data and duplicate the work.
You talked about research areas which are being either missed or ignored. What are the areas of research you will be focusing on?
BB Kumar: I am going to have the inventory of research done. I will try to find out the areas where there is over-researching and the areas in darkness because of dearth of research. We need to look into the reasons behind bad quality of research. Society has a lot of problems, there have been changes… and that change of situation should be projected. There should be study of the new situation. Most of the research does not reach the society and is locked in almirahs. One copy goes to the scholar, another to the funding agency, and to the institution where the person works. This is what happens with research. The reports are not reaching the society.
I am going to start the work of "macro projection", which means if micro studies have been done on a particular subject, for instance, research done on poverty in a district of Uttar Pradesh, or someone has done on poverty in Punjab's district, we can study them and come to the common finding. We need to have micro study to have further macro focus or projection. We need to boost research on the changed situations. We need to look into priorities, for this I will go for analyzing field research — what is lacking and where we should focus.
In some of your papers, you have blamed Macaulayism and Marxism for discouraging original ideas — what have been their major impact on the Indic thinking?
BB Kumar: I would want to bring one thing to your notice that when nationalists were going to jail in British era, they were supplied Marxist literature and became confirmed Marxists on their release from the jails. The simple thing is — Marxism and Macaulayism went parallel. They were the two faces of the same coin — the colonial focus. The colonial focus was about confusing you… and then you try to see the things around you from the 'borrowed vision'. For example, there is report by a British researcher which reveals that there were schools in the then Bengal Presidency, Madras and Punjab. The book by the British scholar says these schools were shut down and our education system was reduced to one-third. But what did the colonial powers say? They said that a section of Indian society did not allow some to study, some were prevented from going to the school.
The government is celebrating birth centenary of Deendayal Upadhyaya. How do you think his philosophy is relevant for contemporary India?
BB Kumar: When one talks about Integral Humanism, the focus becomes humanity and, that too, an integrated one. In the present scenario, we talk about a divided society — there is focus on linguistic, regional, caste and religious identities and as a result, we are not talking about a society in the human frame. On the other hand, Integral Humanism focuses on the citizen-centric society, it gives a human frame to it and thus gets bigger relevance. It is uniting as we all belong to humanity.
A committee under the chairmanship of Sukhadeo Thorat had made several recommendations to uplift the status of minority students and teachers. It was first such committee to study caste discrimination in higher education. How can such discrimination be dealt with?
BB Kumar: When you read the first book of social sciences by NCERT, it focuses on the sad experiences of BR Ambedkar… but he had done something about it to change the situation. Gandhi had done that too. Why that shouldn't be mentioned in the books? There was a lot of myth-making. Books are written with some agenda and such books will make social activists… not the learners. There was discrimination, but it has been removed also. And this country has done more work than Europeans and Americans to change things. There should be a balanced reporting to the students. When positive steps were taken to bring the change, then why not mention them in the books? That positive change should also be included. Today, media shows that Hindus and Muslims are ready to kill each other… but the ground reality is far different — they join each other in grief and there are thousands of such villages in our country.
A media report suggested that you ranked Narendra Modi above Jawaharlal Nehru among prime ministers of India. What makes Modi better or more important than Nehru?
BB Kumar: Narendra Modi is the most decisive Prime Minister of our country. Most decisive. I never compared Nehru with him as it has been put in your question. As the first Prime Minister, Nehru had limitations but today there are many problems the thread of which goes to Nehru. Coming to Modi, I would like to say that he has taken risks in many fields and some of his actions have generated social movements like Swachh Bharat… social movements take time for fruition.
You talked about the PM taking risks. What about demonetisation?
BB Kumar: The Prime Minister must take action even if he sees risks in that because decisions may not bring success, they might be failure also. But decision should be taken and people should appreciate decisiveness even if there is failure. People understand this about the PM and that is why even if they suffer, they tolerate Modi.
What are the takeaways from your stay in the North East where you served as the principal of a college in Kohima? Please tell us about aspirations and anxieties of the youth in the region.
BB Kumar: In the North East, we have the densest administration, by that I mean, there was only one state — Assam and two princely states — Manipur and Tripura. And today, we have seven states. Huge money is pumped in, but states fail to deliver, and benefits do not percolate. There is a lot of grievance manufacturing too. That region has immense tourism potential and initiative should be taken in that direction. The view that there is a feeling of secessionism is not true, because they are realizing it is not going to… they have reconciled. Now we need to have employment and develop industry there.
ICSSR has proposed region-specific research, including on Jammu and Kashmir. How do you see the current crisis in Kashmir?
BB Kumar: As far as the problem of Kashmir is concerned, there should be citizen-centric approach. Give equal treatment to people and none should suffer because of religion. This holds for any other part of the country as well.
You have mentioned in your papers 'JNU-types scholarship', how do you define it? And what would you do to change it?
BB Kumar: The JNU-type scholarship is something which brings a homogeneous frame of intellectual atmosphere. It highlights nation divide. In an idea-centric intellectual culture, division is blurred, but in JNU, division is promoted. Though education blurs social divide. To handle this, there should be an open debate, and most importantly an informed debate, which is not there in the country. When there are slogans that are emotions, you can't talk with open minds.
Can nationalism be imposed in universities?
BB Kumar: There is no question of imposing. It should flow in a natural way with the knowledge to the students.
One of the cultural outfits of RSS has suggested doing away with 'anti-women and anti-Dalit' portions in Manu Smriti. What are your views on this?
BB Kumar: The book is there and whatever wrong is written should not be changed. What is important is, society should not accept it. In fact, one should do a survey… just go and inquire 1000 Hindus and you will find that 995 don't know Manu Smiriti. This should be taken note of.
You have written on 'Islamic Terror' in India. How can this menace be curbed?
BB Kumar: I have written a book called "Understanding Islam" and some paper on Islamic Terror, my objective was to learn. Informed Muslims can remove the menace, and others are secondary in this objective. Muslim involvement is primary in eradication of Islamic Terror and that can be done when Muslims learn about it, and also acknowledge the fact that there is a concept of 'inner enemy' or 'intra-Islamic enemy' that came about at the time of the third Caliph Usman. Terror can be fought with Muslims taking cognizance of their inner contradictions — the history is full of instances where Muslims were killing Muslims in a massive way, there were fights for narrow things like power and wealth. Islamic terrorism kills 20 times more Muslims than others…what is happening in Iraq and Syria… whom are they killing? In all this, Muslims suffer more… this is what the community should understand.
Some people are saying that the Nehruvian Consensus of dissent, development and democratic rights is under threat. What are your views on this?
BB Kumar: I believe there is no such threat. Dissent, development and democratic rights do not need adjectives like Nehruvian… simply because these values are shared by many. This was part of intellectual distortions that he was projected as someone who promoted these ideals. There were political reasons behind associating these ideals with Nehru. There was politicization of academics.
Have we as a society become less tolerant? What has been the worst form of intolerance so far?
BB Kumar: We are not less tolerant. The quantum of tolerance and intolerance varies from time to time. In some parts of the country intolerance showed its ugly face, but there was tolerance also. I feel there should be broadest study of the social behavior and then we can invite perspectives in this regard.
What are your views on cow protection and promotion?
BB Kumar: Cow protection, yes… but I am against murder and violence.
Also Watch
| Edited by: Aditya Nair
Read full article