Bangkok burns as Thai troops hunt protestors
Thai troops fired into the air as they approached a temple where several hundred Red Shirts were hiding.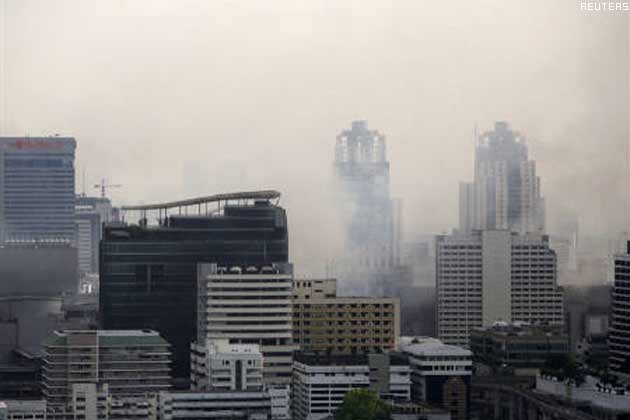 Thai troops fired into the air as they approached a temple where several hundred Red Shirts were hiding.
Bangkok: Thai troops fired into the air on Thursday as they approached a temple where several hundred Red Shirt protestors had sought shelter after security forces dispersed them a day before and their leaders surrendered.
Fires were still burning in central Bangkok after an overnight curfew that followed a day of riots and arson in which health officials said at least seven people were killed.
The Erawan Emergency Medical Centre also said 81 people were wounded in the fighting at the protestors' camp in a commercial district in the heart of the capital and in skirmishes that broke out around the city.
It was uncertain whether the rioting represented a final outpouring of protestors' anger or whether it would intensify in days ahead.
A Reuters photographer said the protestors at the temple, including many women and children, ran in fright at the sound of the gunshots. A Reuters reporter said there were at least six bodies at the site, which appeared to have been there some time.
An Erawan official said she was aware of nine bodies reported to be in a temple inside the protest site, but rescue workers had so far been unable to get there.
The authorities said late on Wednesday that 27 buildings were set on fire by protestors, including Central World, Southeast Asia's second-biggest department store complex, which was gutted and looked close to collapse.
A spokesman for Bangkok's governor said there were 31 fires by Thursday morning, around half at banks but also including a mall in the protest camp area, where a fire had been started around midnight, after the curfew started at 8 p.m. (1300 GMT).
A small fire was started in the stock exchange on Wednesday. The market will be closed on Thursday and Friday and the Bank of Thailand said banks around the country would also stay shut. The whole week has been declared a public holiday in an effort to keep people out of central Bangkok.
The curfew in the capital, in the grip of protests by Red Shirt activists for weeks, was lifted at 6 a.m. (2300 GMT on Wednesday). Buses began running but it was unclear if the mass transit rail system would be reopened.
Television channels have been ordered to only air programmes approved by the authorities.
"Guerrilla warfare"
The Red Shirt protestors are mostly drawn from the rural and urban poor and largely back former Prime Minister Thaksin Shinawatra, a populist tycoon who was ousted in a 2006 coup and now lives in self-imposed exile to avoid a jail term for graft.
They started demonstrating in mid-March, demanding that the government step down and new elections be held. More than 70 people have been killed and nearly 2,000 wounded since then.
Thaksin said the crackdown could spawn guerrilla warfare.
"There is a theory saying a military crackdown can spread resentment and these resentful people will become guerrillas," he told Reuters by telephone from an undisclosed location.
Early this month, Prime Minister Abhisit Vejjajiva had offered an election in November, just over a year before he needed to call one, but talks foundered and that offer is now off the table.
Troops moved in to clear out the demonstrators early on Wednesday and several Red Shirt leaders surrendered. The security forces continued their operation during the night, authorised to shoot looters and arsonists.
"In many places, armed elements have prevented officials from helping the people," Abhisit said in a televised statement late on Wednesday, adding he was determined to end the problem and "return the country to peace and order once again".
Authorities imposed the curfew on 24 provinces -- about a third of the total -- after outbursts of unrest in seven regions, particularly in the north, a Red Shirt stronghold. Town halls were set alight in three northern areas.
The protestors say Abhisit lacks a proper mandate after coming to power in a controversial parliamentary vote in 2006 with tacit military support.
In Washington, Kurt Campbell, U.S. Assistant Secretary of State for East Asia and the Pacific, told reporters talks were planned with Thai diplomats and officials.
Get the best of News18 delivered to your inbox - subscribe to News18 Daybreak. Follow News18.com on Twitter, Instagram, Facebook, Telegram, TikTok and on YouTube, and stay in the know with what's happening in the world around you – in real time.
Read full article