Thailand crisis: Bangkok tense; no curfew yet
Street fighting since Thursday has left 25 dead in Bangkok.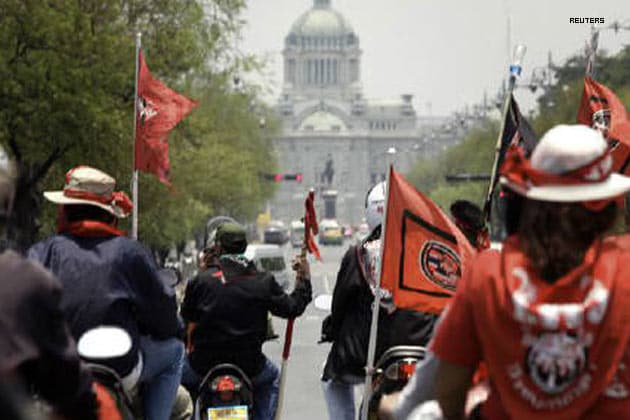 Street fighting since Thursday has left 25 dead in Bangkok.
Bangkok: Thai soldiers battled urban guerrillas in the heart of Bangkok Sunday as tyres burned and new barricades were erected in defiance of government orders to disperse.
Prime Minister Abhisit Vejjajiva announced that schools would be shut and a curfew imposed, but the Centre for Resolution of the Emergency Situation (CRES) said later the curfew plan has been scrapped for now.
"The situation is still under control," Assistant Army Chief of Staff Lieutenant General Aksara Kerdpol said. "A curfew would have an impact on people who are not involved with the demonstration."
But he said the CRES would reconsider imposing a curfew if the situation deteriorated.
Street fighting since Thursday has left 25 dead, including eight killed on Saturday and at least one on Sunday, the Bangkok Metropolitan Administration's Erawan Emergency Centre said. About 215 more, including four journalists, have been wounded.
Abhisit said some 400 public schools scheduled to re-open for the new term Monday would remain closed for another week.
Thousands of demonstrators have been occupying the streets of the city's central commercial district since April 3.
The protesters, including many rural and urban poor, are demanding the immediate dissolution of parliament and new elections. They are supported politically and financially by fugitive former prime minister Thaksin Shinawatra, who was ousted by an army coup in 2006.
Efforts by the army and police to surround the 3-sq-km protest site have been thwarted by guerrilla tactics and protesters wielding fireworks, sling-shots and Molotov cocktails, as well as some firearms and grenades.
"Armed terrorists are creating the violence," Abhisit said in his Sunday morning broadcast. "The government needs to crack down on these terrorists."
He urged those remaining within the protest site, including many women and children, to go home or face arrest. He said the conflict had reached a point where it was impossible to end the demonstration through peaceful means.
Abhisit had offered an early dissolution of parliament and an election in November, but militants in the United Front for Democracy against Dictatorship could not agree on ending the demonstration.
As troops were letting people out of the protest site but preventing them from entering, the number of demonstrators had dwindled to about 4,000 by Sunday afternoon, witnesses said. It had fluctuated to several tens of thousands over the past month.
By nightfall Sunday, many of the remaining women and children demonstrators at the Ratchaprasong intersection had accepted an offer of sanctuary at the nearby Pathuwanaram Buddhist temple.
Saturday and Sunday, skirmishes erupted well outside the protest site, with fires and sporadic shooting reported from dozens of locations in and around Bangkok.
New barricades were erected at two locations along Bangkok's central Rama IV Road, one near the headquarters of the anti-government Pua Thai party, near the main train station, and the other opposite Lumphini Park.
Piles of tyres burned at both locations as red shirt protesters fired sling-shots and threw stones at soldiers armed with shotguns and M-16 assault rifles.
A reporter for The Nation newspaper reported seeing a woman shot in the head around 10 a.m. Sunday while observing a protest in front of the Bon Kai community near the Rama IV expressway, on the fringes of the protest site.
Another hot spot emerged in the Din Daeng area, with protesters gathering behind barricades, lighting fires and throwing rocks and fireworks at soldiers.
The latest spasm of violence was triggered Thursday night when the firebrand leader of the protestors' most militant wing, renegade Major General Khattiya Sawasdipol, was shot in the head while giving an interview to a group of journalists.
Sunday, his blood pressure had dropped sharply and he was suffering from kidney failure, the hospital director said. He remains in a coma.
Another 25 people were killed and more than 800 injured in an outbreak of violence on the night of April 10.
Saturday, troops fired on demonstrators trying to reinforce the main protest site at Ratchaprasong intersection. The army declared the area a "live fire zone," forbidding civilians and journalists from entering the area.
The escalating violence has drawn concern from the international community and calls for a peaceful solution.
"The Thai government should immediately revoke the designation of neighbourhood areas as 'live fire zones' that might be used to justify the unnecessary and unlawful use of lethal force," Human Rights Watch said.
Get the best of News18 delivered to your inbox - subscribe to News18 Daybreak. Follow News18.com on Twitter, Instagram, Facebook, Telegram, TikTok and on YouTube, and stay in the know with what's happening in the world around you – in real time.
Read full article