The creepiest and most disturbing anti-heroes of 2013
Here's a lowdown on those actors who were nasty, malicious and made sure nobody messed with them in films.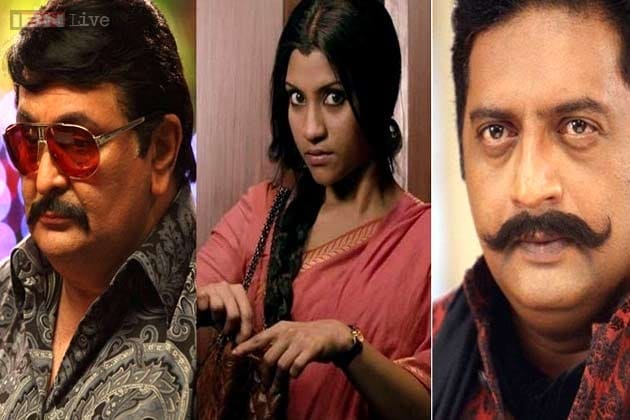 Here's a lowdown on those actors who were nasty, malicious and made sure nobody messed with them in films.
New Delhi: They spew cuss words. They berate everyone around. They are merciless and symbolise misery and chaos. Yes, they are the anti-heroes who bring out the negative shades of human persona and make the bad man look so good and appealing. As the year 2013 nears its completion, we take a look at those Bollywood actors who were nasty, malicious and made sure nobody messed with them in films. These spiteful, foul-mouthed anti-heroes not only became the integral part of the films, but also succeeded in leaving a lasting impact on the viewers with their dramatic monologues. Read on...
Konkona Sen: The actress turned into a baddie for her film 'Ek Thi Daayan'. Directed by Kannan Iyer, the supernatural thriller was based on Konkona's father Mukul Sharma's book. As reports suggest, witchcraft is rampant in Bengal and Mukul being a writer is not only aware of its existence, but has also observed witches. Whether it was Konkona's sinful stare or the way she took on her foes, the actress as the wicked daayan was impressively creepy in the film. There were a few moments when I got so spooked that I shut my eyes.
Prakash Raj: Only an actor of Prakash Raj's caliber can prove a film is never complete unless there is someone as powerful and menacing like him. Yes, while creating a compelling villain is an irrefutable challenging task, for Prakash, it is quite easy. Prakash, who has had films like 'Khakee', 'Wanted', 'Singham' and 'Dabangg 2' to his credit, showed his devious side this year too. A perfect potpourri of the good, the bad and the ugly, Prakash gave an impeccable performance in 'Singh Saab The Great'. As the unpredictable Bhoodev, Prakash came across as the most stoically sinister character on 70 MM. He appeared in 'Policegiri', 'Zanjeer' and 'Rajjo' too.
Ronit Roy: The actor may not have given the most moving performance in 'Boss', but he did become everyone's favourite Bollywood tough guy. When movie buffs drove into theatres by the hundreds to watch the film, they were a bit shocked and highly impressed with Ayushman Thakur aka Ronit as the irredeemably horrid cop. His onscreen persona in 'Boss' will always be special for his unfriendly aura and hard-hitting dialogues.
Rishi Kapoor: There is no denying the fact that Bollywood veteran Rishi Kapoor is one of the most versatile actors. Rishi, who kicked off his career as a romantic hero has been successful in transforming himself as Bollywood's most appreciated anti-hero. After winning accolades for playing Rauf Lala in Karan Johar's remake of Agneepath, Rishi again played intense characters in 'Aurangzeb', 'D-Day' that helped him outperform the heroes on several counts.
Akshay Kumar: With his role in 'Once Upon A Time In Mumbai Dobaara', the actor proved that he feels right at home playing an envied anti hero. His role in this film was so far removed from what we have seen him perform in the past, that his versatility ought to be admired. In order to do justice to his role in 'OUATIMD', the actor had worked on his body language, mannerisms and look to leave a long-lasting impact, received a roaring applause from the viewers. The film may not have done well at the box office, but his villainous presence worked in favour of the film. Even as his role added drama and spice to the film, he could also connect with the audience. All in all, the star strayed away from his typecast and succeeded in his attempt to experiment with his role.
Get the best of News18 delivered to your inbox - subscribe to News18 Daybreak. Follow News18.com on Twitter, Instagram, Facebook, Telegram, TikTok and on YouTube, and stay in the know with what's happening in the world around you – in real time.
Read full article