GET Stock

Quotes


The Curious Case of Decreasing Fuel Prices During Crucial State Elections
On Sunday, petrol was priced at ₹76.24 per litre at Indian Oil (NSE -0.09 %) pumps in Delhi, more than the previous all-time high price of ₹76.06 reached in September 2013.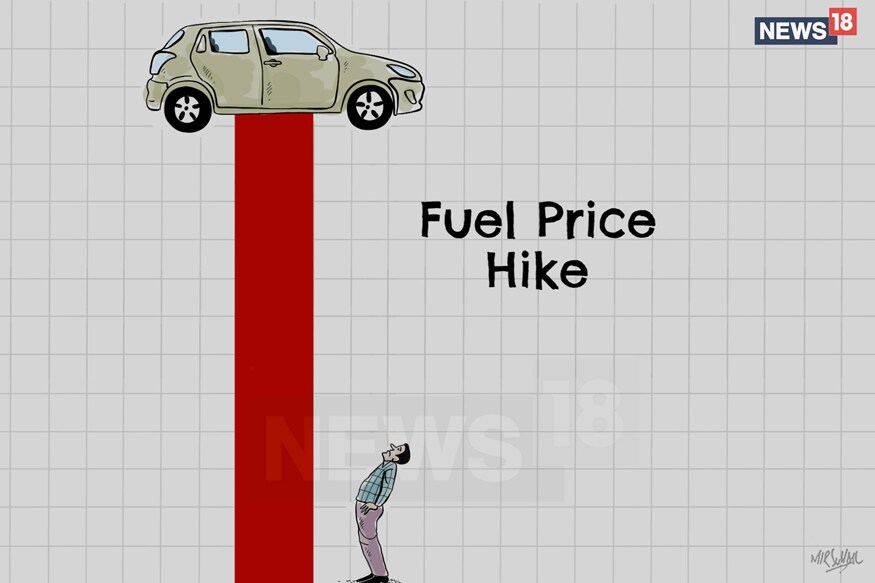 (Illustration: Mir Suhail)
New Delhi:
With Karnataka elections over, petrol and diesel prices have risen to record levels in the country following rocketing international fuel rates and a weaker rupee.
On Sunday, petrol was priced at ₹76.24 per litre at Indian Oil (NSE -0.09 %) pumps in Delhi, more than the previous all-time high price of ₹76.06 reached in September 2013.
In the state of Karnataka itself, between May 14 and Sunday, the price of petrol increased by ₹1.62 a litre and that of diesel by ₹1.65. The results of the Karnataka elections were declared on May 15.
This sudden increase in fuel prices, other than other various factors, can also be attributed to the recently concluded elections in Karnataka. As the Congress had made rising fuel prices an election issue during the Karnataka polls in April, the BJP-led government had reportedly asked oil-marketing companies not to resort to daily revision of prices.
This was in contrary to the usual routine where oil-marketing companies were allowed to revise the rates daily from June 16, 2017, depending on the international crude rates as well as the price of petrol and diesel in other countries.
The move had resulted in the fuel prices to remain almost stagnant, thus benefiting consumers across the country.
A Poll Gimmick?
Among the many fuel-related theories out there is the one that says state elections cause fuel prices to fall. A look at some state elections shows a somewhat similar trend.
Ahead of the Gujarat polls, oil companies slashed petrol and diesel prices daily 1-3 paise every day, and as soon as the polls concluded on December 14, 2017, the prices began increasing. Earlier, the petrol and diesel prices were slashed or kept unchanged between December 6 and December 14 even as international oil prices were on a rising streak.
The state of Gujarat had voted in two phases — December 9 and then December 14.
In September 2015, state-owned oil companies, apparently because of the Assembly elections in Bihar, had put off a ₹1 per litre hike in petrol and a ₹2.28 per litre increase in diesel prices necessitated due to firming global oil rates.
At that time, the state-owned IOC, BPCL and HPCL were to revise petrol and diesel prices as per the practice of adjusting retail pump rates every fortnight after taking into account the average international oil prices and foreign exchange rate in the previous 15-day period. However, the oil companies had chosen to skip the revision at that time.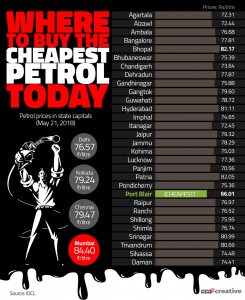 The move had come just a few weeks before the state had gone to the polls.
In February 2015, the Congress and the Aam Aadmi Party (AAP) had slammed the BJP government for slashing prices of petrol and diesel ahead of Delhi Assembly polls saying the move was a "desperate attempt" by the ruling party at the Centre to woo voters of the city.
Interestingly, a petrol price cut of ₹2.42 per litre and diesel by ₹2.25 a litre was announced just seven days before the elections in Delhi.
The Opposition Backlash
Congress leaders, in an apparent attack against the BJP, hit out at the Narendra Modi-led government over the hike in fuel prices on May 14, a day before Karnataka election results came out.
Taking to Twitter, senior Congress leader Ahmed Patel wrote: "As soon as Karnataka election is over, govt has decided to increase petrol and diesel prices. They why does govt pretend that it is not interfering in the determination of fuel prices? Aren't they taking the people for a ride?"
This timing of the sudden freeze and an expected subsequent resumption had earlier raised speculation that fuel prices are being used to bolster support at the polls.
Taking a dig at the BJP-led central government, Congress leader P Chidambaram on May had alleged that the prices of petrol and diesel were kept constant off late because of the Karnataka Assembly polls.
"Thanks to Gujarat elections, GST rates on many items reduced from 28% to 18%. Thanks to Karnataka elections, Petrol/Diesel prices kept constant. So, frequent elections also bring benefits to people! (sic)," he said on Twitter.
| Edited by: Puja Menon
Read full article