GET Stock

Quotes



The Text & Context of PM Narendra Modi's UP Ramayan
There were enough cues for grassroot BJP/RSS workers in the PM's Dussehra speech in Lucknow. Bhupendra Chaubey reads the political tea leaves.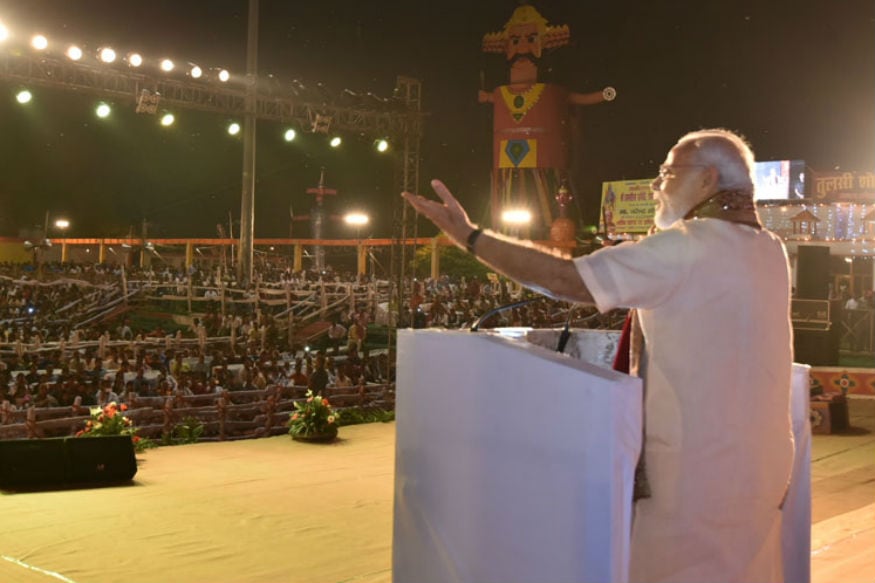 PM Narendra Modi addresses the crowd at a Ramlila event in Lucknow on Tuesday. (PIB PHOTO)
There were enough cues for grassroot BJP/RSS workers in the PM's Dussehra speech in Lucknow. Bhupendra Chaubey reads the political tea leaves.
Jai Shri Ram is back! And back with a bang. The platform: Dussehra celebrations in Lucknow. In a politically charged environment, with the backdrop of terror dressed up as Ravana, Prime Minister Narendra Modi came up with a speech, which could actually be described as his most political one yet. Not once naming any political opponent, yet saying everything. Nicely sandwiching his terror talk between sermons on girl child and Swachh Bharat, still giving enough time to post-Uri strikes for maximum impact. To the political opposition, Modi was doing what he is best at. Politicising an opportunity. For the BJP, he has done the best thing: Creating a great platform for his colleagues to carry forward.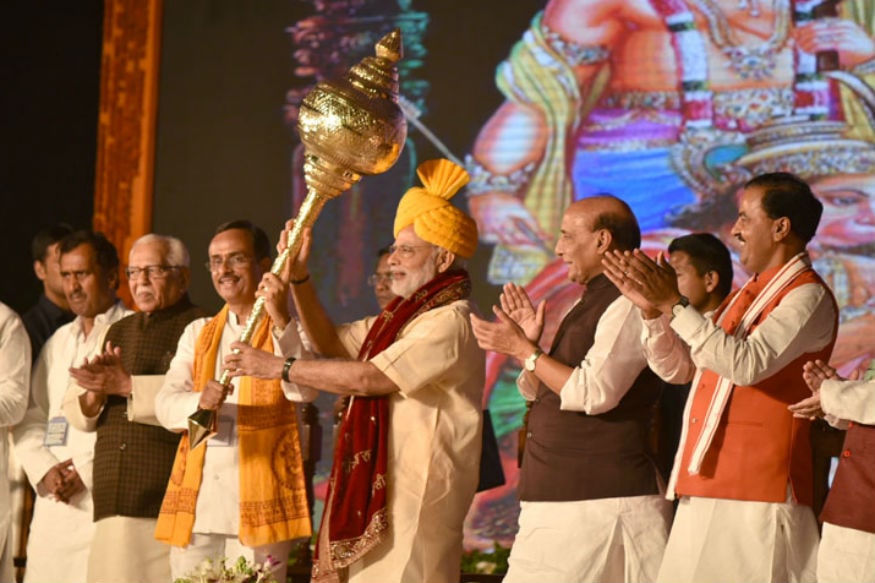 PM Narendra Modi with a gadaa on the Ramlila stage in Lucknow's Aishbagh maidan on Tuesday. (PIB PHOTO)
Sample this! By wearing the Sudershan Chakra on his arm, by accepting Lord Hanuman's Gadaa as a present and by doing aarti of Ram, Laxman and Sita, Modi has brought joy to millions of his supporters in UP who still have the Ayodhya Ram temple dream. BJP Rajya Sabha MP, Subramanian Swamy had even gone on record a few days back on CNN-News18's #Big5At10 Programme to state clearly the party position: "We will certainly be raising the Ram temple issue during UP polls. I am sure Amit Shah realises that construction of a Ram temple in Ayodhya is our biggest USP."
Construction of Ram temple is an issue the BJP has always tried to cash in on before every UP election. But it's not worked for a while now. The party hasn't managed to cross the threshold of 15% vote during the previous assembly elections. This time though, with Modi at the helm, it's a different ball game altogether. The party got 71 seats on its own in last Lok Sabha polls and got two more in the form of ally Apna Dal. It's in this dream to repeat 2014 that Modi is leaving no stone unturned.
ALSO READ: Four Takeaways from PM's speech
So he even tried to play the statesman. #YudhSeBudh isn't just a catchy hashtag. There is a clear cut political message there in the context of surgical strikes of September 30. India under Modi isn't Mr Nice Guy anymore. It wants to shed off the image of being weak kneed. India doesn't want war, but won't shy away from attacking those who threaten India. Read Pakistan. Modi reminded everyone that when Sita was taken away by Ravan, the first person to take on Ravan was no soldier, but Jatayu, the mythical bird. So who is the modern day Jatayu? Us, you and me. Citizens, of course including citizens of Uttar Pradesh. So if UPwallahs want to shed away the tag of being Bhaiyas from Ulta Pradesh, vote for the muscular Modi, not the meandering caste-based outfits. At least that's the message Modi wants to hand over to people across the state.
Elections in UP will be announced in the next few weeks. With this majestic performance, Narendra Modi has clearly set the agenda. Be prepared for a high octane combination of religion and politics in the days ahead.
Also Watch

News18 Reel Movie Awards: Ratna Pathak Shah Bags Best Actor (Female) Award
| Edited by: Nitya Thirumalai
Read full article