CBSE Class 12 Results 2017: The Curious Case of 'Magic Mark 95'
For boards to be opaque about their standardisation procedures is hardly acceptable.
The CBSE Class 12 results 2017 are scheduled to be declared by Sunday noon. Millions of students are awaiting their admission to colleges and universities across the country — with most institutions judging them solely on the basis of their Class 12 marks.
The results this time will include the five-point moderation policy, as ordered by the Delhi High Court. The court quashed the CBSE's decision to do away with the policy, saying that students who appeared for exams in March did so with the knowledge that moderation or grace marks policy would continue.
The moderation policy has in the past, however, made for some interesting number crunch, including the curious case of 'Magic Mark 95'. Here's a look:
CBSE's MAGIC FIGURE - 95
Notice the extremely large spike at 95? This shows that the total number of students scoring exactly 95 is more than the total number of students scoring any other particular mark between 0 and 100.
And here are the graphs for the Maths, Physics, Economics and Accountancy papers among others —
Notice the similarity? In almost all of them, the 95 is a skyscraper, towering above all the marks next to it.
Dheeraj Sanghi, professor at IIT-Kanpur, explains why it's odd that 95 is the number awarded to the highest number of people in almost every CBSE exam, year after year.
"This bunching up or moderation is done in a way that a lot of people have been given 95 marks. Now these people in reality must have got 94, 93, 92, 91, something like that and all of them have been bunched with 95. This is really unfair because different people have been given different increases."
This unusually high 95-spike has been observed across 10 of the 12 most-studied subjects of the CBSE every year since 2008. That's almost every exam, every year, for the last nine years.
In the day and age of cut-throat competition for college admissions, a difference of 2 to 3 per cent in your marks often determines whether you make the list or miss out.
If person A scores 92 and his marks are increased to 95, whereas person B scores a 95 and his marks stay as they are, that takes away the advantage of the person who actually scored higher.
Mukta Nain, Principal of the CBSE-affiliated Birla High School for Boys in Kolkata is not impressed. "It's a little unfair. In this stiff competition where even half a mark is important, I feel this affects the admission of some good students to various courses they want to take up."
A former exam controller for the CBSE, Pavnesh Kumar, had this to say. "The 95-spike is because the highest number for moderated scores is 95. It is unfair to say that people who are scoring 95 without moderation are being disadvantaged because their scores are not being reduced. It's only that the marks of those below 95 are being increased."
Former Chairperson of the CBSE, Ashok Ganguly, agreed with CNN-News18's data analysis and said that the CBSE should try and avoid bumping up marks in the 90s.
"How is it that students attempting only 90 marks in an exam end up scoring 94? We need to differentiate between grace marks and standardisation. The processes of standardisation employed need to be revisited. Lack of transparency is a major concern."
But the CBSE isn't the only board exam with a seemingly flawed marking process. Let's now look at the other big national board – the ISC.
ISC's MISSING NUMBERS
In the ISC examinations of 2016, no student in any paper scored an 81 or an 82 or an 84 or an 85. Nor would you find a single person with an 87, an 89, a 91 or a 93.
These eight numbers feature in a list of 24 numbers between 40 and 100 not to have been scored by any student not just this year, but for all the years for which we have data (that is, from 2012 to 2016).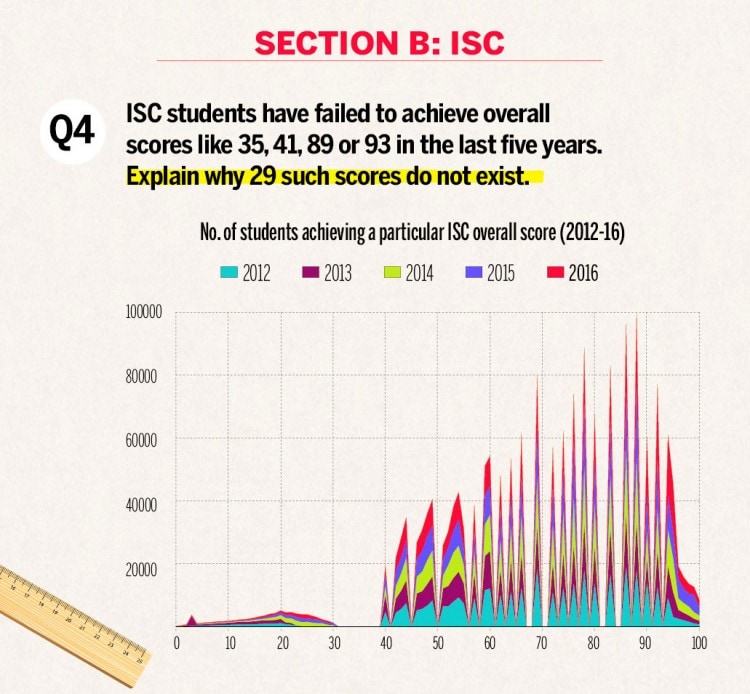 The CISCE, which administers the ISC examinations, chose not to respond.
(NOTE: This report was originally published on News18.com on June 6, 2016)
Get the best of News18 delivered to your inbox - subscribe to News18 Daybreak. Follow News18.com on Twitter, Instagram, Facebook, TikTok and on YouTube, and stay in the know with what's happening in the world around you – in real time.
Subscribe to Moneycontrol Pro and gain access to curated markets data, trading recommendations, equity analysis, investment ideas, insights from market gurus and much more. Get Moneycontrol PRO for 1 year at price of 3 months. Use code FREEDOM.
| Edited by: Puja Menon
Read full article