There's No Such Thing as 'Green Firecrackers', Say Manufacturers After SC Order, Cops Can't Count Decibels
The cracker industry in and around Sivakasi in Tamil Nadu has already completed production for this year.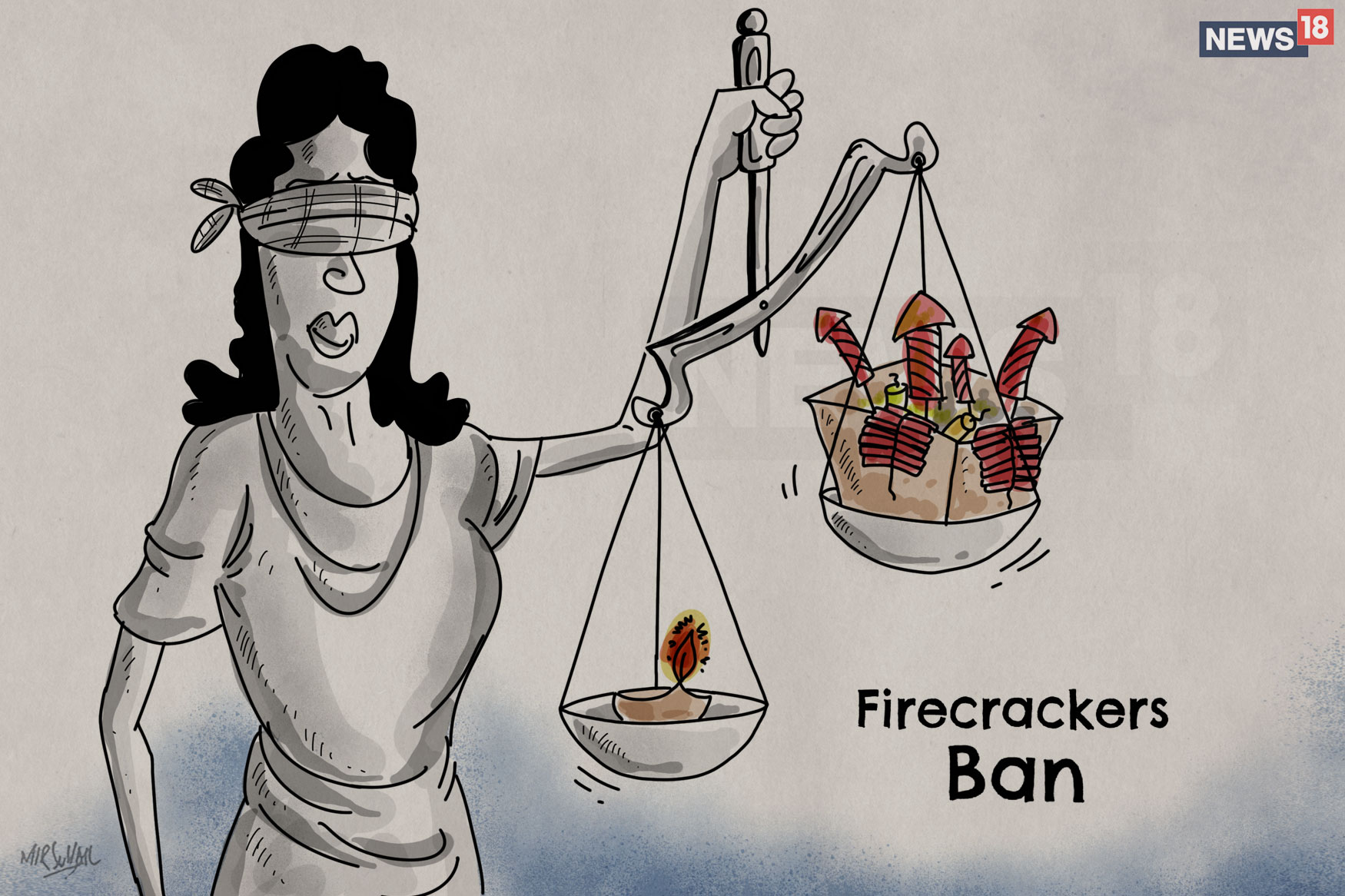 The SC had banned production and sale of all other kinds of firecrackers before Diwali this year. (Illustration by Mir Suhail/News18)
New Delhi: The Supreme Court on Tuesday permitted the sale and manufacture of only low emission "green" firecrackers countrywide and fixed a two-hour time period from 8 pm to 10 pm for bursting them on Diwali and other festivals, but both manufacturers and police officers have expressed reservations regarding the implementation of the order.
While the manufacturers said there was no such thing as a green firecracker, police officers in Delhi said they do not have any equipment to measure the decibel levels of the firecrackers or the smoke they emit.
Industry bodies, which peg the firecracker market at around Rs 20,000 crore per annum, said the court order would be tough to implement. The Tamil Nadu Fireworks and Amorces Manufacturers' Association, which represents the states' Rs 6,000 crore crackers industry, said they are already producing crackers after approval from the PESO (Petroleum and Explosives Safety Organisation).
K Mariappan, the general secretary of the association, which has decided to file a review petition on the court verdict, said the direction on use of only 'green crackers' won't work as "there is no such thing".
He said the cracker industry in and around Sivakasi in Tamil Nadu has already completed production for this year. "We need to explain to the court that we cannot produce such (green) crackers. We may reduce the chemicals used in manufacturing… But it will take more time", he said.
Set up in 1898, the PESO's objectives include ensuring public safety in the areas of manufacture, transport, storage, handling, of explosives, petroleum, carbide of calcium, inflammable substances and compressed gases. The court, in its order, said that the permissible limit of sound and smoke will be approved by the PESO.
The court has also made station house officers liable if banned firecrackers were sold in their area.
An inspector posted in the central district of Delhi said there are no instruments to measure the decibel levels of the firecrackers. "But senior officers might direct the licensing branch of the Delhi Police to frame some guidelines for issuing licenses."
According to another officer from the central district, shopkeepers have said that they would not be able to procure 'green firecrackers' within 15 days.
"We held a meeting with the shopkeepers selling firecrackers and they said they have stocks which are two years old. They said in such a short span of time they would not be able to get fresh stocks and even asked us for suggestions to dispose of their old stock whose sale won't be possible."
Environment and health experts, however, welcomed the order, saying it was time the society celebrated festivals "more responsibly".
D Saha, an environmental scientist who previously worked with the Central Pollution Control Board (CPCB), said the authorities would now have to ensure that the norms are adhered to more strictly, especially at the manufacturing level.
"As a society, we have been using firecrackers to celebrate occasions, from festivals to landmark days and weddings to grand events, but there is a much bigger cost involved, the damage the bursting causes to the environment and of course the health hazards. And, so we must behave more responsibly," he said.
Asked how the decibel norms could be checked for compliance, Saha said, "The PESO already has a centre in Sivakasi, home to some of India's largest fireworks manufacturer. And, since Diwali is approaching, the authorities would have to work quickly to ensure compliance."
Other environmental experts also hailed the court decision, saying anything that cuts emission level should be welcomed.
Gufran Beig of the System of the Air Quality and Weather Forecasting and Research (SAFAR) said use of 'green firecrackers' and restriction on timing of the use are good steps.
When asked what a 'green cracker' meant, he said, "Any such item which produces minimal toxicity and minimal fumes can be termed as a green firecracker."
Social media, however, had a different take on the 'green crackers', with a large number of jokes and memes doing the rounds, including some associating the green colour with certain political parties.
Most of them simply posted pictures of crackers wrapped in green-coloured paper or threads, while some also put out pictures of famous personalities including actors wearing green.
On the business side, the Confederation of All-India Traders' Secretary-General Praveen Khandelwal said the annual fire cracker sales amount to Rs 15,000-20,000 crore, of which Chinese imports are at least Rs 5,000 crore.
"The apex court order will definitely impact sales, but is difficult to quantify losses as the industry operates mostly unorganised," he said. Crackers imported from China are more toxic and the apex court ruling aimed at improving the quality of air during the festival season is a good move, he said.
| Edited by: Aakarshuk Sarna
Read full article