As India Bids Solemn Farewell to Martyred Jawans, Kin Question Netas
Action, not assurance is the demand of the families of two soldiers whose bodies were mutilated by the Pakistan Army after a dastardly attack in Krishna Ghati sector of Jammu and Kashmir.
New Delhi: As India bid a solemn farewell to two soldiers killed and mutilated by the Pakistan army, their families have only one demand — action, not assurance.
Head Constable Prem Sagar of 200th Battalion of the BSF and Naib Subedar Paramjeet Singh of 22 Sikh Regiment of the Indian Army attained martyrdom on Monday morning when the Border Action Team of Pakistan launched an attack 250 metres on the Indian side in Krishna Ghati sector of Jammu and Kashmir. The Pakistan army was providing this team cover fire from across the border. The bodies of the two soldiers were beheaded by the Pakistan army after the attack.
ALSO READ | Bodies of Two Soldiers Mutilated by Pakistan Army, India Vows Revenge
Almost 24 hours later, the families are seeking answers from the government and calling for retribution. "My 12-year-old nephew is asking for his father. What do I tell him?" asks Ranjeet Singh, brother of Paramjeet.
Speaking to CNN-News18, Ranjeet said: "We keep bragging that our army is bigger than Pakistan's entire population. Then why can't we attack them? What is the Prime Minister and the government doing?" He even questioned Prime Minister Narendra Modi's meeting with Pakistan counterpart Nawaz Sharif on the latter's birthday last year.
Ranjeet had earlier said the family "won't accept" his brother's headless body. "How do I know that it is my brother if his head is missing? We will not accept a headless body."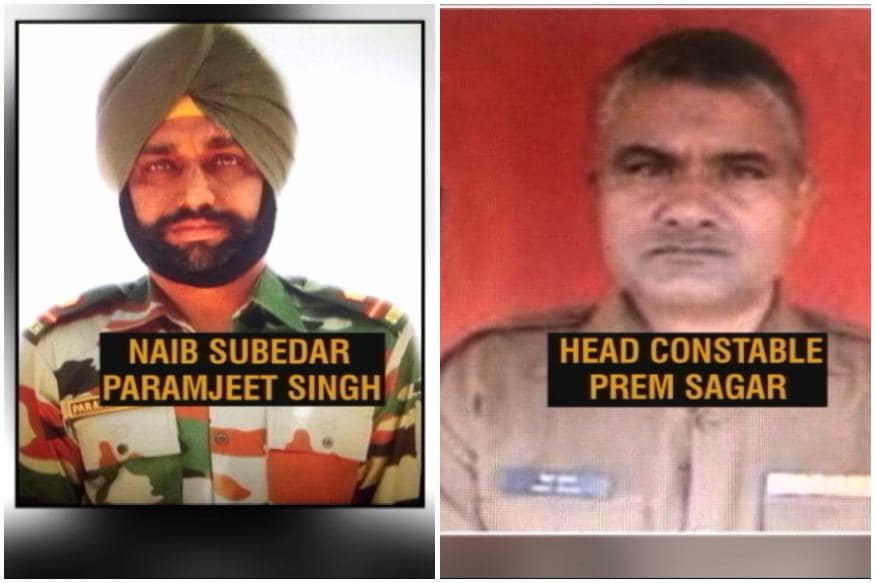 Naib Subedar Paramjeet Singh of the Indian Army's 22 Sikh Regiment and Head Constable Prem Sagar of 200th Battalion of the BSF attained martyrdom on Monday morning.
Paramjeet Singh's distraught widow, too, had said the family won't accept the mutilated body and called for a "befitting reply" to Pakistan.
"We did not get any information from any official or the government. The government should respect my husband's sacrifice and give Pakistan a befitting reply. We want to check the body first. If the body is not complete, then we will not accept it."
The mortal remains of both soldiers were cremated with full military honours on Tuesday afternoon. Punjab Chief Minister Amarinder Singh was conspicuously absent at the last rites of Naib Subedar Paramjeet Singh, which was performed in Tarn Taran, adding to the locals' anger against the political establishment.
ALSO READ | Pak Brutality: When Bodies of Indian Soldiers Were Mutilated Earlier
ALSO READ | Five Ways India Can Avenge Mutilation of Its Soldiers by Pakistan
The anger among family members of BSF jawan Prem Sagar was also palpable. His brother Daya Shankar called for "more surgical strikes against Pakistan".
"If the PM orders me, I will go to Pakistan and chop off 100 heads for each of our own…. Our politicians keep talking about compromise. The PM and Defence Minister are not giving clear instructions to our troops. Talks are not enough," he told CNN-News18, adding that he was proud of his brother's sacrifice for the nation.
ALSO READ | Pakistan Army Set Up Death Trap to Carry Out Barbaric Border Attack
The Indian Army has vowed an "appropriate" response to the "despicable act", which significantly took place a day after Pakistan Army chief Gen Qamar Javed Bajwa visited some areas along the LoC and raised Islamabad's Kashmir rhetoric.
@media only screen and (max-width:740px) {
.quote-box{font-size:18px; line-height:30px; color:#505050; margin-top:30px; padding:22px 20px 20px 70px; position:relative; font-style:italic; font-weight:bold}
.special-text{font-size:24px; line-height:32px; color:#505050; margin:20px 40px 20px 20px; border-left:8px solid #ee1b24; padding:10px 10px 10px 15px; font-style:italic; font-weight:bold}
.quote-box img{width:60px; left:6px}
.quote-box .quote-nam{font-size:16px; color:#5f5f5f; padding-top:30px; text-align:right; font-weight:normal}
.quote-box .quote-nam span{font-weight:bold; color:#ee1b24}
}
| Edited by: Ananya Chakraborty
Read full article
Countdown To
Elections Results
To Assembly Elections 2018 Results