'They Must Feel the Same Pain': Army Chief Says Time to Avenge Pakistan's Barbarism Against Soldiers
Emphasising that talks and terrorism could not go hand in hand, Army Chief General Bipin Rawat said Pakistan must not allow terrorists to use its soil against India.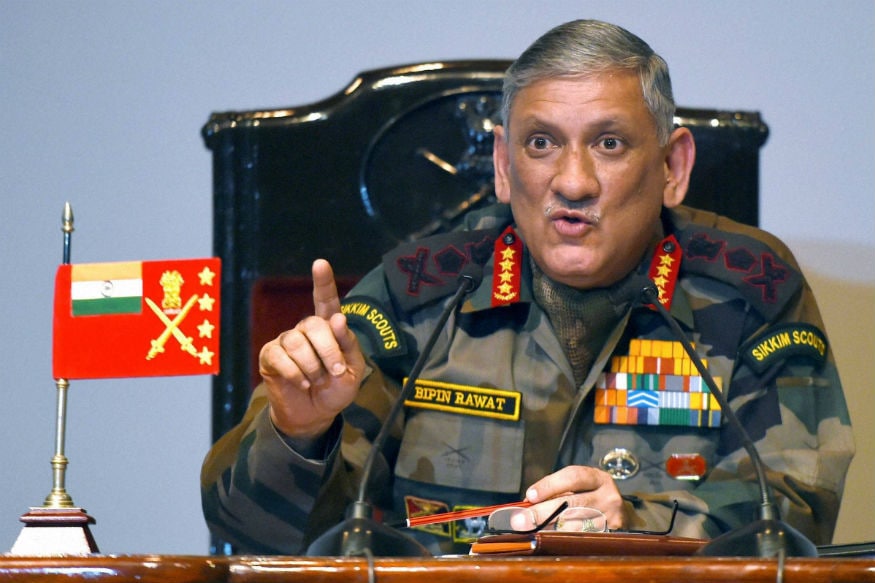 File photo of Army chief General Bipin Rawat. (PTI)
Jaipur: Four days after a BSF jawan was shot and his throat slit and three policemen were brutally killed in Jammu and Kashmir, Army Chief General Bipin Rawat on Saturday said stern action was needed to avenge the barbarism by terrorists and Pakistan Army against Indian soldiers.
"We need to take stern action to avenge the kind of barbarism that terrorists and the Pakistan Army have been carrying out against our soldiers. It is time to give it back to them in the same coin but not by resorting to similar kind of barbarism. I think the other side must also feel the same pain," the Army chief said at a press conference here.
Emphasising that talks and terrorism could not go hand in hand, Rawat said Pakistan must not allow terrorists to use its soil against India. He insisted that action against Pakistan was needed but not in a barbaric manner.
"We have carried out similar actions against them whenever they did something against India on the border. Pakistan has suffered many casualties and we have been able to take on their defence system to a large extent but we never resorted to barbarism," he said. "They requested for ceasefire in May and we agreed but if they continue to do this, we will need to take other action," he added.
Rawat's comments, however, did not go down well with the neighbouring country, which said its desire for peace shouldn't be considered a sign of weakness.
The DG of the Inter Services Public Relations, the media wing of the Pakistan Armed Forces, urged the Indian Army chief to abstain from deteriorating the peace situation and warned the country of stern military repercussions.
Accusing India of lying about the surgical strikes, Major General Asif Ghafoor said no proof of the cross-border action was furnished. Ghafoor, while insisting that dialogue was the way forward, said Pakistan was an atomic power and prepared for war.
The latest skirmish between the militaries of the two countries comes amid New Delhi's decision to scrap talks with Pakistan over the killings of security personnel and the recent release of 20 postal stamps glorifying terrorists.
On Friday, MEA spokesperson Raveesh Kumar had said: "The decision to agree to Pakistan's proposal for a meeting between the Foreign Ministers of the two countries in New York later this month was in response to the spirit reflected in the letters from the new Prime Minister and Foreign Minister of Pakistan. The letter from the Prime Minister of Pakistan had spoken of, inter alia bringing a positive change and mutual desire for peace as also readiness to discuss terrorism.
"Now, it is obvious that behind Pakistan's proposal for talks to make a fresh beginning, the evil agenda of Pakistan stands exposed and the true face of the new Prime Minister of Pakistan Imran Khan has been revealed to the world in his first few months in office. Any conversation with Pakistan in such an environment would be meaningless."
Pakistan Prime Minister Imran Khan hit out at the government on Saturday, saying he was "disappointed at the arrogant and negative response by India" to his call for "peace dialogue". He also blamed the leadership in New Delhi for not having the "vision to see the larger picture".
Get the best of News18 delivered to your inbox - subscribe to News18 Daybreak. Follow News18.com on Twitter, Instagram, Facebook, Telegram, TikTok and on YouTube, and stay in the know with what's happening in the world around you – in real time.
Read full article