Assembly Elections 2019
Exit Poll Results
Thiruvarur and Its Missing Men: The Land of Chola Glory Now
Tamilarasi is a guilt-ridden mother. This summer, she says, she asked her young son to stop high school and take up some work -- any work -- to earn the family a living.
Thiruvarur:
Tamilarasi is a guilt-ridden mother. This summer, she says, she asked her young son to stop high school and take up some work -- any work -- to earn the family a living.
"There is nothing left in agriculture now, nothing left to farm with. Our land hasn't yielded anything for more than a year. We have stopped educating our young, and most of our men have moved to Kerala to take up construction work," Tamilarasi says.
As you enter the Sannadi Street in Kottur block in Thiruvarur district, one of the agriculturally-flourishing regions in the Cauvery delta, what hits you first is the large number of women and children living in huts neatly lined up. The men are missing.
"There are a hundred homes here, at least 50 men have gone to other places -- some to Tiruppur (the textile hub of Tamil Nadu), some to Kerala and Andhra," says Latha, another woman holding fort until things improve.
This is the district once so prosperous that music and the arts flowed with panache; a district that has a permanent place in the history books as the cultural centre of the Chola dynasty, the birth-place of the classical music's trinity Thyagaraja, Muthuswami Dikshitar and Shyama Shastri.
Five consecutive years of drought though has changed the fortunes of villagers -- some of whom never knew what 'shortage' meant, as Tamilarasi reminds us. Double the irony, her name literally means 'queen of Tamil.'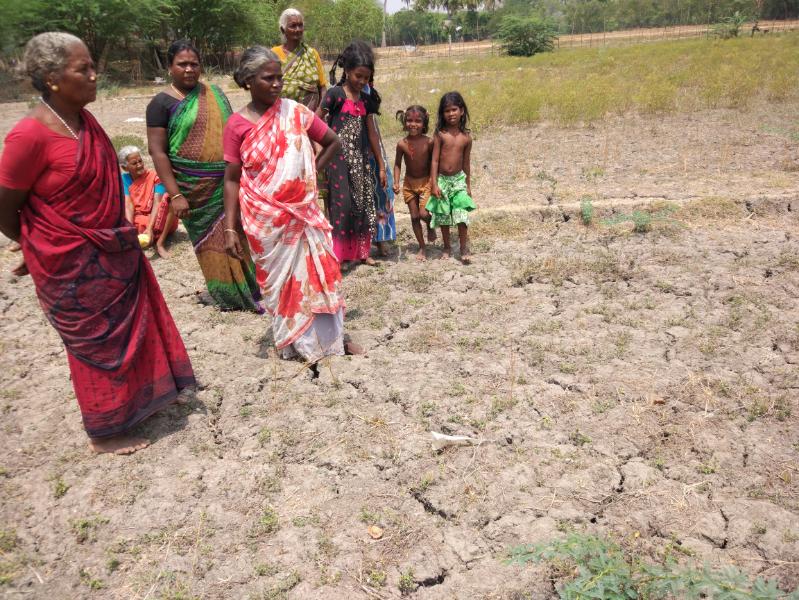 As we make our way through a cracked field filled with weeds and thorns, the younger children wait around in bunches, curious about how sharing their woes will help… all along hoping, of course, that their families can save enough before the academic year starts so that they don't lose a year.
The women team up everyday to look for work under national employment schemes everyday so they can supplement the family incomes. The last five years have been tough, but the past few months in particular have brutal.
Shanthi, her neighbour, says they all go for work like desilting tanks or public works. "If we go for five days, we may get work one day. We eat what we can," she sighs.
In Keerakallur, off the highway between Mannargudi and Thirathirapoondi, the village pond has dried up to the point of its floor showing cracks in the mud. U Saravanan, who owns a one-acre plot, plies an auto-rickshaw in a nearby town now.
"We used to harvest 45 sacks of paddy in an acre. Then we grew oil-seeds and urad dal as additional crops," he says, "we are mere beggars now, even the alms we get is meagre," he adds, wryly.
Drinking water comes from a public tap erratically. The villagers have divided themselves into who can take water on which day. Two pots per family, alternating between the different families -- a rationing system worked out among themselves as no one has the energy to fight over this any longer.
"If there is an additional requirement, we wait for kids to sleep in the afternoon and go to a pond filled with borewell water two miles away. Only if the kids sleep can we carry two or three pots at a time," says Regina.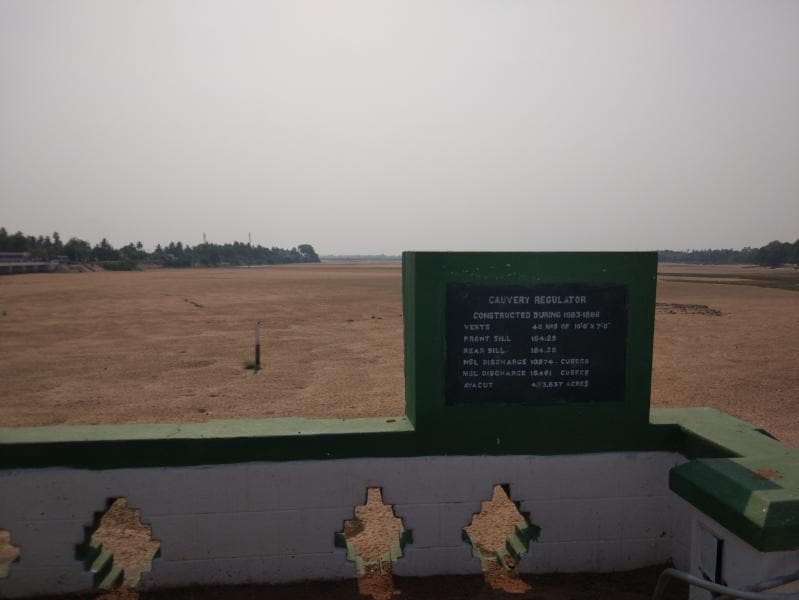 These are among the tail-end villages fed by the Cauvery -- about 50 kilometres before the river meets the Bay of Bengal. Underground water has turned salty in many places, tanks are empty, some are so dry that village kids use them to play in. The river itself has only its sands to show for its course -- the dry river bank stares back as if to taunt, meandering through once-prosperous farmlands.
Desperate times require desperate measures -- and it is this that experts like 'Cauvery' S Ranganathan, general secretary of the Cauvery Delta Farmers' Welfare Association, would want the State to focus on.
"The river is stretched beyond its capacity. Tamil Nadu's share is only 192 tmc feet of water even in a good year.. The average calculation is that one tmc of water can irrigate about 7,000 acres. So we can irrigate 13.45 lakh acres with our share, if we get it fully. But we have brought in over 24 lakh acres into irrigation in the Cauvery region. I have been pleading for so long, don't go for paddy and sugarcane in the upper regions," he is frantic.
A fifty per cent dependability every year means you are asking for a 50 per cent chance of failure every year. In a deficit year like 2017, the struggle is far more.
"The difference between this year and the earlier years or the last 140 years, is that this is the starting point of the effects of climate change. So far global warming has only affected the intensity of the climate (rainfall), not the climate as such. The monsoons used to come and go at the right time, be it ten per cent or 30 per cent. This time, it is practically a big zero," the octogenarian remarks.
Unemployment has gone up as high as the temperature this season -- a cruel 45 degree celsius. And a few farmers who have dug borewells 500 feet below the ground in their fields have decided to sow paddy yet again in February -- hardly a prudent decision, considering there is no water to drink.
A farmers' group activist and one with 100 acres of land himself, Sukumaran Kakarai is angry, "The government should stop such crops. But they won't do it, because they are worried people will ask for more compensation. So they won't discourage unscientific - and indeed, impractical - farming."
Then again, a governance deficit is being sorely felt in the State that has seen political instability for over six months.
| Edited by: Huma Tabassum
Read full article
Countdown To
Elections Results
To Assembly Elections 2018 Results