This Guru Wants to Strike the Right Musical Chord in Kashmir Valley
The next generation of "Gurus" is striving hard to come out of Afzal Guru's long shadow and strike the 'right' notes.
The next generation of "Gurus" is striving hard to come out of Afzal Guru's long shadow and strike the 'right' notes.
If last year it was his son Ghalib's remarkable success in Board exams, this time it is his 18-year-old nephew, who is scoring lilting musical numbers.
Just days before the fourth death anniversary of Afzal Guru, who was convicted in the 2001 Parliament attack case, his nephew, Shoaib Guru, has uploaded his hip-hop rap songs on YouTube, inviting applause from his friends and family.
"Ghalib too appreciates my efforts. He is more of a friend than a cousin. He used to encourage me to follow my dreams of singing and acting. He wants me to sing for Kashmir," Shoaib tells News18, hours before a Kashmir bandh call by separatists comes into effect to mark Afzal Guru's death anniversary.
Shoaib is aware of "a controversy that may erupt like a volcano" in the Valley if he goes public about his passion.
He cites the case of Dangal actor Zaira Waseem, who had to publicly apologise on social media, after a section of Kashmiris trolled her for meeting Jammu and Kashmir Chief Minister Mehbooba Mufti.
"There are people who may criticise my singing because I am from the Guru family. But should it deter me to chase my dreams," he asks.
Shoaib has kept his love for music a secret from his family. "My father is not aware of the rap videos that I have uploaded on YouTube. I might be admonished for uploading them," he says.
"You know how quickly the situation changes in Kashmir. You can consider 2016," he rues.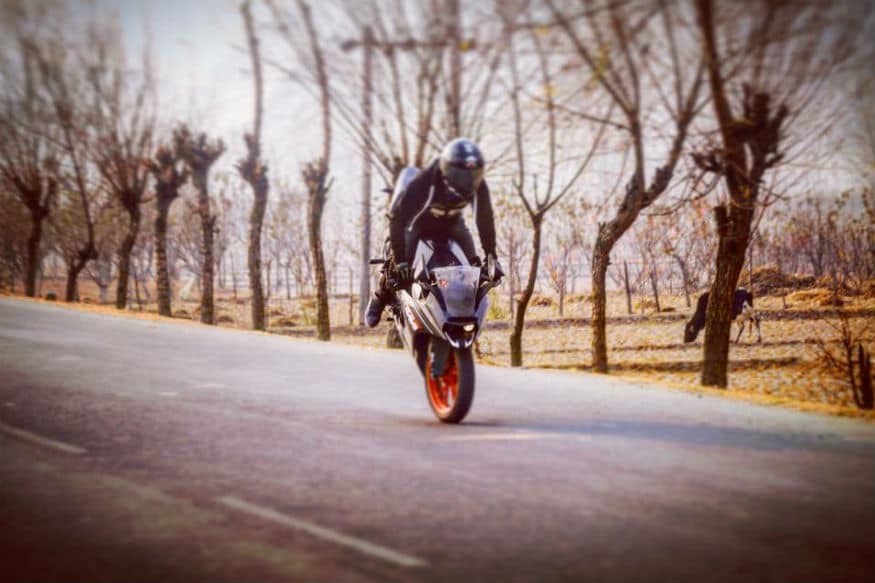 When not playing music, Shoaib tries a hand at stunt biking, cricket, and writing. He believes music has the therapeutic powers to heal the wounds in Kashmir.
A class 12 pass out, Shoaib says, "He is different from Ghalib. While Ghalib scored 95 per cent last year in Class 10 Board exams and wants to be a doctor, Shoaib wants to be a singer-actor."
He is in awe of the Khan troika -- Salman, Aamir and SRK.
"I love Shah Rukh Khan and hope one day I will get a break in his film. The Guru name should not be a roadblock my career."
Shoaib composes and gives lyrics to his numbers. Nicknamed Shoaib Roxx in his native Baramulla town, he says he could have excelled had he been able to afford a studio and music equipment.
"I have composed and recorded on my laptop. That is my sole equipment."
"To do well and take it to the next level, I need to train with a top-notch instructor, studio, and a small orchestra. Nonetheless, it has been a good start," he says.
Shoaib's father, Ajaz Guru, is the elder brother of Afzal Guru. A contractor by profession, Ajaz moved out of the ancestral Guru house in Sopore several years ago. He now puts up in Baramulla with his family, while Ghalib and his mother Tabbasum live with her father's family in Old Township.
Shoaib took to singing during his school days and won a few competitions.
"I participated in a few reality shows and won the Baramulla district title," he recalls, adding, "but my parents never got a whiff that I was participating in these contests."
"My favourite singer is Punjabi rapper Bohemia. I like Kashmir's famous revolutionary rapper, MC Kash."
Shoaib says he has a dream to work with Bohemia and Yo Yo Honey Singh one day. "I need to be plain lucky first to get a break and rest is hard work."
| Edited by: Mirza Arif Beg
Read full article
Countdown To
Elections Results
To Assembly Elections 2018 Results