'This Insult Must Stop': Bengaluru's Pro-Hindu Groups Want Diwali Crackers With Gods' Images Banned
The Karnataka government said it cannot regulate the packaging of crackers as they all come from Sivakasi in Tamil Nadu.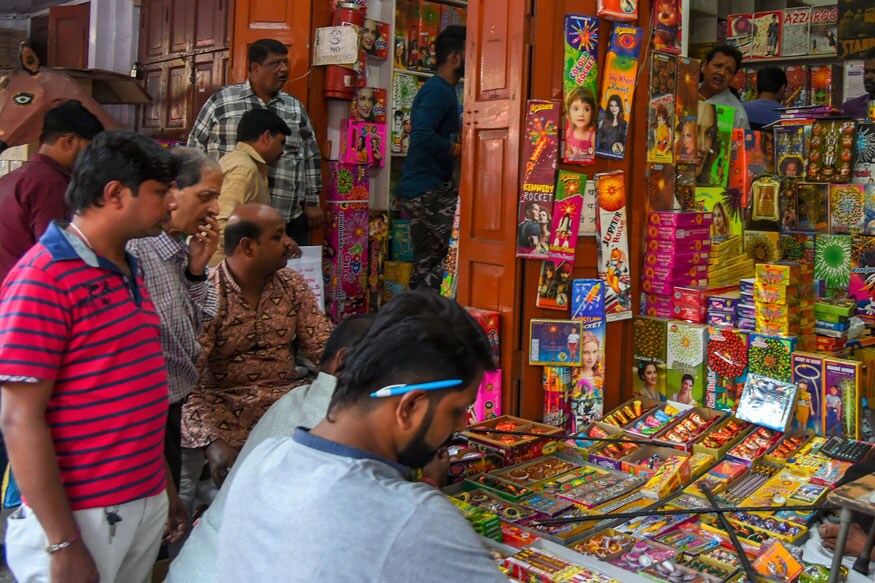 People purchase firecrackers in a market ahead of the festival of Diwali. (Image: PTI)
​Bengaluru: While the Supreme Court has restricted the time frame of fireworks from 8pm to 10pm this Diwali, people in Bengaluru will have to watch out for one more caveat before bursting crackers.
On Monday, Pro-Hindu organisations such as the Vishwa Hindu Parishad and Banjrang Dal joined hands to urge cracker manufactures and people to not use crackers that have pictures of Hindu gods and goddesses printed on them.
"Manufacturers are using god to sell their products but the empty cracker boxes are later left on the streets. On one hand, we pray to Goddess lakshmi and on the other, we burst crackers that come in packets carrying her pictures. This is an insult, we need to stop this," said Shashikant Sharma, Spokesperson for the Vishwa Hindu Parishad in Bengaluru.
The apex court's order comes at a time when the country's capital is choking due to poor air quality. But many opposing the apex courts verdict are looking at this move with a communal tint. "We urge people who have already brought such crackers, not to burst them as they will hurt hindu sentiments and the manufacturers too should fall in line" Sharma added.
However, the Karnataka government said it is beyond its purview to regulate such a demand. "The crackers mostly come from Sivakasi or from outside Karnataka. We cannot regulate the packaging that they provide, that is beyond our jurisdiction," said deputy chief minister G Parameshwar.
A large number of cracker sales for Diwali, is being celebrated across the country between November 5 and 8, has already taken place. But the pro-Hindu groups want to send across a strong message to those not following their mandate. They even plan to take the legal route and file a public interest litigation (PIL) in the Karnataka High Court, so that it acts as a deterrent for the manufacturers in future.
Get the best of News18 delivered to your inbox - subscribe to News18 Daybreak. Follow News18.com on Twitter, Instagram, Facebook, Telegram, TikTok and on YouTube, and stay in the know with what's happening in the world around you – in real time.
Read full article