This is Hima's Style, Says Sprinter About Her Speeding Away to Medal Despite Being Slow off the Blocks
Hima Das had a knack for sports from childhood itself and the family supported her all through.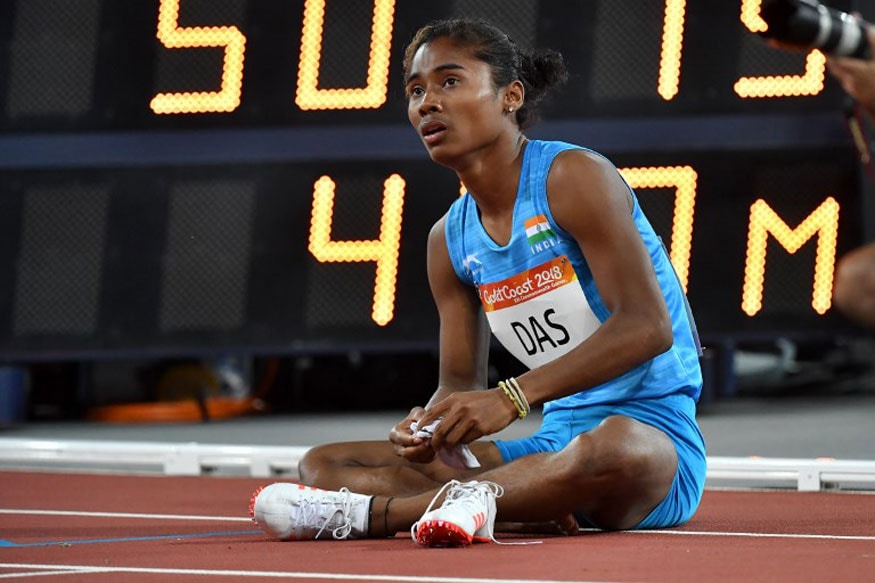 Hima Das after winning the gold medal in 400m at Tampere, Finland. (Image: AFP)
Kolkata: Just before the 400m final at the World U20 Championships in Tampere, Finland, 18-year-old Hima Das called up her coach in Assam to assure him that she will make it.
Having won India's first ever track gold at a global event Hima once again called up her coach Nipon Das in Assam and said, "Sir, I made it."
Speaking to News18 over telephone from Finland, Hima said, "I am very happy to secure a gold medal for India. I would like to thank my coaches and my parents. They are the powers behind my win."
When asked what was going through her mind before running for the 400m final, she said, "There was nothing. If I were to think too much I would not have been able to focus on my running. I was telling myself bhaag, Hima, bhaag… aur main sirf bhagi (Hima you have to run and I just ran)".
Hima Das qualified for the finals of the 400m at the Gold Coast Commonwealth Games earlier this year and finished a creditable sixth. She was also part of the 4x400m relay team which finished seventh in the final.
The next aim is to do well at the upcoming Asian Games in Jakarta and Palembang later this year.
"Now I am concentrating on Asian Games and I am hopeful that I will be able to perform well. I want to do something for my country. The coming few years will be a challenging years for me and I want to work hard to make it in all the upcoming events," said Hima.
Hima is the eldest of four children of paddy farmer Ranjib Das and homemaker Jonali Das. She had a knack for sports from childhood itself and the family supported her all through.
"I gravitated towards sports due to my father. He is a farmer and also used to play football. It was him who inspired me towards sports," she said adding that, "I would like to tell all my friends who are in sports that there is no shortcut to success. We have to work very hard to make it because there is completion everywhere."
During the race, Hima was slow to get off the blocks but brilliantly pulled away from the rest of the pack in the last leg to bring home a medal.
When asked about her super run in the last leg, she said: "Yeh Hima ka style hai (this is Hima's style)."
| Edited by: Ashutosh Tripathi
Read full article