GET Stock

Quotes


This Judicial System is Beyond Redemption: Markandey Katju
Is there any solution to this judicial crisis? Is there a way forward by appointing younger judges or implementing some sort of a test?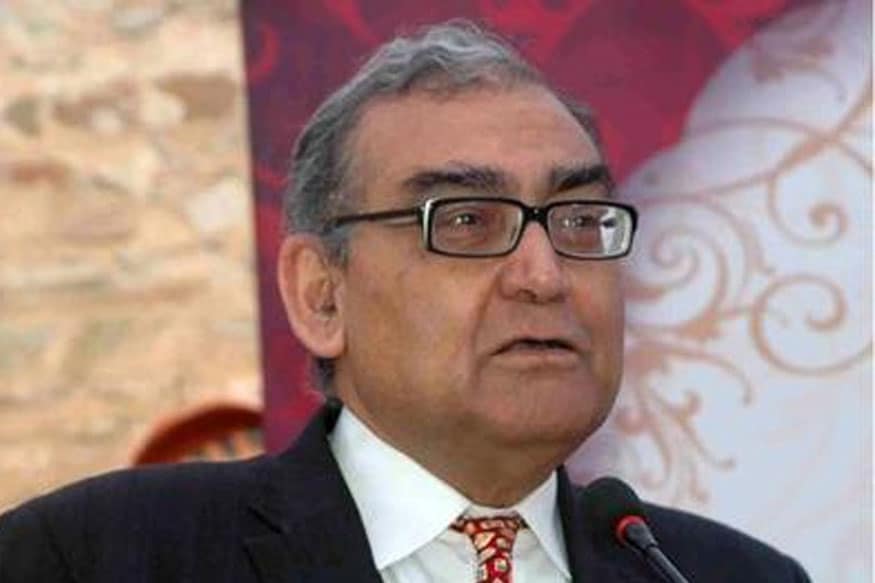 File image of Retd Justice Markandey Katju (Picture courtesy: Facebook page)
New Delhi: Justice (Retd) Markandey Katju is once again in the limelight after the Supreme Court summoned the former brother judge to explain his Facebook post, which said the apex court had "grievously erred by law by not holding Govindachamy guilty of murder," in the infamous Soumya rape and murder case that happened in Kerala.
Well, this is not the first time that the outspoken Justice Katju has been dominating the headlines, nor will it be the last. In this interview with News18's Debayan Roy, Justice Katju says Indian judiciary has "extremely feudal characteristics" and is unlikely to change in the near future.
Excerpts:
Q. On October 4, the Supreme Court delivered a judgment in which the accused in a gang rape case were let off. The judgment upheld the view of the trial court stating that the victim had falsely accused the men of 'gang-rape' and observed that "Her conduct during the alleged ordeal is also unlike a victim of forcible rape and betrays somewhat submissive and consensual disposition. Her post incident conduct and movements are also noticeably unusual. Instead of hurrying back home in a distressed, humiliated and a devastated state, she stayed back in and around the place of occurrence." This judgement was criticized for being "derogatory" towards the victim. Do you agree?
I think it was a perfect judgment. The court even compared the woman (victim) to a sex worker but my disagreement is that even a sex worker has the right to claim her compensation and if she has been denied her payment and has been subjected to a sexual act on the pretext of paying her at a later date, then that amounts to rape. But I certainly don't agree with people claiming that the judge has been insensitive to the feeling of the woman. The witness, who turned hostile at a later date, had claimed that she had seen the accused at the victim's place several times, even during the late hours of the night. So in a way the judge only resorted to the 'benefit of doubt' which in any case goes in favour of the accused.
Q- But there has been allegations that the Supreme Court went a step ahead while defining "acceptable behavior" from a woman when she is being "gang-raped"?
Well, I think the court only delved into that aspect to show that the victim might have known the accused before. What I presumed from reading the judgment was may be the woman had agreed to the sexual act in return, but after she was denied the money, she created this case of gang-rape.
The whole thing was whether it was consensual or not. It has to be seen whether she was threatened or not. If she was threatened with a knife, then even if she is not consenting, then it is not proper. But we don't know if money was involved. So I think the judgment was not faulty, there was a counter version that this woman was habitual to such sexual acts, and it was believable as per the facts of the case.
Q – What is your view of the recent case where the apex court ruled that a Hindu man can divorce his wife if she tries to separate him from his ageing parents?
I completely disagree with the Supreme Court. First of all in feudal times, girls were married at an early age. The mothers used to tell them that they were going to a different home, so you have to put up with everything at the in-laws place. Most women would do it then. But those were the feudal values where woman was economically dependent on the man.
But now a large number of woman has good jobs and will not put up with nonsense. Every woman wants their own house. They can't be subordinate to the overarching figure of their mother-in-law. They want their own homes. Even in the West parents stay separately from their grown up children. We are living in a transitional society. A man can always take care of his parents by staying away from them financially. We are transitioning from the feudal society to an industrialized society, and the judiciary must also evolve.
Q- Are you saying that the issue of misogyny that is rampant in Indian society could be present in the Supreme Court too?
Judiciary can no longer adopt a feudal attitude. This attitude is essentially like a woman must consider her husband as her God or rather merge herself with her husband's family completely. Perceptions like these need to be trashed. These are reactionary, feudal views.
Times are changing, but still a lot of cases are coming to the courts, and it is usually the wife seeking divorce on the grounds that she does not want to live with in-laws, but it's a first case when a man has approached the court.
The language used in the judgment by Justice Anil Dave is completely unacceptable. I have 'been there-done that'. Most judges are extremely conservative and feudal-minded. These judges are from the feudal society itself and have not fallen from the sky; hence they portray the same views.
Q – Can you illustrate this with a few examples?
Justice MY Eqbal in a judgment (in December 2015) ruled that to a Hindu wife her husband is God. This is the age of equality and modernity. Should the judiciary try to keep the society feudal or attempt to modernize it? In my opinion, one of the roles of the judiciary apart from pronouncing judgments is to settle the law wherever it is unsettled or has room for interpretation. It is through this interpretation that the courts can work towards removing such misogynistic views in the society. But it seems the judiciary is hell bent on promoting feudal thoughts and culture.
The court recently ruled that a woman takes a new birth after getting married and enters a new household. Such a thought itself is regressive was ludicrous. This is all happening because of incorrect judges.
Q- What exactly do you mean by 'incorrect judges'?
These Supreme Court judges are extremely feudal and conservative. Since our society is backward at large, these judges are only a reflection of the sad state of our society. Most Supreme Court judges are not appointed on merit but they are picked up on the basis of the seniority among the various High Court Chief Justices. But this cannot be denied that it often depends upon the sweet will of the Chief Justice of India and the Collegium. So I believe these faulty appointments be looked at again and such feudal minded judges should not be there on the bench.
Q- Justice Dave had recently remarked that Bhagvad Gita be made compulsory in all the schools. Do you think such statements by an apex court judge impacts the society?

Yes, I have read that piece of judgment and I was shocked. Bhagvad Gita is referred to as a book of the Hindu scripture by the Muslims and Christians. How can we ever force some children to read this book forcefully? This is just ridiculous.
Q- But one would assume that an SC judge is devoid of bias…
That is all rubbish and exists only in the theory. This is an incorrect notion. There is heavy bias and I wonder that how a judge, who takes oath to defend the secular nature of the Constitution, delivers such a ruling? These are the judges who are actually communal. They are communal judges.
Q- You have been in the judiciary for quite a long time. Have you encountered such cases where the judgments were biased?
When I was in the Allahabad High Court, there used to be a lot of cases where a girl from a different caste or a religion would marry a man from another religion or a caste. The judges who were inherently extremely backward and feudal-minded, they used to pass ruling directing the girl to go and stay with her parents and issue moral lectures.
But when I was in the Supreme Court, I had delivered a judgment in Latha Singh vs State of UP, in which I has stated that a girl beyond the age of 18 can never be forced to marry someone she does not like. The maximum the depressed family could do is to severe social relations with the daughter but not burn or kill her.
Especially in the cases of honour killing, I had held that death sentence should be given to someone who kills his daughter for the sake of his 'fake honour'. Even in the cases of dowry death, death-sentence is the appropriate punishment as it falls under the doctrine of rarest of rare cases.
Q- Is there any solution to this judicial crisis? Is there a way forward by appointing younger judges or implementing some sort of a test?
This judicial system is beyond redemption. The judiciary has gone beyond the reach of being addressed or corrected. Even if you implement a test for the judges, one has to see who supervises the test. The supervisor may want a judge from his caste or community to become a judge. The backward mentality of the judge can take a toll on the system. Unless the system gets rid of judges with feudal biases and prejudices, the situation can never change.
What this country needs at the moment is a social revolution which would uproot feudalism from the grass root levels. I am hopeful that a revolution is surely coming in a few years. Look at the French Revolution, I am sure some heads would have to be chopped off in the process, but this revolution would be necessary for India and only then judiciary can hope for a change.
(This website has the greatest regard for the justice delivery mechanism of the country and the majesty of the Supreme Court and does not necessarily agree with the views of the interviewee, which are personal to him)
Also Watch
| Edited by: Smrithin Satishan
Read full article