'Those in Army Are Bound to Die,' Says BJP MP Nepal Singh, Sparks Row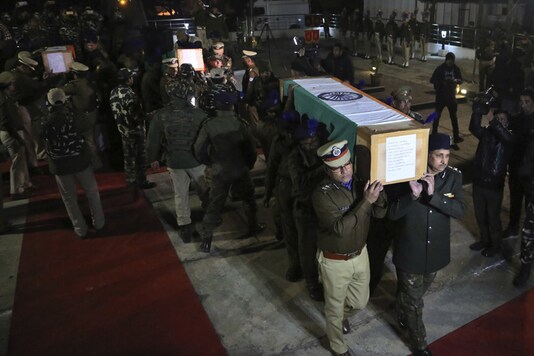 Paramilitary officers carry the coffins of their colleagues who died during the December 31 attack. (AP Photo)
BJP MP Nepal Singh sparked a controversy saying Armymen ought to die in fights between nations just days after five CRPF jawans died in a fidayeen attack in Kashmir.
New Delhi: Just a couple of days after five CRPF jawans died in a terror attack in Kashmir's Pulwama, BJP MP Nepal Singh triggered a controversy saying "those in the Army are bound to die". He, however, apologised later and said that he never meant it that way.
"Ye to roz marenge Army mein, koi aisa desh hai jahan army ka aadmi na marta ho jhagde mein? (They die every day in the Army. They are bound to die. Are there any country where the Armymen don't die in fights with other nations?)," ANI reported Nepal Singh as saying.
He added, "Gaon mein bhi jhagda hota hai to ek na ek to ghaayal hoga hi! Koi aisi device batao, jisse aadmi na mare? Aisi cheez batao ki goli kaam na kare, use karwa dein. (Even in a village fight someone is bound to be injured.)"
Singh's statement invited sharp criticism from both opposition parties and the Twitterati. The deluge of criticism forced Singh to apologise.
He later clarified that "all that I wanted to say was that scientists are constantly trying to come up with new devices to protect the Armymen from bullets".
"I never meant to insult the Army and am saddened by this turn of events. I apologise," the BJP MP from Rampur said in another interview to ANI.
Heavily armed militants on Sunday launched a pre-dawn suicide attack on a CRPF camp in Pulwama district of south Kashmir, killing five personnel of the force. Three of the Jaish-e-Mohammed fidayeen attackers were also killed in the 36-hour gunbattle that ensued.
Next Story