Three Arrested for Bulandshahr Cow Slaughter, Cop's Killer Still Roams Free
Bulandshahr police arrested three persons for their involvement in the cow slaughtering case and recovered items that were allegedly used in the crime.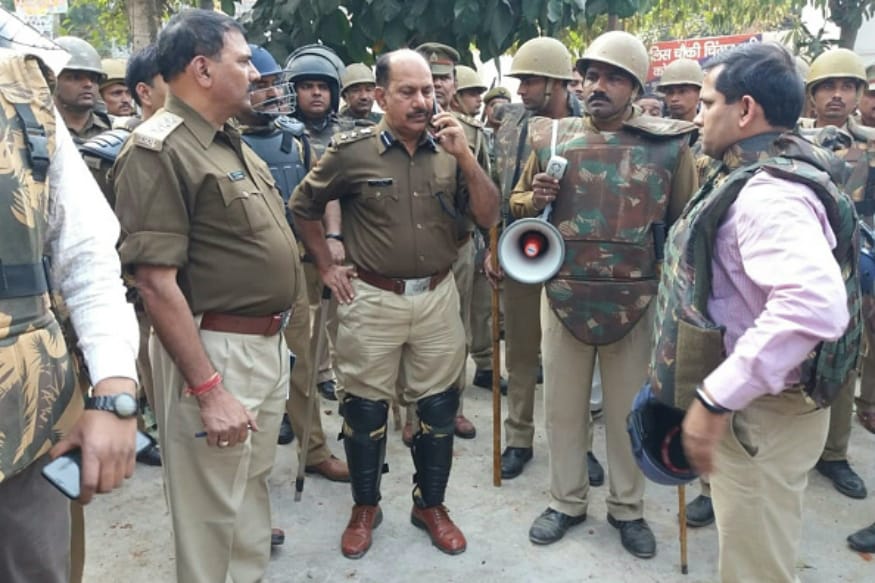 Policemen gather outside a police station following mob violence in Bulandshahr, Uttar Pradesh on December 3. (AFP/Getty Images)
Noida: Three persons were arrested on Tuesday for their alleged roles in the mob violence and the cow slaughtering cases in Uttar Pradesh's Bulandshahr. The violence had claimed two lives, including one of a police officer.
The police arrested men Nadeem, Raees and Kala and recovered a gypsy, two double barrel guns, a meat chopper, some knives and a wooden block used by the butchers from their possession. The police claimed that the items recovered were allegedly used in the crime.
However, the key suspect Yogesh Raj who is also accused of murdering police inspector Subodh Singh, is still at large.
According to Bulandshahr police, on the intervening night of December 2 and 3, the accused Haroon and Nadeem used their licensed double barrel guns to shoot down cows in Mahav village in Syana region. They later slaughtered them and distributed the meat among them. The police said the two had killed a cow December 1 too in the nearby forests.
An FIR registered by Yogesh Raj — a Bajrang Dal local convenor and prime accused in inspector Subodh's murder — says that Yogesh had seen the culprits slaughtering the cows. But SK Bhagat, IG Crime UP, expressed doubt at this claim, saying the cow carcass found was two days old.
Recently, a video of policemen asking people to pledge against cow slaughter and socially boycott those involved in it had gone viral. The UP police have also been holding meetings in villages to urge people to take the pledge.
On December 3, over 400 people had indulged in violence after cow carcasses were found in a jungle near Bulandshahr. During the violence, Inspector Subodh and a 20-year-old man died of gunshot wounds. Singh and his team had gone to the area to tackle the mob when they came under attack.
Inspector Subodh was shot in the head. The mob, according to the police FIR, was formed of men from right-wing Hindu outfits who had also blocked cops from taking him for treatment resulting in his death. The police have booked 90 men for the incident; the suspects include members of the BJP Yuva Morcha, the VHP and the Bajrang Dal.
Get the best of News18 delivered to your inbox - subscribe to News18 Daybreak. Follow News18.com on Twitter, Instagram, Facebook, Telegram, TikTok and on YouTube, and stay in the know with what's happening in the world around you – in real time.
Read full article