29 dead, several injured in stampede at Godavari Pushkaram festival in Andhra Pradesh
Police is trying to divert the devotees from the ghats to control the crowd.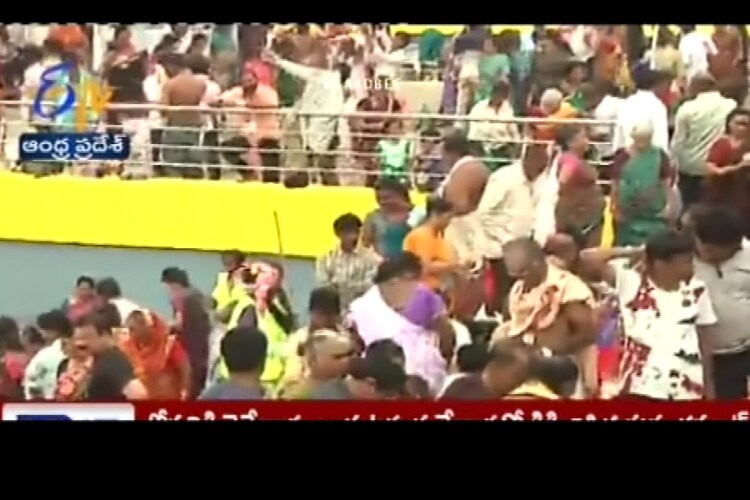 Police is trying to divert the devotees from the ghats to control the crowd.
Rajahmundry: Twenty nine people have died in a stampede during Godavari Pushkaram festival in Rajahmundry in Andhra Pradesh on Tuesday. Several others have been injured in the incident and the death toll is likely to rise.
Police is trying to divert the devotees from the ghats to control the crowd. The Godavari Pushkaram festival is being held on river Godavari's banks.
Andhra Pradesh Chief Minister Chandrababu Naidu, who was on the spot, expressed profound grief at the tragedy and is personally monitoring relief and rescue operations. "This is very unfortunate and shocking. I have come here many times to review arrangements to ensure smooth conduct of the event. But some problems cropped up in execution," Naidu said.
The Chief Minister also announced an ex-gratia of Rs 10 lakh for the family of the deceased and said, if necessary, he would would remain in Rajahmundry for the next 11 days.
The bodies of victims, all women, were shifted to Rajahmundry government hospital. The injured were also brought to the hospital, where the condition of some of them is stated to be critical.
The stampede took place when the devotees rushed to take a holy dip in the river Godavari at Rajamundry at the time of sunrise. The heavy rush at the at Kotagummam pushkar ghat in Rajamundry lead to a stampede. These Pushkaralu is known as Kumbh of South.
This is the first Pushkaram being held after the bifurcation of erstwhile Andhra Pradesh. The 12-day-long 'Godavari Pushkaram' in Andhra Pradesh and Telangana began on Tuesday. Crores of devotees are expected to take part in the mega congregation in both states.
Similar to the 'Kumbh melas', celebrated by the banks of the holy rivers of India, 'Pushkaram' is held every 12 years in Andhra Pradesh and Telangana. Taking a dip in Godavari river is the main feature of the festival. The event this year is special as it marks the 'Maha Pushkaram', which comes once in every 144 years.
"This is very significant from the astronomical point of view. The conjunction of 'Brihaspati' (Jupiter) entering into 'Simha rasi' (zodiac sign of Leo)," Advisor (Communications) to Andhra Pradesh government, Parakala Prabhakar, who heads a committee on 'Pushkaram', said earlier.
Get the best of News18 delivered to your inbox - subscribe to News18 Daybreak. Follow News18.com on Twitter, Instagram, Facebook, Telegram, TikTok and on YouTube, and stay in the know with what's happening in the world around you – in real time.
Read full article