News18
»
News
»
India
»
In a First, Karnataka Gets 3 Deputy CMs as Political Circles Are Abuzz With Rumours of BSY's Successors
3-MIN READ
In a First, Karnataka Gets 3 Deputy CMs as Political Circles Are Abuzz With Rumours of BSY's Successors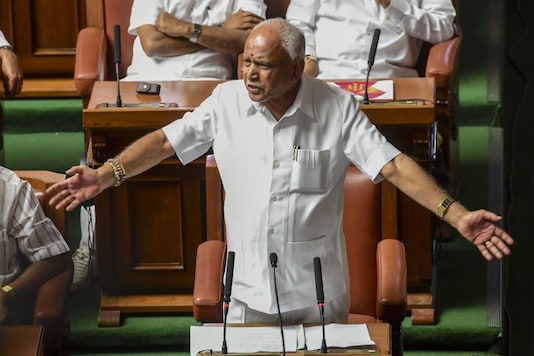 File photo of BS Yediyurappa. (PTI)
Many view this move as bid to promote a new crop of leaders who could succeed 76-year-old Yediyurappa. The party wants to project younger faces before the next elections are due in Karnataka.
Last Updated: August 26, 2019, 23:52 IST
Edited by: Sana Fazili
FOLLOW US ON:
Bengaluru: Karnataka chief minister BS Yediyurappa appointed three deputy chief ministers on Monday as he allocated portfolios to the new lawmakers in his cabinet. Govind Makthappa Karajol, Ashwath Narayan and Laxman Sangappa Savadi will serve as the deputy chief ministers, according to a notice.
While Karajol has been allotted Public Works Department, Narayan and Savadi have been given higher education and transport, respectively. Narayan had carved a name for himself as a trouble-shooter and strategist during 'Operation Kamala'.
Many view this move as a bid to promote a new crop of leaders who could succeed 76-year-old Yediyurappa. The party wants to project younger faces before the next elections which are due in he next four years.
However, the choice of leaders has left many senior leaders in the BJP disgruntled. Leaders like KS Eshwarappa and R Ashok, who have served as deputy chief minister's in earlier BJP-led governments, have not been given plum portfolios. Eshwarappa has been given the rural development and Panchayati Raj portfolio, while Ashok will serve as the revenue minister.
Eshwarappa's supporters have already issued a warning saying that sidelining the minister is an 'insult'. They have threatened that if Eshwarappa isn't given the deputy chief minister's post immediately, they will hit back at the party in the coming days.
The three ministers come from three different communities--a schedule caste, a vokkaliga and a lingayat. The move is perhaps an attempt to reach out to other communities and the party's attempt to shed its hitherto lingayat-centric image.
The Lingayats have been a strong BJP vote bank and ardent supporters of Yediyurappa so far. By giving this opportunity to others, the party is looking at spreading out if it's election strategy and becoming more inclusive.
"Happy or not happy is not the matter. It is a responsibility that the party has given me and the CM has recognised. Whatever is allocated, I will do to the best of my ability," Narayan said.
Basavaraj Bommai gets the Home portfolio. While Jagadish Shettar, a former chief minister, has been made the Minister for Large and Medium Scale Industries, two former Deputy Chief Ministers, KS Eshwarappa and R Ashoka, have been given the charge of Rural Development and
Panchayat Raj, and Revenue Department respectively.
Senior ST leader B Sriramulu is the Health and Family Welfare Minister, while S Suresh Kumar, a Brahmin, has been given the charge of Primary and Secondary Education, along with Sakala.
Portfolios of other ministers include- V Somanna (Housing), CT Ravi (Tourism, Kannada and Culture), Basavaraj Bommai (Home), Kota Shrinivas Poojari (Muzrai, Fisheries, Ports and Inland Transport), JC Madhuswamy (Law, Parliamentary Affairs and Legislation, Minor Irrigation).
CC Patil has been allotted Mines and Geology, H Nagesh (Excise), Prabhu Chavan (Animal Husbandry), and Shahsikala Jolle (Women and Child Development).
Interestingly, Savadi, who has been made the Deputy Chief Minister, is neither a member of the Assembly nor the Council. His induction into the cabinet had created resentment among several senior BJP legislators.
The allocation of portfolios comes a week after Yediyurappa inducted 17 ministers in his cabinet. Though a month-long wait had ended with the swearing-in of new cabinet, a section of MLAs were left disgruntled over being left out. Some MLAs were also reportedly upset over Savadi's induction, who is neither a member of the Assembly nor the Council.
Having a tight rope to walk by pacifying the disgruntled MLAs who missed out on Cabinet berth, coupled with allocation of portfolios to new ministers, Yediyurappa had left for Delhi on Thursday to consult BJP central leadership to deal with the situation.
(With inputs from Stacy Pereira and Deepa Balakrishnan in Bengaluru)
Next Story