Municipal Corporations

9/10

TRS

8

INC

0

BJP

1

AIMIM

0

OTH

0
MUNICIPALITIES

115/120

TRS

97

INC

9

BJP

3

AIMIM

2

OTH

4
Refresh Data
One TMC Worker Among 3 Killed as Bombs Hurled, Shots Fired at Party MLA's Vehicle in Bengal
Das further said that he was traumatised and still trying to find out who was behind the attack.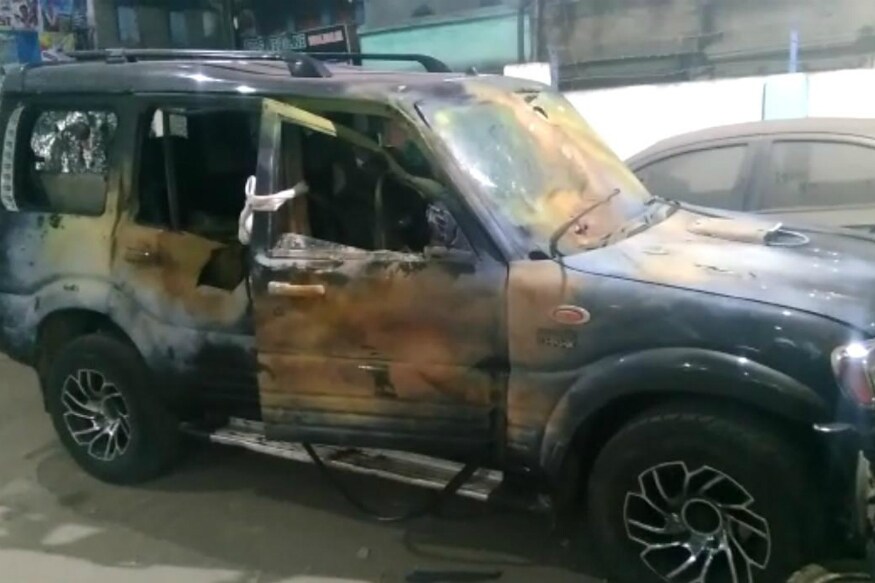 The damaged car of MLA Biswanath Das.
Kolkata: Three people, including a TMC member, were killed when unknown assailants fired upon the vehicle of party MLA Biswanath Das at a petrol pump on Thursday evening in Joynagar in 24 South Parganas district of West Bengal.
The incident took place around 7.35 pm under Joynagar police station. Those killed were: Sarfuddin Khan, a senior member of TMC's 'Jai Hind Bahini', MLA Biswanath Das's driver Moinuddin popularly known as Babu and a pedestrian.
The MLA was not in the vehicle at the time of the attack.
Das alleged he was the target of the attack since he normally visits the petrol pump for a cup of tea. However, on this particular day he got down at his party office after attending some social programme in the area.
"I was on anchal (area) tour. In the evening, I got down at Bahuru TMC party office and asked my driver Babu to get the car's tank full. He left for a nearby petrol pump at Joynagar and after 15 minutes I received a call that some goons hurled crude bombs and fired indiscriminately at my car," Biswanath Das told News18.
Das further said that he was traumatised and still trying to find out who was behind the attack.
Das also alleged that the assailants, about 6 in number, opened fire indiscriminately on the vehicle before escaping on two wheelers parked nearby.
The police are inspecting the CCTV footage at the petrol pump to identify the criminals.
TMC MP Subhasish Chakraborty said it is a handiwork of hired killers and that this has never happened before in the history of Joynagar.
When asked whether it was a fallout of rift within the party, Chakraborty said, "There is no question of rift within the party. We all are working together to strengthen TMC in Bengal."
CPI (M) Legislature Sujan Chakraborty, said, "The law and order situation in Bengal is a matter of concern. Now a days we are hearing a new word called 'shoot out'. What is going on here in Bengal? We condemn such attack."
Get the best of News18 delivered to your inbox - subscribe to News18 Daybreak. Follow News18.com on Twitter, Instagram, Facebook, Telegram, TikTok and on YouTube, and stay in the know with what's happening in the world around you – in real time.
| Edited by: Ahona Sengupta
Read full article