Tibetans activists try to storm Chinese embassy in Delhi
Protesters detained hours before Olympics torch reaches national capital.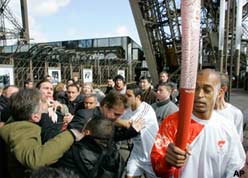 Protesters detained hours before Olympics torch reaches national capital.
New Delhi: About 100 Tibetan activists tried to storm the Chinese embassy on Wednesday-hours before the Olympics torch reaches the national capital. However, the protestors were whisked away by the police.
The activists, under the banner of Tibetan Youth congress, arrived at the embassy at around 1030 hrs IST. They were wearing yellow jerseys and headbands with messages like 'Stop cultural genocide', 'No Olympics in China' and 'Free Tibet'.
A large posse of policemen and central paramilitary forces was present around the embassy. A minor scuffle ensued between the security personnel and Tibetans who resisted being detained.
The protestors, who were chanting slogans like "Hu Jintao murdabad" (Down with Hu Jintao), were taken to a nearby police station.
Fearing a repeat of the disturbances that marred the torch relay in London and Paris, commandoes from paramilitary forces and thousands of policemen have been posted along the two-kilometre route from the presidential palace Rashtrapati Bhavan to India Gate, the World War I monument in the heart of the capital.
Some Tibetans who have been camping here ahead of the Olympic torch relay have reportedly gone missing, "probably to stage surprise attacks", said intelligence officials.
Get the best of News18 delivered to your inbox - subscribe to News18 Daybreak. Follow News18.com on Twitter, Instagram, Facebook, Telegram, TikTok and on YouTube, and stay in the know with what's happening in the world around you – in real time.
Read full article