Tickets to BJP Leaders' Kin Not Dynastic Politics: Amit Shah Explains Why
The BJP may give tickets to members of political families but unlike the Congress or Samajwadi Party will not allow dynastic succession, party president Amit Shah has said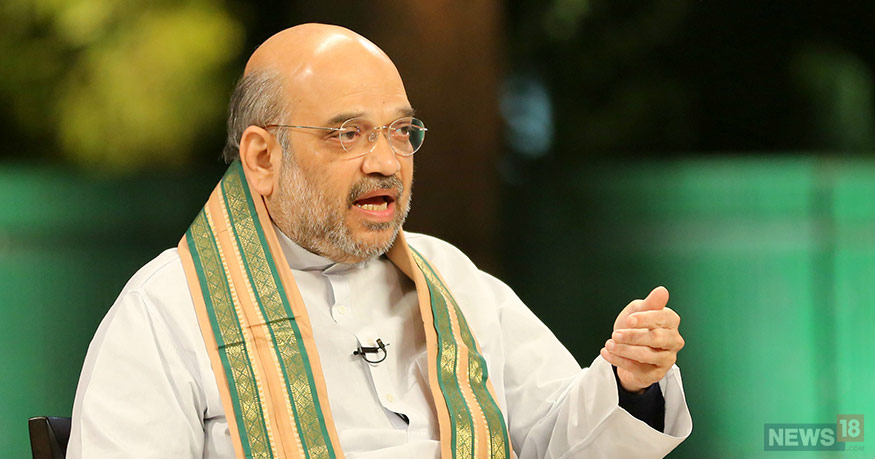 File photo of BJP chief Amit Shah during an exclusive interview with CNN-News18. (Photo: News18)
New Delhi: The BJP may give tickets to members of political families but unlike the Congress or Samajwadi Party will not allow dynastic succession, party president Amit Shah has said
In his interview to Network18 Group Editor-in-Chief Rahul Joshi he said, dynastic politics is when Akhilesh Yadav becomes CM of UP sidelining all other party leaders. Or when Omar Abdullah becomes CM after Farooq Abdullah. Jawaharlal Nehru followed by Indira Gandhi, Rajiv Gandhi, Sonia ruling through Manmohan Singh, and now Rahul."
Shah said it is different in BJP where family members of leaders are free to work for the party, run for elections, but will not become chief minister unless they have merit.
"If Rahul Gandhi has a child, there will be no confusion on who the next Congress president will be," he quipped.
Shah's clarification comes at a time when the BJP is drawing flak for giving tickets in Assembly elections to sons and daughters of more than a dozen party leaders.
The Congress scoffed at the distinction he was trying to make, with chief spokesperson Randeep Surjewala saying, "They just have to look at their list of candidates from UP first before attacking us and others."
From Home Minister Rajnath Singh to BSP turncoat Swami Prasad Maurya, many influential leaders have successfully fielded their children in the poll fray. In Uttarakhand too, senior leaders like Vijay Bahuguna, BC Khanduri, Yashpal Arya and Munna Singh Chauhan have managed tickets for their kin.
Rajnath's son Pankaj Singh, who is also a party general secretary, will contest from Noida.
Daughter of senior BJP leader Hukum Singh, Mriganka Singh, is making her political debut from Kairana. New entrant Swami Prasad Maurya managed tickets both for himself and his son Utkarsh.
Lalji Tandon's son Ashutosh and Kaiserganj MP Brij Bhushan Singh's son Prateek Bhushan too have got tickets.
But a quick glance of list of party presidents shows the point Shah was trying to make. In BJP, Venkaiah Naidu, Rajnath Singh and Amit Shah did not come out of political families. In Congress, except for a brief while when Sitaram Kesri was president following the assassination of Rajiv Gandhi, it was always a Gandhi at the helm.
It has been 18 years since Sonia Gandhi stepped in to "save" the party, and now Rahul is set to take over the reins from her. The SP has just come out of a succession battle, with many suspecting it was choreographed to ensure a transfer of power from Mulayam Singh to his son Akhilesh.
This, precisely, was the distinction Amit Shah was driving at.
Get the best of News18 delivered to your inbox - subscribe to News18 Daybreak. Follow News18.com on Twitter, Instagram, Facebook, Telegram, TikTok and on YouTube, and stay in the know with what's happening in the world around you – in real time.
| Edited by: Ashutosh Tripathi
Read full article