Tinkle debuts merchandise sector with comic figurines
Bobble Heads on 'Suppandi', the blundering village simpleton, 'Shikari Shambu' and 'Billy the Vampire' are among the first set of merchandise to be launched at the upcoming Comic Con in Hyderabad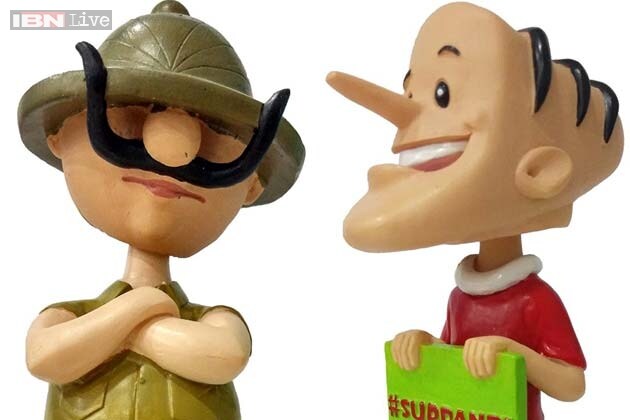 Bobble Heads on 'Suppandi', the blundering village simpleton, 'Shikari Shambu' and 'Billy the Vampire' are among the first set of merchandise to be launched at the upcoming Comic Con in Hyderabad
Mumbai: Children's magazine Tinkle is all set to debut in the merchandise sector and create a new category in collectibles by launching figurines of its renowned comic characters.
Bobble Heads on 'Suppandi', the blundering village simpleton, 'Shikari Shambu' and 'Billy the Vampire' are among the first set of merchandise to be launched at the upcoming Comic Con in Hyderabad, publishers ACK media announced on Thursday.
"Designing merchandise is a lot different from books. Till now we have been experimenting with merchandise but this is the first time we are rolling it out on a big scale," Manas Mohan, CEO Publishing Amar Chitra Katha Pvt Ltd told PTI.
The 34-year-old legendary brand Tinkle from the ACK stable has also associated with Amazon for the launch. "Priced at Rs 999 each, the bobble heads have been available for prebooking at Amazon. We have been targeting the entry level market and are looking at people who understand and appreciate the collector level items," Mohan said.
"There is no danger of stocking out because we are not offering any discounts and are in the process of scaling up," he said.
The publishing house had previously introduced on a small scale cups, wallets, bags etc as merchandise "Global publishing houses like Marvel have a huge following with middle level merchandise priced at Rs 1500.
"There are even designer level bobble heads available for as much as Rs 5000 each. We are concentrating on the entry level market," Mohan said.
He said the Comic Convention was a good place to debut because of the "large and dedicated fan base" of attendees. The publishing house plans to expand the line of merchandise, which it would be retailing in physical stores across the country.
"This is our first step out of the publishing market and we are hopeful that it will work out," Mohan said.
Get the best of News18 delivered to your inbox - subscribe to News18 Daybreak. Follow News18.com on Twitter, Instagram, Facebook, Telegram, TikTok and on YouTube, and stay in the know with what's happening in the world around you – in real time.
Read full article